It's late July which means football is nearly here. Training camps are popping up all over the country and fans will get their first glimpses of the 2018 iteration of their respective teams. As football draws closer, we continue our look at the top wide receivers on each branch of the route tree from 2017, with an eye towards their possible success in the season to come.
[Editor's note: Routes in this study are bucketed onto the common PFF route tree featured below, for comparison, attached with their NFL average passer rating when targeting each specific route. For more information on our route trees and signature statistics like WR Rating – passer rating when targeted – check out our Signature Stats Glossary.]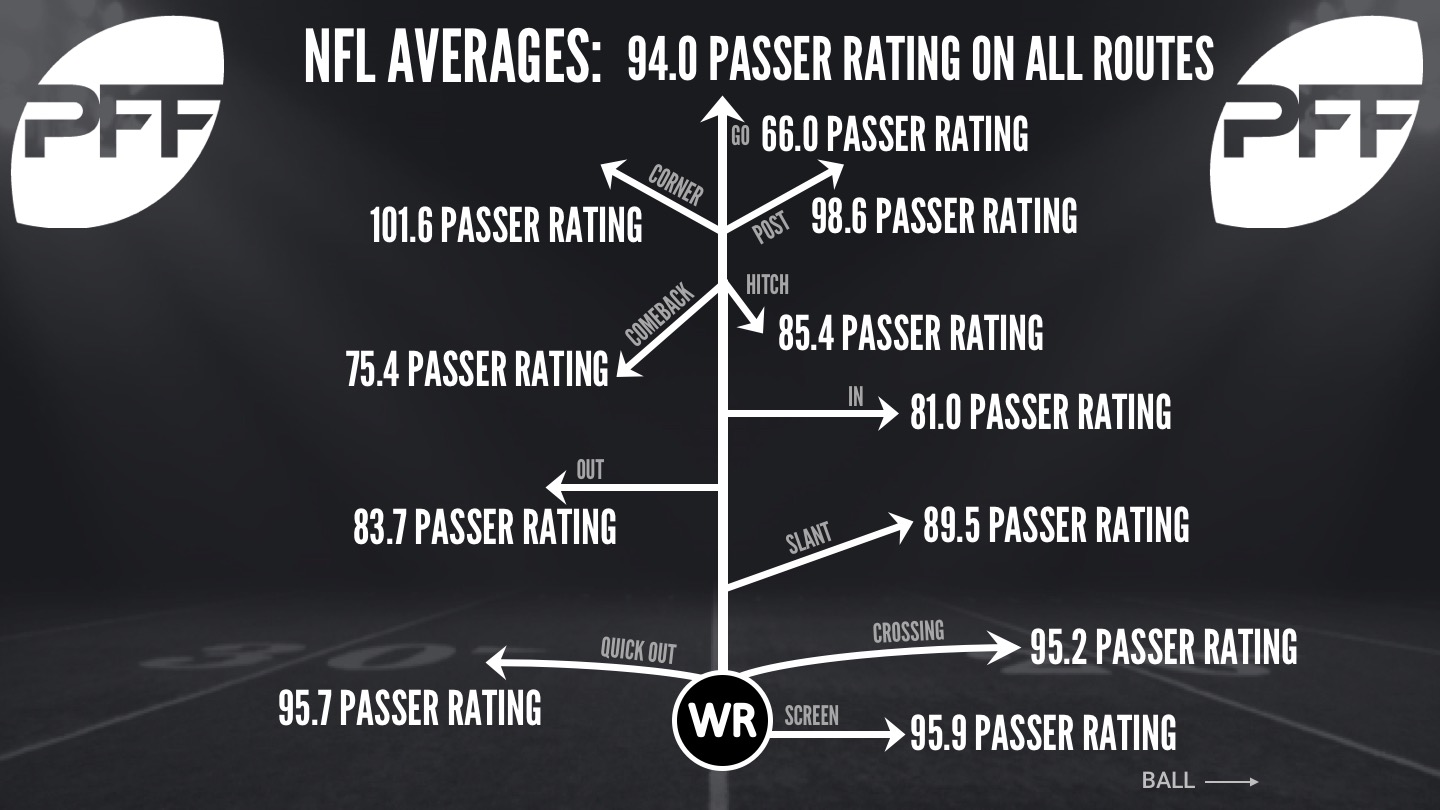 Over the course of July, we'll take a look at the top five receivers from the 2017 season on each individual route, by their passer rating when targeted – their WR Rating – on each specific branch of the route tree. We've already looked at routes targeted at or behind the line of scrimmage, on slants, crossing routes, out routes, in routes, hitch routes and today continues our study.
With that, here are the top five receivers on comeback route concepts from 2017: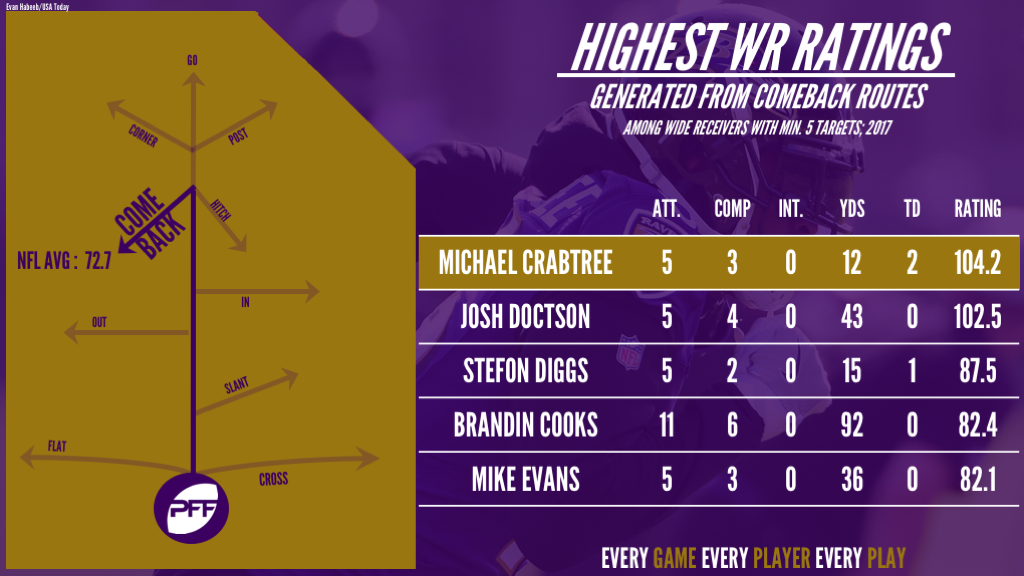 The Ravens are set to enter the 2018 season with an overhaul of pass-catching talent – an overhaul that was badly needed. Among the new arrivals in Baltimore is 10th-year wide receiver Michael Crabtree, who succeeded on a number of routes last season, but most notably he outperformed his peers on comeback routes. The comeback route accounted for just five of his 99 targets last season, but he caught three of those targets for two touchdowns. Since PFF started tracking individual route data, Crabtree is the only receiver to tally multiple touchdown receptions from the comeback route in a single season, and over the course of his career, Crabtree has scored more touchdowns on comeback routes than any other receiver in the league.
The third-year pass-catcher has certainly endured his fair share of struggles since he entered the league, but down the stretch of the 2017 season he finally showed his potential as a legitimate No. 1 option in Washington. He performed well on multiple routes, but he was especially proficient on comeback routes, where he hauled in 4-of-5 targets for 43 receiving yards. His WR rating of 102.5 from those targets ranked second among receivers with at least five targets last season and his catch rate of 80.0 percent was good for first.
The hero of the "Minneapolis Miracle" was at his best when he was targeted on the deeper routes of the route tree, but he also performed well on the intermediate routes. At the close of the season, Diggs had accumulated two catches from five targets on comeback routes, with one catch going for a first down and the other catch going for a touchdown. Diggs ended the season as one of just three receivers to score from a comeback route.
There were only 294 targets thrown to comeback routes last season and only 15 receivers saw at least five in their direction. The Rams' new $80-million man led that group with 11 targets next to his name and he caught six of those targets for 92 receiving yards. All told, he racked up six positively-graded targets, four first down conversions and averaged a very healthy 15.3 yards per reception – all of which ranked first among receivers.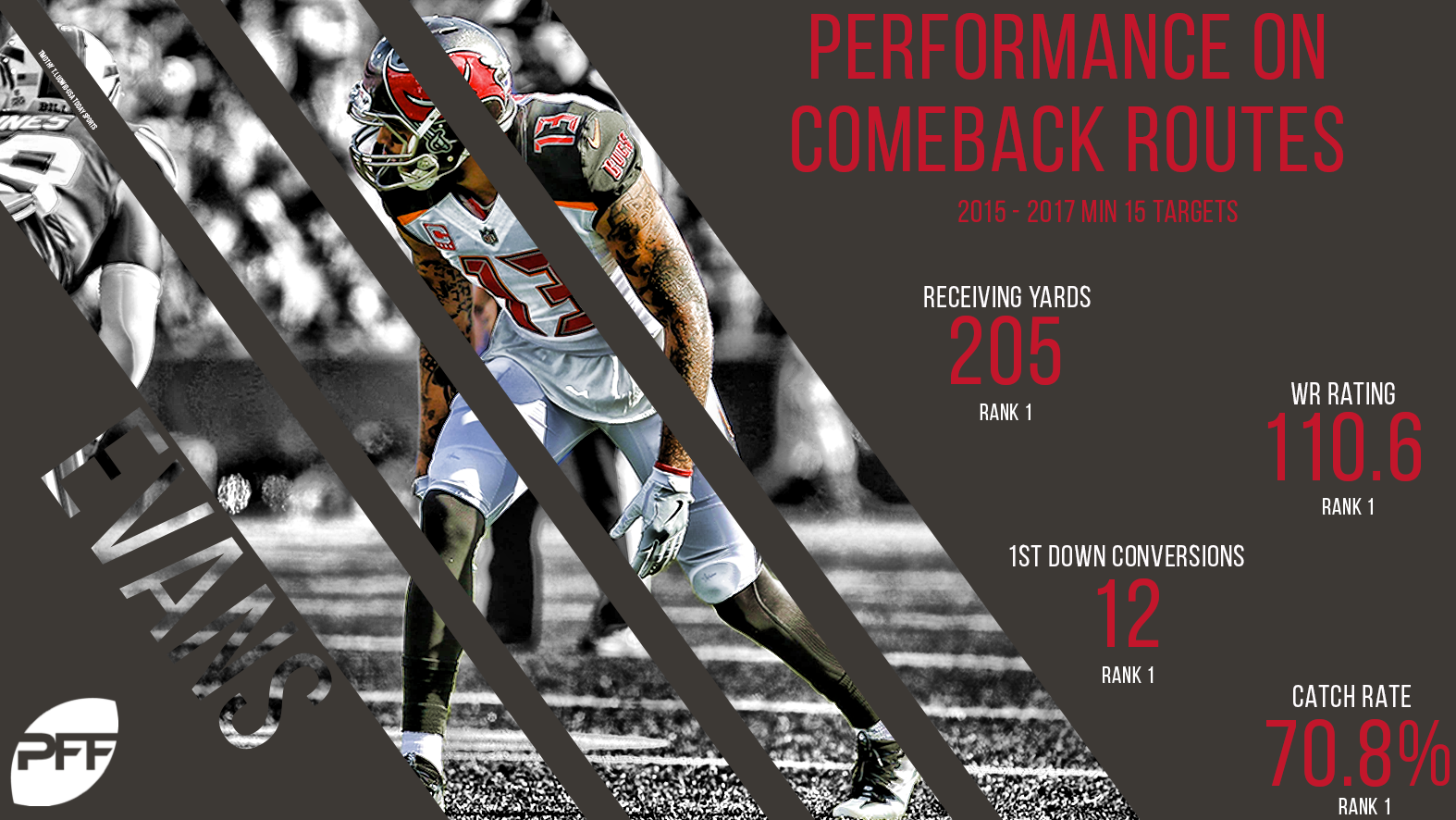 Since entering the league, Mike Evans has dominated on comeback routes and has finished in the top five in this statistic in each of the last three seasons. Last year alone, he hauled in three of his five targets and generated a passer rating of 82.1, which was good for fifth among receivers. However, if we look at his body of work on comeback routes over the last three seasons, Evans leads all receivers in receiving yards (205), WR Rating (110.6), catch rate (70.8 percent) and first down conversions (12).