Through just three weeks of the season, it's pretty clear that the race for Rookie of the Year is currently between two NFC East foes. The big question now becomes whether or not Dak Prescott is going to be able to maintain his standing, given the eventual return of Tony Romo. Don't rush back too soon, though, Tony, as the Oct. 30 matchup between the Cowboys and Eagles is shaping up to be must-see TV.
After three weeks of NFL play, here's how the top of the 2016 draft class stacks up:
1. Carson Wentz, QB, Eagles
At least make it interesting, Carson! The second-overall pick simply does not want to make mistakes, which is good news for Eagles fans—and bad news for everyone else on the list. He has a grand total of one turnover-worthy throw this season, second-fewest of any quarterback in the league. Add to that the fact that his 80.4 adjusted completion percentage is the highest in the NFL, and it's easy to see why he's not only in the Rookie of the Year race, but also in contention for MVP at this point.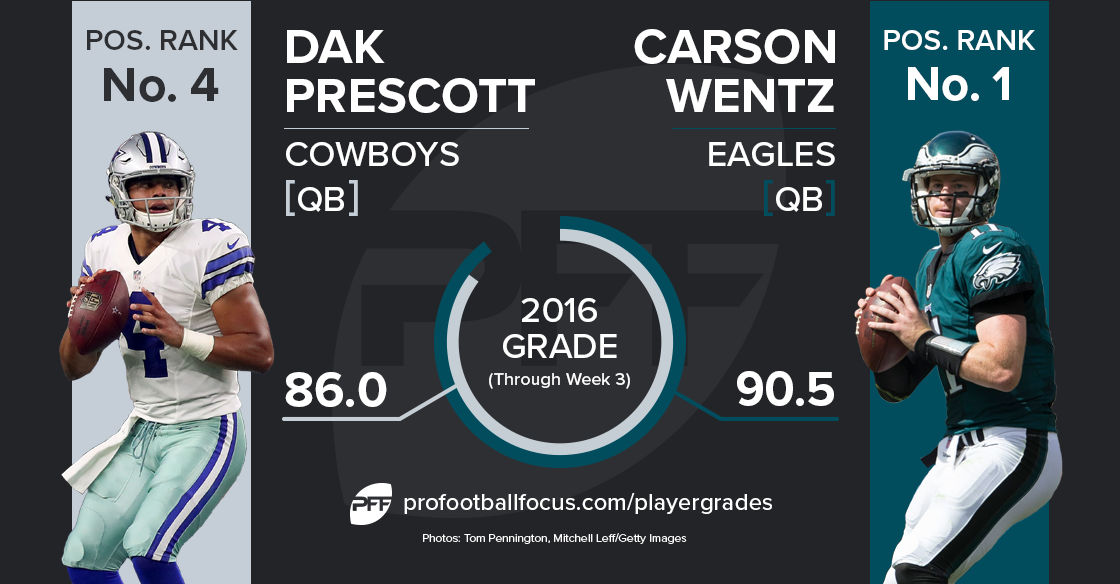 2. Dak Prescott, QB, Cowboys
The two rookie QBs at the top of this list are basically forcing us to rewrite everything we thought we knew about quarterback scouting. I mentioned before that Carson Wentz has the second-fewest turnover-worthy throws of any starting quarterback in the league. What I failed to note is that Dak Prescott is the only QB ahead of Wentz. Not a single one of the 115 passes that have left Prescott's hand this year have been deemed turnover-worthy. He's had his fair share of misses downfield, which keeps him behind Wentz, but the Cowboys' quarterback is playing with poise well beyond a rookie—let alone a fourth-round pick.
3. Jack Conklin, RT, Titans
As a draft prospect, Jack Conklin's pass protection was pegged as "broken"—something he'd have to work on at the NFL level. If what he's doing is wrong, though, I'm not sure he even wants to be right. Through three games, Conklin is the second-highest graded right tackle in the NFL, and has surrendered a grand total of five QB pressures.
4. Sterling Shepard, WR, Giants
The Giants' receiver continues to produce in every game this year. On 84.2 percent of the throws Eli Manning has targeted Sterling Shepard, the rookie has come down with the ball. That's the second-highest rate in the NFL. The emergence of Shepard as the No. 2 option New York was missing a year ago has been a boon for the Giants' offense.
5. Su'a Cravens, LB, Redskins
I said last week that if Su'a Cravens continues his high-level of play—even in a part-time role—that he'll continue to move up the list. The linebacker responded with a filthy game-ending interception and his highest-graded game of the season. Cravens is already establishing himself as one of the best sub-package linebackers in the league.
6. Jalen Ramsey, CB, Jaguars
The fifth-overall pick in the draft makes his first appearance on this list after a career game (so far) against the Ravens. On Sunday, he allowed a stingy 2.5 yards per target and had three defensive stops. In fact, his grade was good enough for him to crack our top-15 graded corners for the season.
7. Cody Whitehair, C, Bears
The former Kansas State left tackle has had his issues moving to center, but those begin and end with penalties. Cody Whitehair has shown no noticeable drop-off playing between two Pro-Bowlers in Josh Sitton and Kyle Long; the rookie currently owns the fourth-highest run-blocking grade of any NFL center this season.
8. DeForest Buckner, DE, 49ers
Yet another solid, if unspectacular, game for the seventh-overall pick. So far, DeForest Buckner has been able to affect far more plays than he's finished. His six pressures are all QB hurries, and he only has three run stops, but Buckner is still the highest-graded rookie defensive lineman in the league.
9. Jatavis Brown, LB, Chargers
Coming out of Akron, I had no clue what I would do with Jatavis Brown. He was too big for a safety, and too raw against the run to play linebacker. One thing I knew he could do, however, was blitz, as he tallied a ludicrous 15 sacks last year from an off-ball position. Already we've seen that prowess ring true in the NFL, as he has the highest pass-rushing grade of any off-ball linebacker. Brown is only being used in sub-packages, but the results have been electric so far.
10. Andy Janovich, FB, Broncos
The list of rookies in major roles playing above-average football ends at nine at the moment, so let's highlight our highest-graded fullback in the NFL so far. Andy Janovich made a name for himself right off the bat with a 28-yard touchdown run Week 1, but his blocking alone puts him on this list. He's keyed many big runs already this season.