Around this time last year, Shaquem Griffin was the center of attention in the NFL. After playing at such a high level and getting drafted into the NFL, Griffin was an inspiration for anyone who ever felt they were up against all odds. But now that Griffin has one NFL season under his belt and the media frenzy around him has faded away, it's time for him to make an impact on the field as a member of the Seattle Seahawks.
Griffin's only significant playing time in his rookie season came in a Week 1 loss against the Denver Broncos when he finished with a disappointing 35.9 overall grade. He played 41 total snaps in that game — 29 of which were spent in coverage — but he had only two pass-rushing snaps, which kept him away from what he did best in college: getting after the quarterback. Griffin was targeted five times against the Broncos, allowing four receptions for 81 yards and one touchdown, which equaled out to a passer rating allowed of 158.3. Obviously, Griffin didn't have a great first game, which led to him playing just nine more snaps the rest of the 2018 season.
To be fair to Griffin, he was tasked with playing as an off-ball linebacker in Seattle's scheme — something relatively new to him given that he played mostly as an edge defender in college. As a linebacker for the Seahawks, Griffin's role had much more to do with coverage than as a pass-rusher, and it deprived the side of his best facet of play. The question is, after experimenting with Griffin at edge during OTAs, will head coach Pete Carroll be willing to use him as an edge defender more in 2019?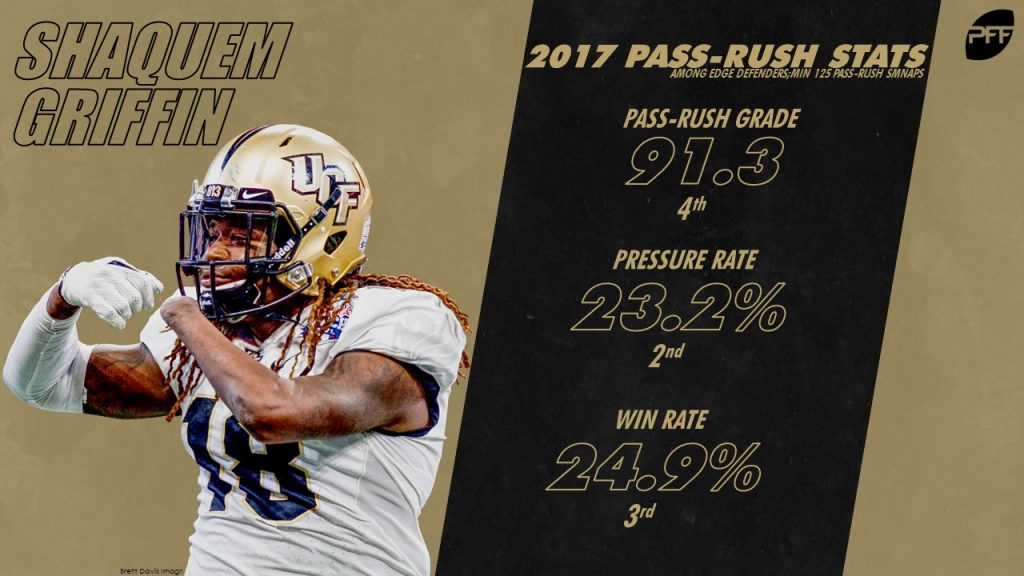 As we go into the 2019 NFL season and anticipate Griffin's second year in the pros, let's not forget how great he was in college at UCF. In his final college season back in 2017, Griffin earned a pass-rushing grade of 91.3, which ranked fourth out of 387 qualifying edge defenders. On 236 pass-rush snaps in 2017, Griffin recorded seven sacks, seven hits and 38 hurries, good for a pass-rush productivity rating of 12.5 — fifth among players at the position.
Griffin was dominant against anyone in college and not just against non-Power 5 schools, as he proved in the bowl game against Auburn in his final college game when he racked up a whopping 10 total pressures and seven defensive stops against an offensive line that finished with the 19th-best pass-blocking grade (86.6) in the country. Griffin's dominance as he led UCF to an undefeated season helped him get drafted, but many people still doubted him because of his size.
Standing at 6'0" and weighing just 227 pounds, Griffin is undersized even among undersized edge defenders, which is why the Seahawks have played him at linebacker. But Griffin's skill set can still give him a useful role in the NFL. If he can continue to improve in coverage, he has the athleticism to play as an off-ball linebacker for Pete Carroll's defense, but where he can really shine is as a pass-rusher on passing downs, or even as a blitzer from the second level.
Griffin had 83 total pressures across his last two seasons at UCF, so rushing the passer is something he is very comfortable with. He can even be used as a looper on stunts, something the Seahawks love to do but haven't had much success at. The bottom line is that Griffin would probably be much more effective if he was used as an edge defender. After all, he did earn an overall grade of 81.0 when lined up as an edge defender in his final year at UCF, compared to an overall grade of just 66.3 when lined up as a linebacker.
At the end of the day, Griffin has blazing speed – as evidenced by his 4.38 40-yard dash at the combine – and he has all the pass-rush moves he needs to be able to get around offensive tackles on Sundays. His small size may be too much to overcome to be able to play as an every-down defensive end in Seattle's scheme, but that doesn't mean the Seahawks can't deploy him as a pass-rusher when needed. Griffin had great production in college as an edge defender, and at this point, it's all about opportunity. If Pete Carroll will let Griffin pin his ears back and get after the quarterback more, he has all the potential for an impactful sophomore season.