Over the last couple of seasons, the run-pass option (RPO) has become one of the most prominent plays in all of football. It has become a common phrase said throughout almost every NFL game's broadcast, yet not a lot of people truly understand the mechanics behind it. In short, a run-pass option is a play where the offense can either run or pass, with the decision depending on certain factors. That decision is left up to the quarterback and can be made either pre- or post-snap. Following the RPO-laden 2017 NFL season, PFF's Lead Draft Analyst, Mike Renner, wrote a great piece breaking down the RPO and what the purpose of the play is.
RPO usage among NFL teams has doubled since 2016, from just 4% of plays in 2016 to over 8% of plays last year. As mentioned, the quarterback is the final decision-maker as to whether or not the RPO will end up being a pass or a run, and more often than not, the quarterback will hand the ball off to his running back, as 69.2% of RPOs in 2018 ended up being a run play compared to just 30.8% being a pass. Further, since 2016, RPOs have resulted in a leaguewide average of 4.7 yards per play, while non-RPO run plays averaged just 3.9 yards per play.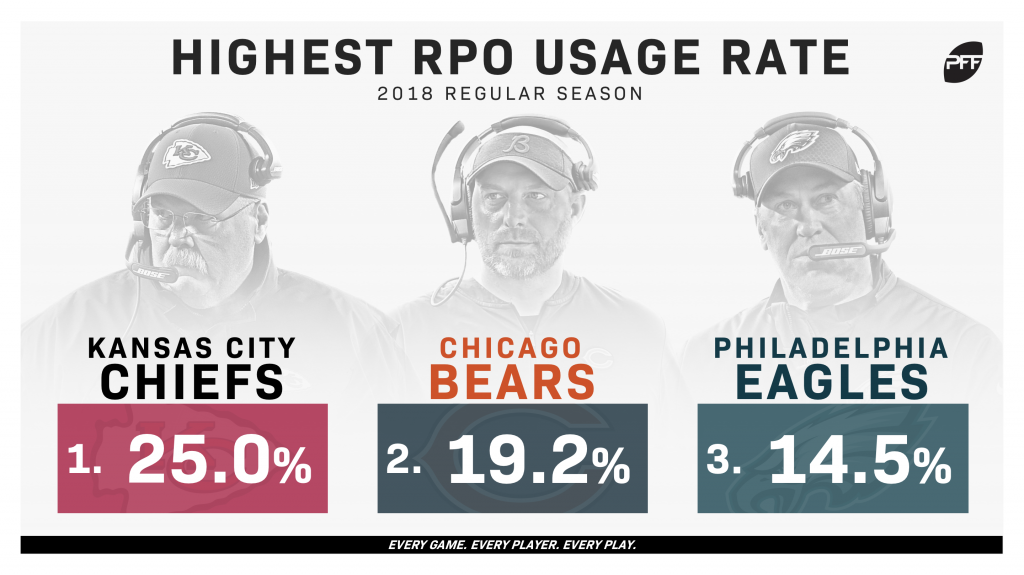 Over recent years, the RPO has taken the NFL by storm, and one of its largest proponents is Kansas City Chiefs head coach Andy Reid. The defending AFC West champions have led the NFL in RPO usage in each of the last two seasons (25.0% in 2018, 17.1% in 2017) and weren't too far behind in 2016 (fourth-highest at 6.7%). It should come as no surprise then, to hear that Reid and the Chiefs are one of the NFL's most successful teams when running these run-pass options, and they have averaged an impressive 5.8 yards per play (third-best) while doing so.
However, there is a reason to believe Kansas City's RPO play may regress in 2019. As known, wide receiver Tyreek Hill's future in the NFL is up in the air, and this would be a huge loss, as Hill saw over 40% of Mahomes' RPO pass attempts last season. On these targets, Hill earned an 82.4 receiving grade (third among wide receivers), a 130.2 WR rating, and an average of 9.4 yards after the catch per reception. But this isn't the only issue that could hinder the Chiefs' future RPO success.
Prior to his release, Kareem Hunt was Kansas City's go-to guy on RPO plays, and he found great success as a result. Hunt's 90.3 rushing grade on RPOs was the best in the league (13.0 points higher than second place), and his 0.29 missed tackles forced per attempt also paced the league. Furthermore, out of the 167 RPO rushing attempts run by the Chiefs, 136 of those won't be back in Kansas City (Hunt with 112 attempts is now with Cleveland, and Spencer Ware with 24 is now with Indianapolis).
Consequently, Reid and the Chiefs looked to draft a running back with an RPO background to fill the void, and with the 214th pick of the sixth round, Kansas City selected Utah State running back Darwin Thompson. With 101 rushing attempts and an 81.1 rushing grade when running an RPO during the 2018 season (both fifth in class), Thompson is no stranger to Kansas City's beloved play. Additionally, Thompson was one of the most elusive running backs in an RPO system last season, with 0.33 missed tackles forced per attempt (third in class) and 4.9 yards after contact per attempt.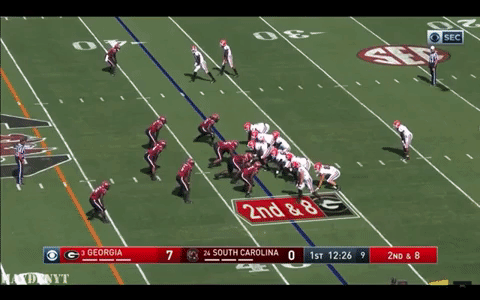 Reid and the Chiefs also went with an intriguing pick at 56th overall, where they selected Georgia wideout, Mecole Hardman. The 5'10" return specialist is an absolute speedster — he recorded a 4.33 40-yard dash at the Scouting Combine and has all the attributes to become an Andy Reid prodigy. Georgia hasn't been buying as much into the RPO hype and only had 30 pass attempts out of an RPO in 2018, but out of those 30 attempts, Hardman saw 16 of targets and recorded a 76.6 receiving grade and 9.5 yards after the catch per reception.
As mentioned, Reid is one of the league's biggest RPO advocates, and he has sold his former offensive assistants on the play as well. Philadelphia Eagles head coach Doug Pederson served on Reid's staff in Kansas City from 2013 to 2015, and when he left the Chiefs for Philly in 2016, he took Reid's beloved play with him.
Philadelphia's RPO usage has been among the highest in the league since Pederson came to town (eighth in 2016, second in 2017 and third in 2018), and like Reid, Pederson looked to add to his RPO skill-player arsenal this offseason. A few weeks after the beginning of the new league year, the Chicago Bears traded running back Jordan Howard to the Eagles for a 2020 sixth-round pick. Howard has vast experience in an RPO offense, as he had the second-most rushing attempts out of an RPO in 2018, with 81.
Pederson got himself an RPO experienced player in Howard, but he wasn't finished there. With the 53rd pick in the second round of the draft, the Eagles took Penn State running back Miles Sanders. During the 2018 college season, Sanders' 133 RPO rushing attempts were the second-most in the class, and he made the most of every attempt. Sanders recorded the second-highest rushing grade in this class out of an RPO at 82.1, and his 6.7 yards per attempt were the fifth-most. With the selection of Sanders, Pederson's RPO offense is bound to improve after they put up a disappointing 3.4 yards per RPO play in 2018 (29th).
Succeeding Pederson in Kansas City as Offensive Coordinator was Matt Nagy, but after serving two seasons has Reid's right-hand man, Nagy left to become the head coach of the Chicago Bears. Now with one season of head coaching experience under his belt, it's quite obvious Nagy has taken some of Reid's philosophy with him to the Windy City, as Chicago's RPO usage skyrocketed from 2.7% in 2017 (26th) to 19.2% in 2018 (second). With Howard out of town, Nagy and the Bears found themselves another established running back with extensive RPO experience in free agency with the signing of Mike Davis. The former Seahawk had the second-highest rushing grade out of an RPO (77.2) last season, as well as the second-most missed tackles forced per attempt (0.24).
However, Davis wasn't the only addition that Chicago made at the running back position this offseason. In the draft, Chicago traded up from pick 87 to pick 73 to select Iowa State running back David Montgomery, making him the next feature back in Nagy's offense alongside Davis and Tarik Cohen. This past season, Iowa State didn't make the RPO an essential piece of their offense like other programs did, but Montgomery still had 69 rushing attempts out of an RPO which resulted in a solid 75.8 rushing grade (11th in the class) and an astounding 0.35 missed tackles forced per attempt (second in the class).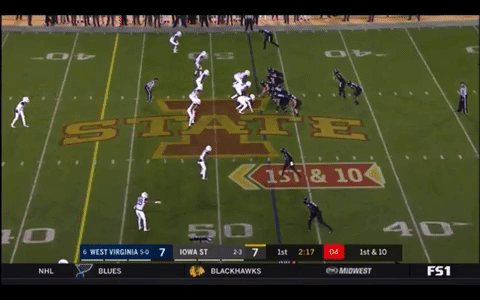 Along with the additions of Davis and Montgomery to his RPO offense, Nagy may have found himself a diamond in the rough with undrafted free agent wide receiver Emanuel Hall. Hall showed flashes of immense talent in Missouri's RPO offense this past season, and although he only received 20 targets out of an RPO, Hall turned in the highest receiving grade in this class on RPOs (89.6), and he recorded a near perfect 153.8 WR rating.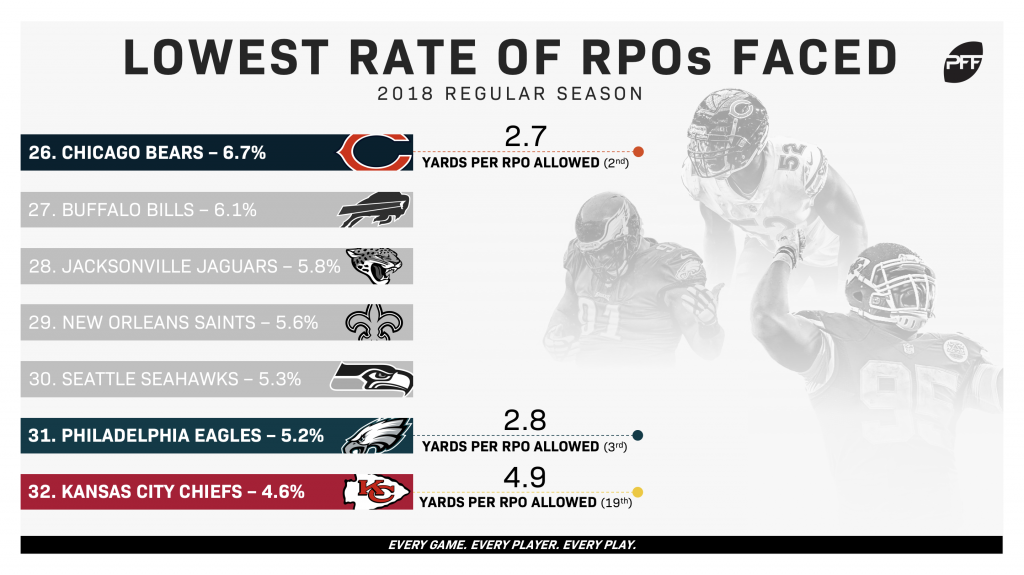 Pederson and Nagy's love for the run-pass option stems from their time with Andy Reid in Kansas City. They both brought the RPO to their respective cities and are bringing innovation to the NFL. But one of the more intriguing tidbits regarding RPOs and these three teams is how little their opponents ran them in 2018. Kansas City faced the lowest rate of RPOs in the NFL (4.6%), Philadelphia faced them at the second-lowest rate (5.2%) and Chicago faced them at the seventh-lowest rate (6.7%). Additionally, both Chicago and Philadelphia ranked in the top three among all NFL defenses in RPO defense. Chicago allowed just 2.7 yards per RPO (second) and Philadelphia wasn't too far behind at 2.8 yards per RPO (third). In other words, the NFL knows better than to try and outscheme the RPO masterminds.
The run-pass option has become an infamous play in today's NFL, and the usage is only going to rise leaguewide in years to come. Andy Reid, Doug Pederson and Matt Nagy are all ahead of the curve, and that has resulted in some of the most fascinating offenses we have seen in the NFL.