Run the ball and stop the run. That is how championships are won, or at least, that is the old adage for how championships were won.
To those paying attention, though, it is clear that the NFL is a league that is now dominated by the passing game. In fact, passing the ball and defending the pass are the two biggest movers of the needle in today's game with rushing offense and rushing defense settling in behind those two facets of the game in overall importance.
Looking only at the offensive side of the ball from a season ago, just two of PFF's top-five teams in team rushing grade made the playoffs – the second-place Minnesota Vikings (78.6) and the fourth-place New Orleans Saints (77.6). Meanwhile, all five of the top-graded passing offenses made the playoffs: the New England Patriots, Saints, Atlanta Falcons, Philadelphia Eagles and the Pittsburgh Steelers.
PFF data scientists George Chahrouri and Eric Eager have done great work in quantifying the effect that certain plays and situations have on the outcome of a game through expected points added (EPA). The expected points added of a rushing play is actually negative, coming in at a value of -0.09. On the other hand, the EPA of throwing to a running back lined up anywhere on the field is 0.10.
Essentially, a running back's real value comes in the passing game. This shift in philosophy away from ground-and-pound towards high-powered passing attacks has led to a resulting change in the skillset necessary of a running back in today's NFL, and it is showing in the top players at the position.
PFF began charting every play of every NFL game back in 2006, and in that year, running backs combined to see 2,700 targets, 2,148 receptions and 46 touchdowns over the course of the regular season and playoffs. Running backs such as Reggie Bush, Steven Jackson and Brian Westbrook led the charge as high-volume pass-catchers with over 100 targets each, but generally speaking, they were the exceptions rather than the norm.
In 2006, 30 running backs saw at least 30 targets. Fast forward to 2017 and 49 running backs received at least that many looks in the passing game. The overall receiving numbers for running backs last season through the regular season and playoffs:
3,451 targets (most since 2006)
2,766 receptions (most since 2006)
107 touchdowns (most since 2006)
With running back targets jumping considerably, it is proving to be more important than ever to be a proficient receiver out of the backfield as a running back. Not only did running backs see the most receiving volume that they've ever seen last season, but they also showed more efficiency than they ever have as receivers.
Running backs combined to pick up 1.34 receiving yards per route run which was the highest mark of the PFF era. That combined with a massive 107 receiving touchdowns – 11 more than the previous high set in 2016 – means that not only are running backs being utilized more as receivers, but they are also doing more with their targets than they ever have.
Even over the past five seasons, the importance of receiving as a running back has grown tremendously.  That becomes apparent when looking at our top-graded running backs over that span.
Take, for example, our top-graded running back in the 2013 and 2014 seasons – Marshawn Lynch. Lynch finished the 2013 season with an elite overall grade of 90.8, despite finishing with a very average 64.8 receiving grade. It was much of the same story in 2014, as he posted an overall grade of 90.7 and a receiving grade of 62.5.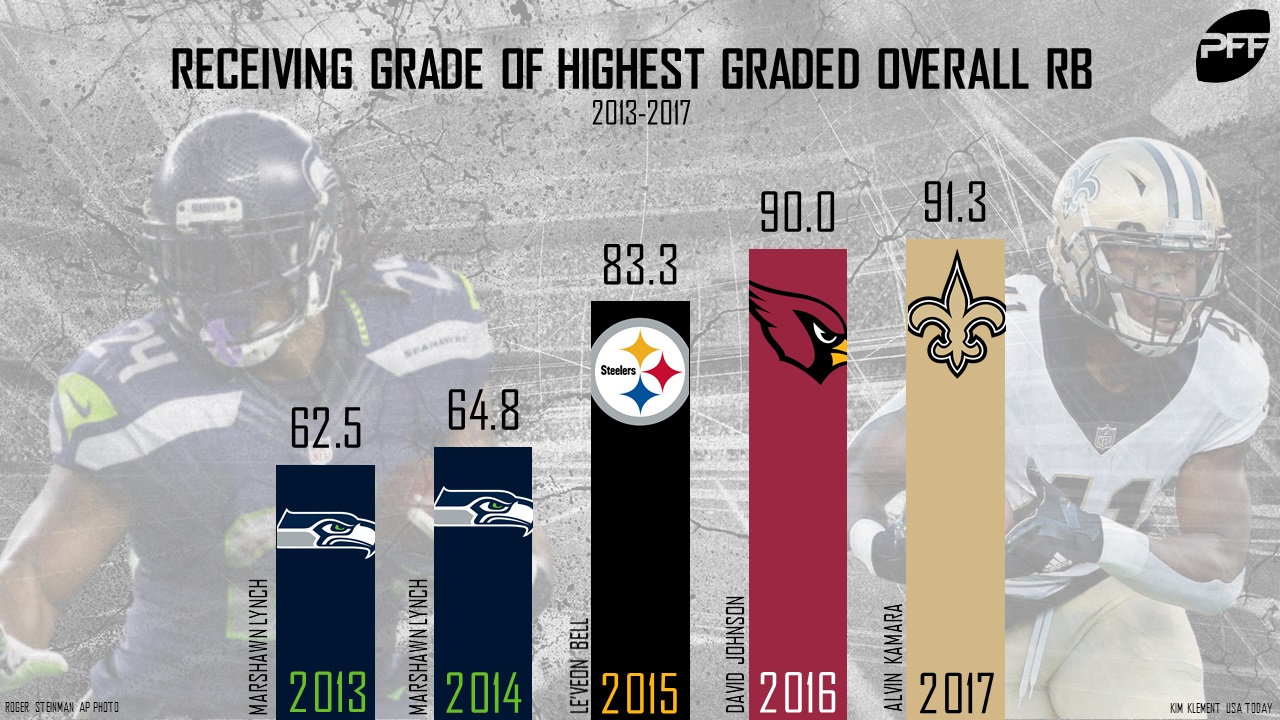 Lynch is not alone in that regard. In 2013, our top five graded running backs were Lynch, Eddie Lacy, LeSean McCoy, Jamaal Charles and Andre Ellington. McCoy was the only one among that group to finish with a receiving grade above 70.0 on the season. In 2014, none of the top three graded running backs, Lynch, C.J. Anderson and DeMarco Murray, finished with a "good" receiving grade as Murray led that group with a receiving grade of only 66.7.
There are obviously exceptions to this idea, as there were still strong receivers at the running back position grading well in the PFF system at that point, such as Darren Sproles, Danny Woodhead, Theo Riddick, Pierre Thomas and the then-emerging Le'Veon Bell. However, the position was still headlined by players who didn't excel as receivers out of the backfield.
Over the past few seasons, though, a new wave of young running backs has hit the NFL and changed the position. Receiving from the running back position is becoming less of a specialty skill and more of a positional necessity seen in nearly all the top running backs in the league. Just look at the headliners of the running back position who excel as receivers: Bell, David Johnson, Todd Gurley, Alvin Kamara, Kareem Hunt and the list goes on.
Of our top-10 graded running backs last season, seven had receiving grades over 70.0 and five had grades over 80.0. There are still running backs who graded well and didn't add much to the receiving game, such as Baltimore Ravens running back Alex Collins, but in general, the best running backs in the game made strong contributions as receivers.
Even looking out further to the top-25 graded running backs, 18 of them finished with a receiving grade of at least 70.0. It is an onset of young, versatile running backs that is prompting this shift at the position. Among those top-25 graded running backs with receiving grades above 70.0, many of them are under the age of 25, with guys such as Kamara, Gurley, Hunt, Duke Johnson Jr., Christian McCaffrey and Tarik Cohen leading that charge. Just last season, several of these young talents hit some astonishing marks: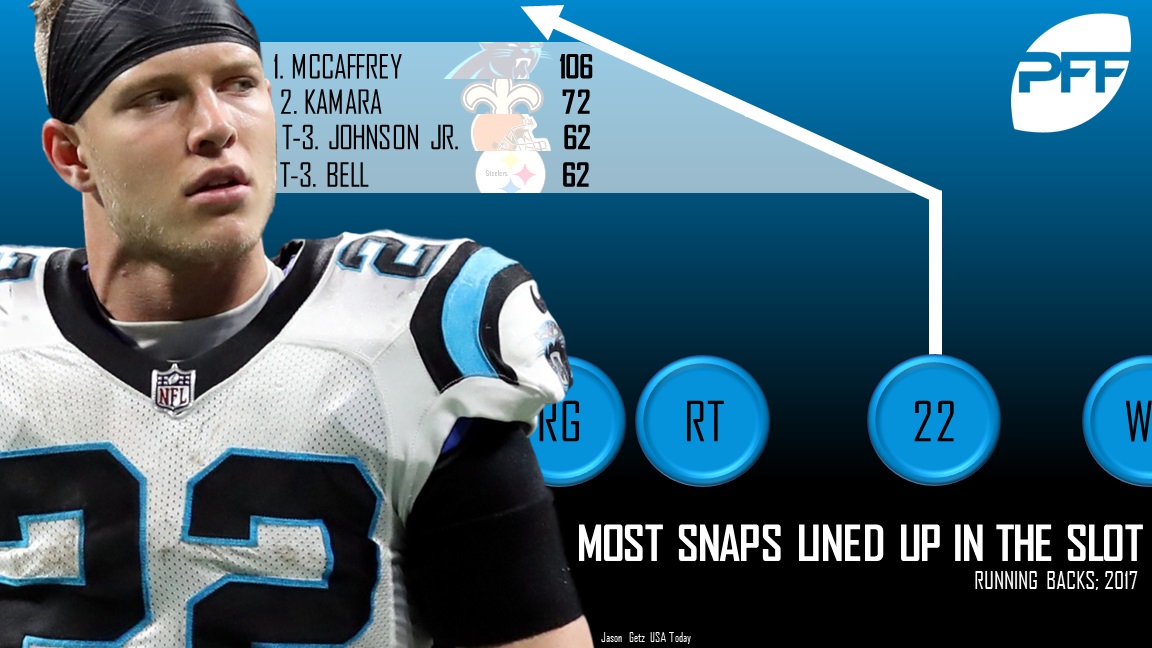 McCaffrey played over 100 offensive snaps lined up as a slot wide receiver.
Kamara picked up 2.62 receiving yards per route run, as a running back. Among all players with at least 40 targets, Kamara ranked third behind only Julio Jones and Antonio Brown.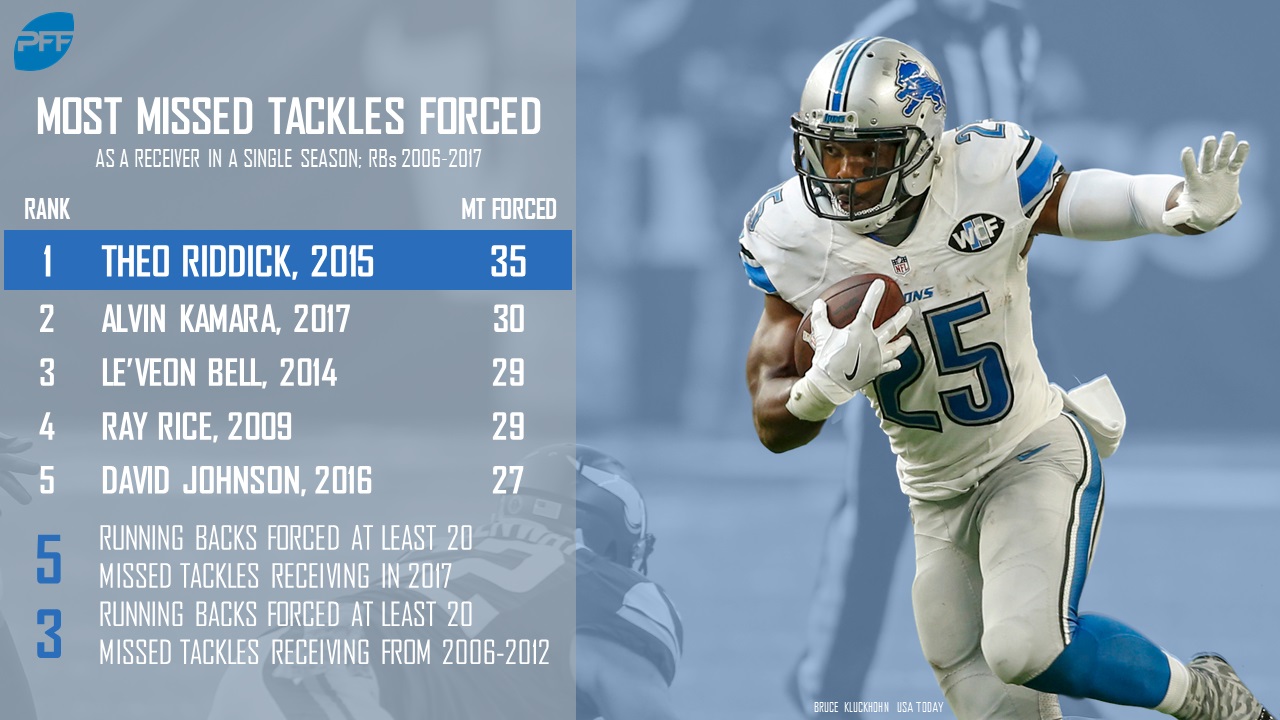 Johnson Jr., Cohen, Bell, Kamara and Riddick all forced at least 20 missed tackles last year as a receiver. From 2006-2012, only three running backs did that in a single season.
Times are changing for running backs in the NFL. The pass-catching running back has become king, and those who don't offer value in the receiving game are becoming less and less prevalent. With all of the versatile, capable receivers coming into the league at the position, it appears that trend will only continue moving forward as running backs will be utilized more and more as mismatch weapons in the passing game.
Last year saw all-time numbers being put up at the running back position in terms of receiving volume and efficiency. Look for those numbers to be topped in 2018.