In just three seasons, Tennessee Titans safety Kevin Byard has strung together an impressive start to his career and has put every offensive coordinator on notice. Byard probably doesn't get the attention he deserves, but his consistency from season to season warrants high-praise, especially because of his third-round pedigree. His career grading has steadily improved every year since his rookie campaign in 2016, and now Byard has established himself as one of the league's best at his position. Let's take a more in-depth look at his career progression and what has made him such a valuable asset in the Titans' secondary.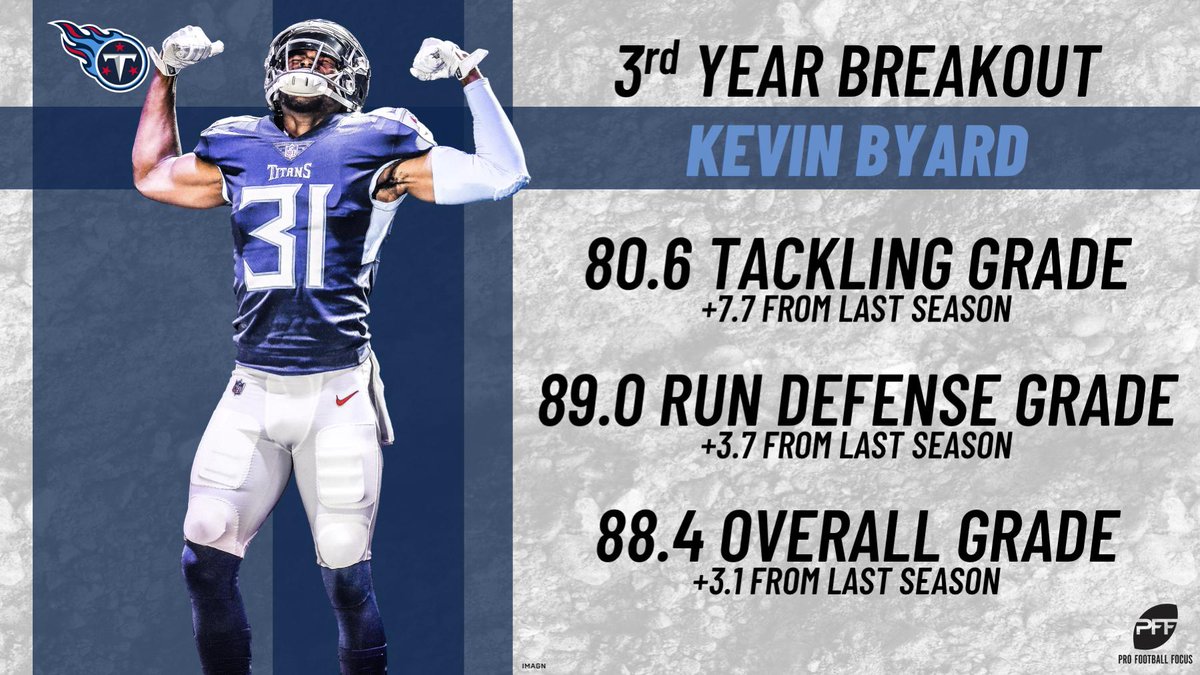 Byard has been trending in the right direction ever since his emergence into the NFL, seeing overall grades of 68.5, 87.0, and 88.4 over his first three seasons. Being a complete defender at any position is difficult, but Byard has proven he can play at a high level in multiple facets of the game as both a run stuffer and against the pass. In fact, Byard is the only safety to have earned a grade of 82.0 or higher in both run defense and coverage in each of the last two years.
While Byard's rookie year wasn't outstanding, it was obvious that the Titans had drafted an impact player. In coverage especially, Byard made a huge difference by allowing a passer rating of just 60.4 across his 429 coverage snaps. He finished his rookie season with four pass breakups and no touchdowns allowed.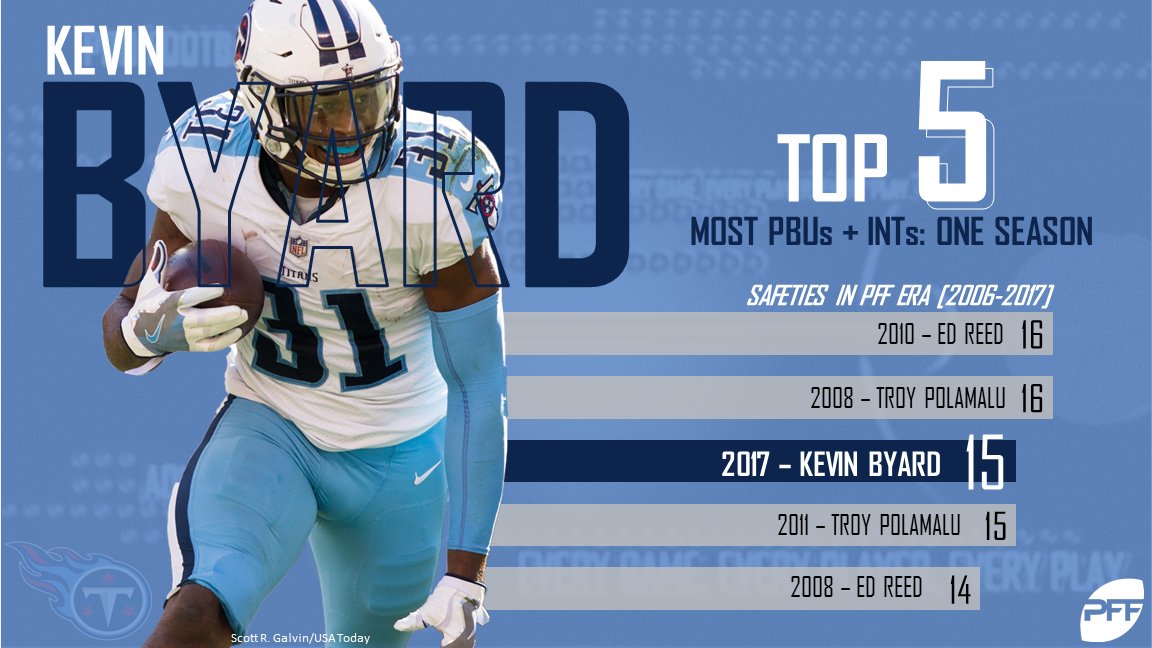 After a promising season as a rookie, Byard broke out during his sophomore year in 2017 by putting up numbers the league hasn't seen since the likes of Troy Polamalu and Ed Reed (you read that right). Byard was a ballhawk and joined Polamalu and Reed as the only safeties in the PFF era (2006-present) to tally at least 15 total combined pass-breakups and interceptions in a single season during the PFF era. In addition to his coverage abilities, Byard also made vast improvements in run defense and finished the year with a run-defense grade of 82.0 over 382 snaps. Overall, Byard put his stamp on both the Titans' defense and the NFL by finishing with the team's highest overall grade (87.0) – eighth among all safeties.
Coming off his breakout season, the expectations were high for Byard in 2018— but the now fourth-year pro delivered with the highest overall grade of his career. In coverage, Byard's combined interceptions and pass breakups fell to just six, but that was for a good reason, as he saw only 30 targets throughout the year, 25 fewer than he had seen the season before. His passer rating allowed fell to a career-best 55.8 that ranked sixth among qualified safeties and his run defense improved once again, as he finished with the second-highest run-defense grade (89.0) at his position.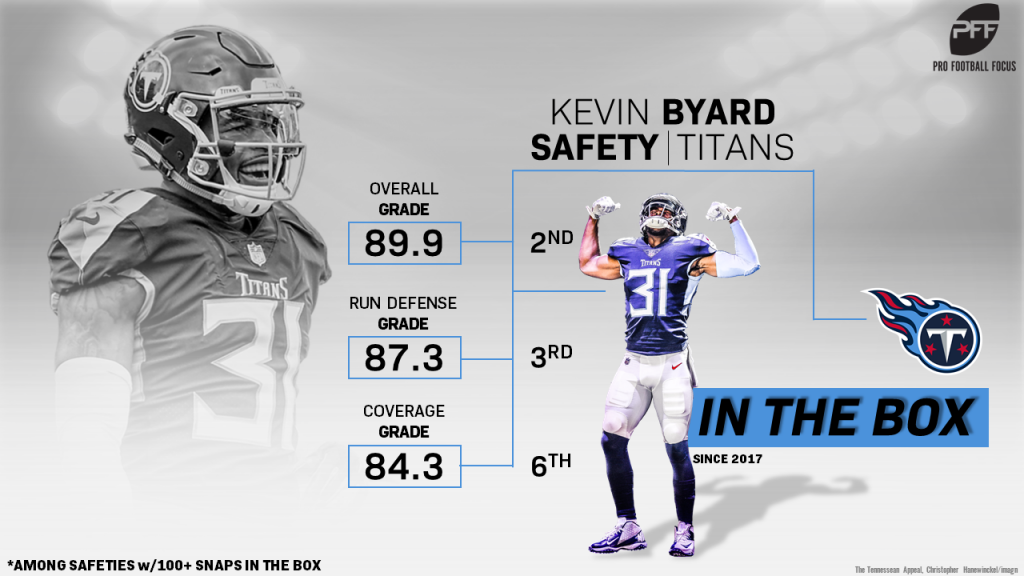 Byard's versatility clearly shows when you look at his overall performance, but his talent runs much deeper. Over the last two seasons, Byard has not only demonstrated the ability to be effective as a deep safety, but he's also been effective close to the line of scrimmage, as he's logged an 89.9 overall grade from his snaps in the box across those two years. He's even shown the ability to get after the passer with 20 career pressures, highlighted by his 2018 pass-rushing productivity rating of 19.0, which ranked second among qualified safeties.
Byard fell to the Titans at the 64th pick despite putting together strong seasons at Middle Tennessee State from 2014-2015. Now with three years under his belt as a pro, it's clear that every other NFL team has probably regretted overlooking one of the league's next great safeties.