The old saying goes: 'If you think it's too good to be true, it probably is.'
Early in the second quarter of his Week 6 matchup against the Denver Broncos, second-year wide receiver Cooper Kupp was handed the ball on a jet sweep. He got to the outside, turned on the burners and just when he was about to get the best of Darian Stewart, the Broncos safety grabbed at his collar and pulled Kupp to the ground. The young pass-catcher dropped to the turf, but his left leg remained in place. He stayed down.
The collective groan was from all football fans, not just supporters of the then 5-0 Rams. Whenever you see a player's leg bend in such a fashion, you're immediately reminded of season-ending knee injuries of years past; Robert Griffin III's in 2012, Jamaal Charles' in 2011 – the list goes on. It seemed unfair. The Rams were already well on their way to establishing themselves as one of the league's best offensive powerhouses, which automatically made them one of the most enjoyable teams to watch. Kupp, who was their second-highest graded wide receiver entering the game, had caught 30-of-32 targets for the seventh-most yards (438) the tied-most touchdowns (five) and averaged 2.74 yards per pass route run, which ranked fifth among the league's pass-catchers from Week 1 to Week 5. Without him, the Rams' very well-oiled offensive machine would be missing a vital cog.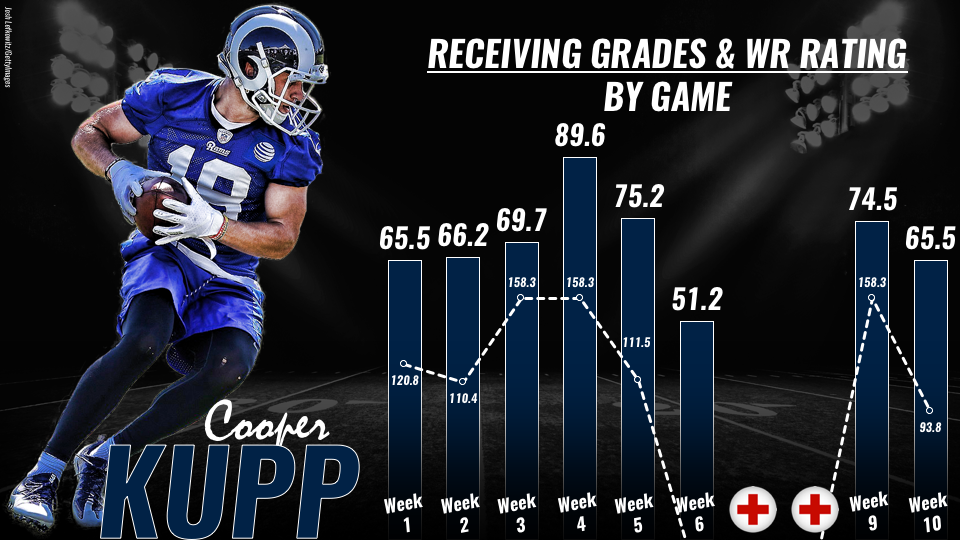 They got lucky. Kupp avoided any significant structural damage and left the contest with only an MCL sprain. He missed Weeks 7 and 8 and returned for his team's Week 9 contest against the Saints, and he caught all five of his catchable targets for five first downs, 89 receiving yards and a score, which generated a perfect passer rating of 158.3. The Rams may have left the Mercedes Benz Superdome with their first loss of the season, but they could take solace in the fact that one of their brightest young stars looked back to his best, just two weeks after he was all but done for the season.
It was too good to be true. Late in his team's Week 10 game against the Seattle Seahawks, Kupp set off on a go route against cornerback Shaquill Griffin. The ball didn't come his way, but it didn't matter; he lost his footing upon contact with the former UCF defensive back and fell to the turf in the same manner as he did four weeks earlier. This time, there would be no coming back. The morning after the game, ESPN's Adam Schefter confirmed the Rams' biggest fear. The star wide receiver had indeed torn his ACL, and he would now miss the remainder of the 2018 season.

The significance of the Rams' loss cannot be overstated. Kupp was in the midst of a career year as a receiver and had already bettered his receiving grade, his catch rate, his average yards per reception and his average yards after the catch per reception from his rookie year. Among the 99 wide receivers with at least 150 receiving snaps in 2018, Kupp's  2.27 yards per route run ranks 12th and his near-perfect WR rating of 145.9 ranks third.
Among his teammates in Los Angeles, his 49 targets rank third behind Brandin Cooks (69) and Robert Woods (77), as do his 566 receiving yards (which accounts for 18% of Jared Goff's passing yardage). However, his 424 yards after the catch, 100 yards after the contact, six touchdowns and six avoided tackles rank first.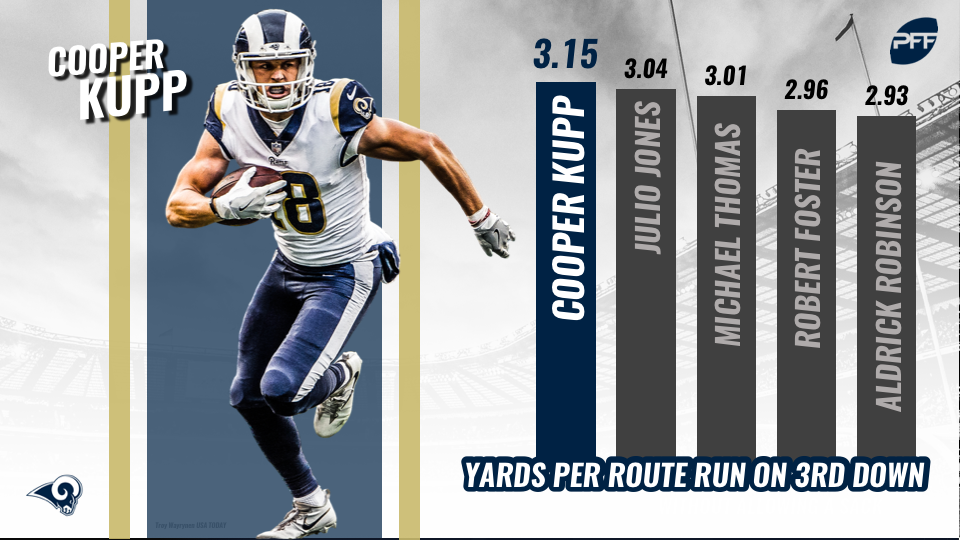 While the so-called 'small-school' wide receiver's production will be missed in all facets of the game, his team will especially miss his production in the crucial, high-leverage situations that are oh-so-important in today's NFL. Through 10 weeks, Kupp has seen 14 targets on third and fourth downs, and his late-down receiving grade of 81.7 ranks ninth among the 83 players with 10-plus late-down targets this season. Among the same group, Kupp amassed the fourth-most yards after the catch (112), the third-most yards after contact (54) and he averaged the third-most yards after the catch per reception (11.2). More impressively, however, is the fact that all 10 of Kupp's third- and fourth-down receptions went for either a first down or a touchdown, and he averaged a colossal 3.15 yards per route run on those downs, which is by far the best rate among receivers with at least 20 routes run.
The Rams will also miss his presence in the red zone. Through 10 weeks, Kupp was his team's second-most targeted red-zone receiver, and he caught eight of those 10 targets for 40 yards, three touchdowns and three first downs. He's also one of four wide receivers (Julian Edelman, Antonio Brown and DeAndre Hopkins being the others) who have seen at least 10 red-zone targets and not dropped a single catchable pass. All told, he generated a passer rating of 122.9 of his targets inside the opponent's 20-yard line, which is currently the third-best mark among wide receivers with at least 10 targets.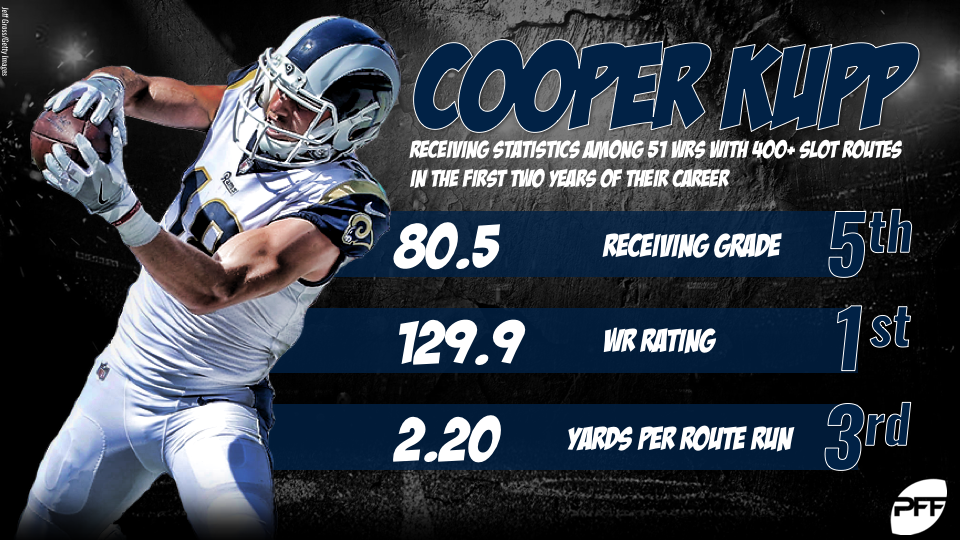 Of course, you can't discuss Kupp's incredible contribution to his team without mentioning his production from the slot, as the vast majority of the second-year receiver's work has come from an inside alignment. Through 10 weeks, 69.1% of Kupp's routes have been run from the slot, and his 32 slot targets account for 65.3% of his targets on the season. Through 10 weeks, he caught 32-of-40 slot targets for 417 yards (sixth-most), 223 yards after the catch (third-most), 74 yards after contact (sixth-most) and five touchdowns (tied for second-most). All told, he's generated a passer rating of 139.3 and averaged 2.42 yards per route run, which respectively rank third and fourth among receivers with at least 25 slot targets this year.
His sophomore run was a continuation from his strong rookie campaign, and when you look at his career numbers up to this point, you can make the case that the Rams haven't just lost a key contributor to their offense; they have arguably lost a slot receiver who is off to a historically great start to his career.
Over the last 13 seasons, 51 different receivers have logged at least 400 slot snaps over their first two seasons in the league. Kupp's 80.6 receiving grade ranks fifth among that group. His slot WR rating of 129.9 narrowly beats out Austin Collie for the top spot among those 51 receivers, while his catch rate of 78.0%, his average of 6.3 yards after catch per reception and his 2.20 yards per run rank second, seventh and third, respectively, among the same group.
Filling in for a player who has got off to one of the best starts that we've ever seen is no easy task, but second-year receiver Josh Reynolds will once again try to get the job done. In Kupp's two-game absence earlier in the year, Reynolds stepped up to the plate and caught 4-of-6 targets for 61 yards and two touchdowns in that span. However, his efficiency on a per-route basis was far from that of Kupp, as Reynolds' lowly average of 1.30 yards per route run ranked 58th among 85 receivers with at least five targets in that span.
Over the years, every Super Bowl contender has faced some kind of adversity in the lead up to the big game. The Denver Broncos had to overcome a declining Peyton Manning, Tom Brady and the New England Patriots had to deal with the fallout and the four-game suspension that came from "deflategate," and more recently, the Philadelphia Eagles lost the MVP candidate Carson Wentz to a season-ending knee injury. We all know how those seasons ended. Kupp's loss, as great is it is and as difficult as it will be to overcome, may well be the adversity that the Rams need to light the ignition on a Super Bowl journey.