Given the importance of the passing game in today's NFL, it's imperative for a defense to have a talented cornerback in the lineup to shut down the opponent's passing attack. After watching and evaluating every single snap of football from the All-22 this season, we believe these to be the best cornerbacks in the NFL through Week 15.


Coming in at number five, we have a tie between Dallas Cowboys cornerback Byron Jones and Cleveland Browns first-round pick Denzel Ward, who have both earned a coverage grade of 84.8. On the year, Byron Jones has allowed just one touchdown into his coverage to go along with 14 forced incompletions, and his 25.4 forced incompletion percentage currently ranks second among all corners with at least 200 snaps. Denzel Ward, who has had a stellar rookie season, has hauled in three interceptions and has also forced 10 incompletions.

Coming into number four, we have Denver Broncos standout corner Chris Harris Jr., who has earned an 85.1 coverage grade on the year. Harris Jr. has allowed just one touchdown in coverage while also snagging three interceptions and forcing eight passes to be incomplete. His passer rating against of 63.6 currently ranks fourth among cornerbacks with at least 200 snaps.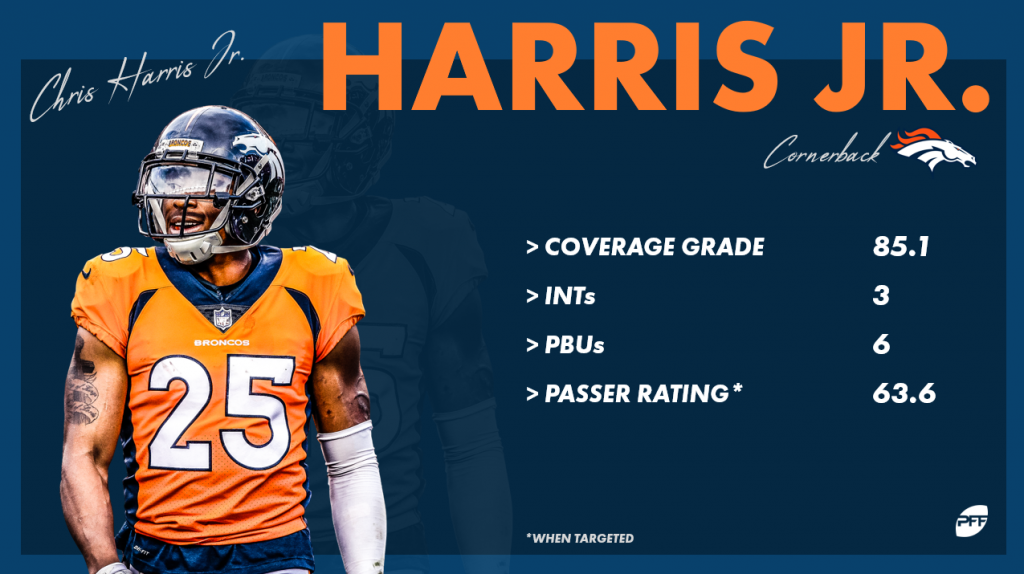 Coming in at number three, we have the fourth-year corner from the Chicago Bears, Kyle Fuller, who has earned the best coverage grade of his career with an 89.1 grade. Fuller is currently tied for the NFL lead with seven interceptions, and he has forced fifteen incompletions. Quarterbacks have had a tough time targeting him, and his passer rating against of 62.8 (which ranks third among corners with 200 snaps) is proof of that.

Coming in at number two, is the second-year corner for the Los Angeles Chargers, Desmond King II. King continues to prove to everyone why he shouldn't have fallen into the fifth round 2017 NFL Draft and is building off his solid rookie season with an elite 90.5 coverage grade in year two. On the year, King has snagged three interceptions and has six pass breakups to go along with 18 stops in coverage, which ranks tied for second among all corners.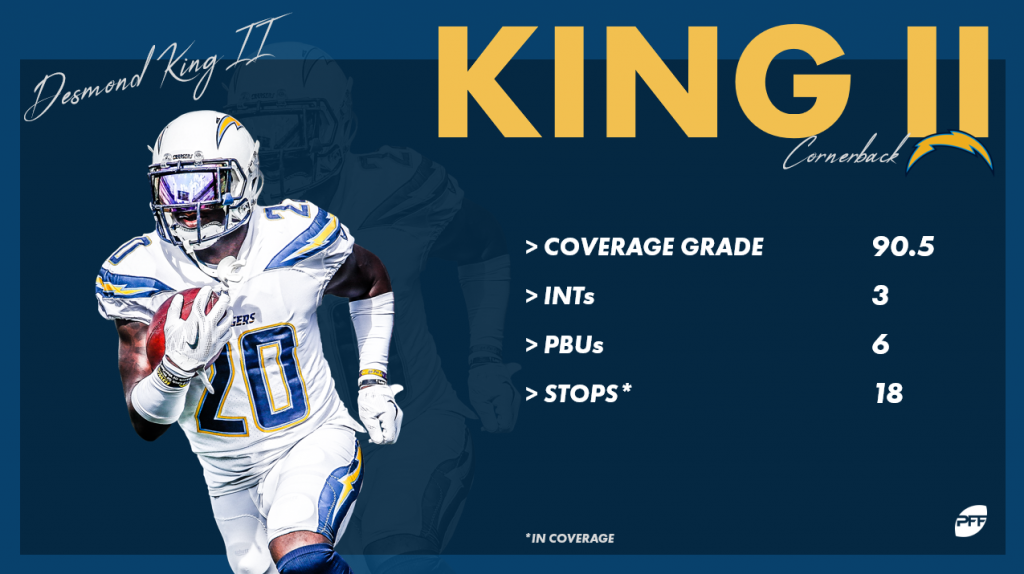 Coming in at number one, the best cornerback in coverage in the NFL through 15 weeks, is New England Patriots corner, Stephon Gilmore. On the year, Gilmore has earned an elite 90.6 coverage grade and has brought in two interceptions to go along with an extremely impressive 14 pass breakups, which ranks first among corners. Gilmore has 20 total forced incompletions on the year, which gives him a forced incompletion percentage of 26.0%, which ranks first among cornerbacks with at least 200 snaps. The Patriots are going to need Gilmore to keep up his play if they hope to make a run at the playoffs.