Though it isn't the most stable – and therefore predictive – statistical category, play under pressure is an extremely important part of playing quarterback at the NFL level, and does hold huge interest. It remains an extremely descriptive part of articulating why certain quarterbacks are playing – and grading – so well and dives a little deeper than just looking at box score numbers and touchdown to interception ratios.
With that in mind, here is a countdown of the top five (or six) quarterbacks under pressure so far in the 2018 season.

Brady may not be quite as good in 2018 as he has been in recent years, but he remains excellent under pressure. He has the highest percentage of air yards while under pressure in the NFL, delivering the ball to receivers deep down the field, not just dumping it off to checkdowns to escape that heat.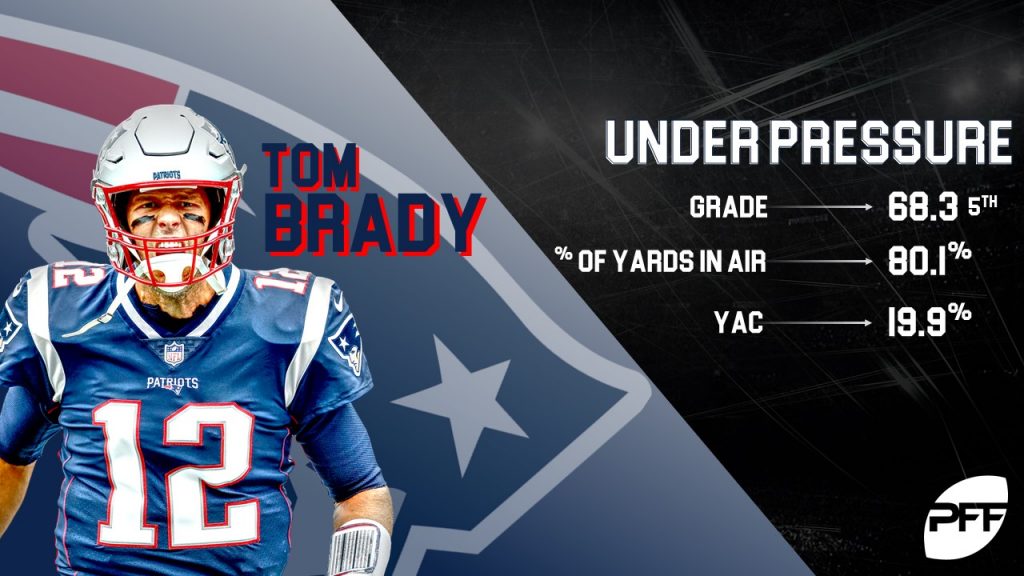 No quarterback has been under pressure more than Kirk Cousins this season and consequently, he leads the league with completions and yards when pressured, but he also has the best completion rate under pressure. He has been playing unsustainably well in the face of heat this year given how much he has seen come his way, though that has started to slow down in recent weeks.

Rodgers has 11 big-time throws to just one turnover-worthy play this season when under pressure which is a ludicrous ratio, but he has taken more sacks than anybody else on this top five when under pressure, electing to eat the negative play rather than put the ball in harm's way with a risky throw. At 33.6%, Rodgers also has the lowest completion rate of the top five quarterbacks under pressure, making up for that low rate with some exceptional throws.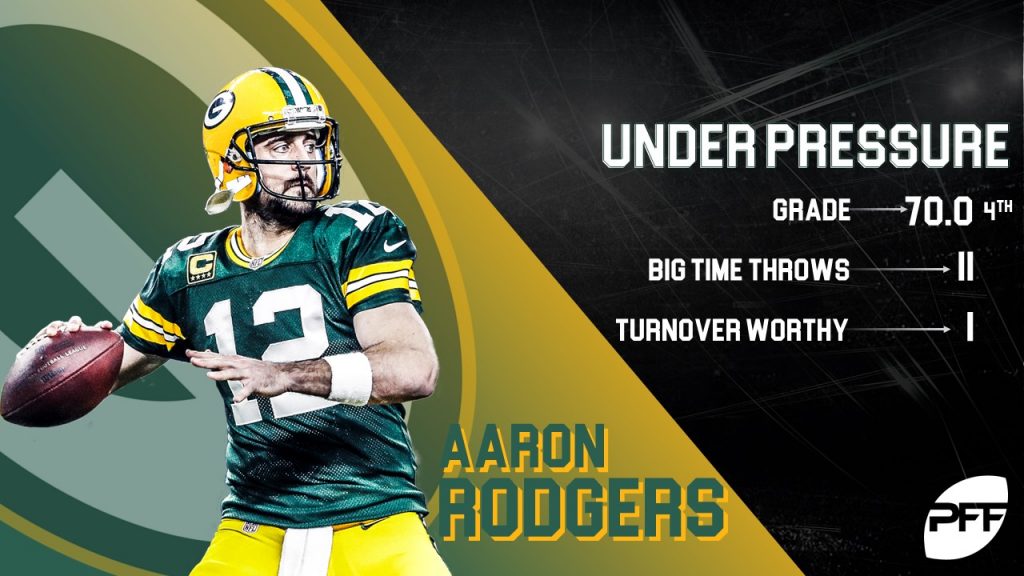 The game against Dallas notwithstanding, Brees has been excellent under pressure this season. He has taken the fewest sacks of any QB on this list, and while some of that is down to his offensive line, he also has the second-best sack rate of any quarterback in the league when pressured. Brees is third in the league in completion rate when pressured.

Philip Rivers is having a career year in 2018, and that extends to his play in the face of pressure. He leads the league in passer rating when hurried at 92.0, six points better than any other quarterback, and has averaged almost eight yards per attempt on those plays.

Patrick Mahomes' first starting season has been incredible thus far, and that doesn't change when you look at his play under pressure. He leads the league in PFF grade when hurried, and has 14 big-time throws on those dropbacks, three more than anybody else. What's even more remarkable, is that the lead he holds over the rest of the field gets even bigger if you focus on the money downs – third and fourth down.