Offensive guards, often the forgotten members of the offensive line, have seen their job get significantly more difficult over recent years. Gone are the days when all they had to worry about was the powerful, 350-plus pound defensive tackle lined up opposite them. Now, with the influx of the smaller, quicker defensive interiors who possess the same arsenal of moves that the NFL's best edge rushers do — see Donald, Aaron; Jarrett, Grady, Jones, Chris — guards are now expected to both fend off the pass-rush with the best of them and power the run game by opening up rushing lanes in athletically demanding blocking schemes.
Talented, dominant offensive guards are hard to come by, but if you look at a great team, you're bound to find them. Here, in reverse order, are the top offensive guard duos in the NFL right now.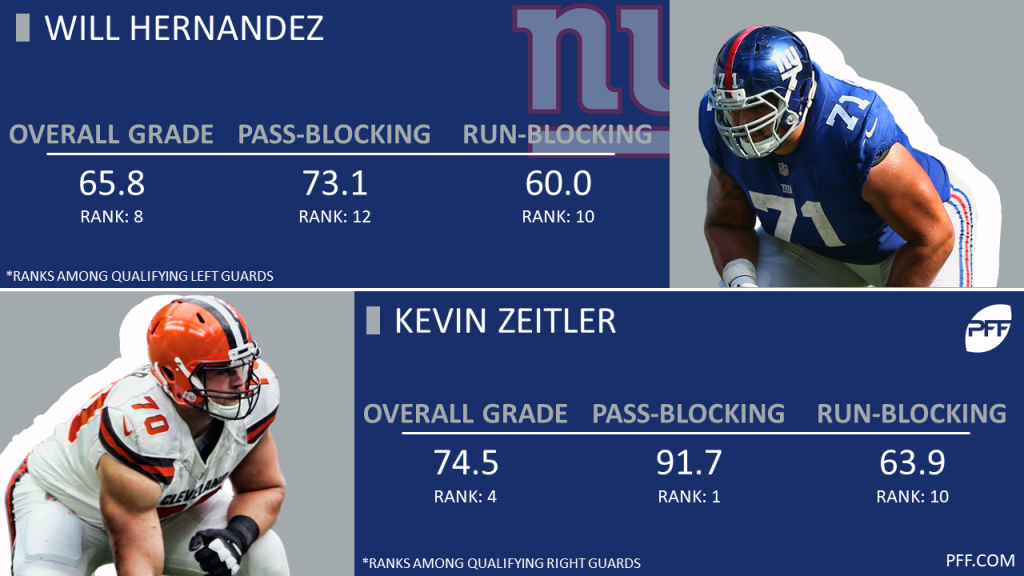 It didn't come cheap — far from it, in fact — but by acquiring former Cleveland Browns guard Kevin Zeitler, the Giants acquired the best pass-protecting guard in the NFL from a season ago. Zeitler allowed just three sacks, one hit and seven hurries from 642 pass-blocking snaps in 2018, and his 91.7 pass-blocking grade not only led the league's guards last season, but it was also tied for the ninth-best single-season grade ever recorded by an offensive guard.
Hernandez showed exceptionally well throughout his rookie season, especially in pass protection. He ended eight of his 16 games with a pass-blocking grade over 70.0, and he allowed just 29 pressures from 664 pass-blocking snaps on the year. More impressively, however, is the fact that he committed all of two penalties on 1,027  offensive snaps last year — an impressive feat for a first-year player at the position.
The conversation for the NFL's best pass-blocking guard should always include David DeCastro as few players have been as consistent as he over the last six seasons. Following the 2017 season where he finished second among guards with a pass-blocking grade of 89.7, the Steelers right guard allowed just one sack, two hits and 23 hurries from his 729 pass-blocking snaps in 2018, earning a pass-blocking grade of 86.1 in the process — the fifth straight season in which he'd earned a pass-blocking grade north of 80.0.
Much like his teammate, Foster has long been a difference-maker in pass protection for the Steelers. He earned pass-blocking grades of 70.0 or higher in 13 of his 16 games a season ago — with eight of those games hitting the 80.0-plus mark — and his single-season pass-blocking grade of 84.5 ranked eighth among 86 qualifying guards, just three spots below DeCastro.