In 2018, the Miami Dolphins were the definition of a subpar team. Though the Dolphins did finish with the season second in the AFC East behind the New England Patriots, they failed to reach .500 and concluded the campaign with an underwhelming 7-9 record. Subsequently, Miami cleaned house with their coaching staff, as well as with some big names on both offense and defense.
As far as the defensive changes, the Dolphins let 37-year-old star pass-rusher Cameron Wake walk in free agency, and they traded away Robert Quinn — their second go-to pass-rusher — to the Dallas Cowboys. Wake finished the 2018 season third in pass-rush win rate at 21.7%, second in pressure rate at 18.9% and 10th in pass-rush grade at 81.1. In his 10 seasons in the NFL, Wake has never recorded a pass-rush grade below his 2018 mark of 81.1.
Moreover, Wake is among the best edge defenders we have ever seen here at PFF, ranking second in the PFF era (2006 – present) in pressure rate (16.7%), fourth in pass-rush win rate (17.1%) and second in pass-rush grade (93.7).
Quinn's pass-rushing performance in 2018 was more subtle than that of Wake, but it was still impactful, as he finished 31st in pass-rush win rate (14.9%), 42nd in pressure rate (11.6%) and 21st in pass-rush grade (73.2). By season's end, Wake and Quinn led Miami's edge unit to an 11th-place finish among all 32 edge groups in pass-rush grade and a fifth-place finish in pressure rate.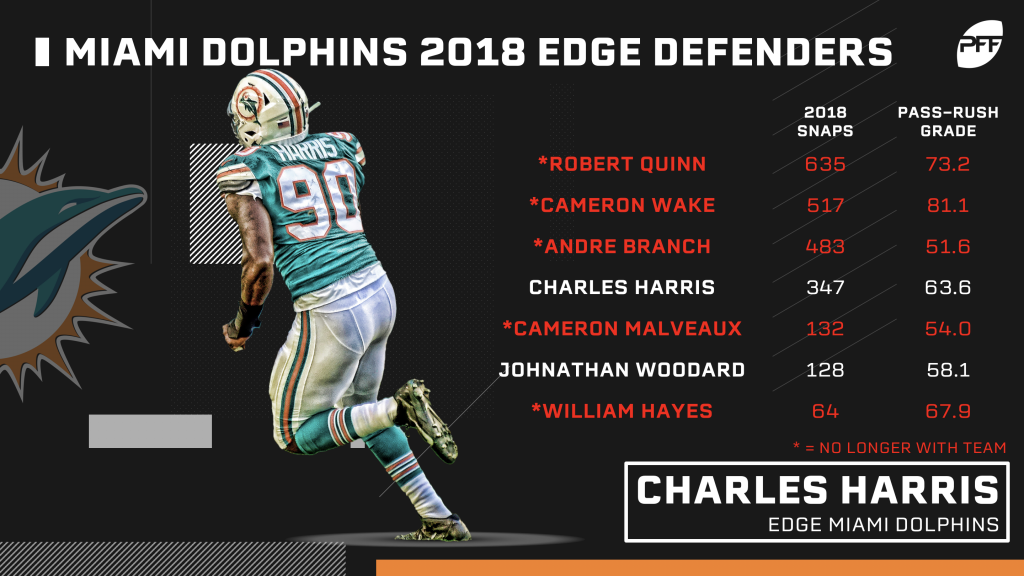 In other words, the Dolphins cut ties with the two players who accounted for 63% of their total edge pressures. After deciding against signing a big-name edge defender in free agency or even selecting one in the 2019 NFL Draft, the Dolphins' 2017 first-round pick, Charles Harris, is the next man up and he'll look to solidify himself as Miami's number one pass-rusher in 2019.
Even with only playing 347 total snaps in 2018 due to injury, Harris played more snaps than any other edge defender currently on the roster for the Dolphins. However, his performance overall for the year was suboptimal, as he ranked tied for 68th in pass-rush win rate at 10.8%, tied for 36th in pressure rate at 12.0%, 52nd in pass-rush grade at 63.6 and 78th in overall grade at 61.3.
As the 22nd overall pick of the 2017 NFL Draft, there were high expectations for Harris, and rightfully so, as his college numbers at Missouri were among the best in college football from 2014-16. During that period, Harris posted an elite 90.0 pass-rush grade ranking 16th among edge defenders, as well as a 17.1% pass-rush win rate and a 16.0% pressure rate that both ranked 19th.
With the hope of a healthy 2019, as well as receiving far more playing time, the Dolphins have plenty of optimism that Harris can replicate his college play and still become a top-20 pass-rusher in the NFL. However, there is a much bigger reason as to why Harris can finally become the player he was drafted to be — and that's a position change from 6/7-tech to 9-tech/OLB.
According to Barry Jackson of the Miami Herald, "the Dolphins believe he [Harris] can be more effective as a pass rusher from a stand-up position at times, as opposed to always having his hand in the ground as a defensive end."
While in the NFL, Harris has played 82.4% of his snaps at 6/7-tech.  In that alignment since 2017, Harris ranks 53rd out of 82 edge defenders in overall grade (66.1), 38th in pass-rush grade (69.2), tied for 54th in pass-rush win rate (12.2%) and tied for 39th in pressure rate (11.3%).
Harris' time at 9-tech/OLB with the Dolphins has been minimal, playing just 8% of his snaps there. However, his play for those snaps has shown promising signs, as his overall grade climbs to 70.2, and his pass-rush win rate and pressure rate both jump up to 17.1%.
Harris played more 9-tech/OLB in college but still was only in that alignment for 20.7% of his snaps as opposed to 48.8% of his snaps coming at 6/7-tech. Though again, his play at 9-tech/OLB was better than his play a 6/7-tech. When lined up on the end at 6/7-tech in college, his overall grade was 77.8, his pass-rush grade was 82.8, his pass-rush win rate was 18.4% and his pressure rate was 17.4%. At 9-tech/OLB, his overall grade rose to 81.8, his pass-rush grade rose to 87.6, his pass-rush win rate rose to 21.2% and his pressure rate rose to 18.6%.
There is no doubt that the Dolphins' return on investment in Harris seems to be dwindling with his lowly play in two seasons. As mentioned though, hope should still remain that Harris can figure things out as a starter, with the position change, and, most importantly, with a clean bill of health. With Cameron Wake and Robert Quinn both out of the MIA, we can fully expect the Dolphins pass-rush to regress in 2019. As a result, the Dolphins need a big year from Charles Harris.