It's the end of an era for the Miami Dolphins, but the start of a new one for the Tennessee Titans.
According to NFL Network's Mike Garafolo, veteran pass rusher Cameron Wake and the Titans have agreed to a three-year, $23 million deal,  with $10 million in guaranteed money. The 37-year-old rusher will now relocate for the first time in over a decade and wave goodbye to a Dolphins franchise that gave him his first real shot in the NFL.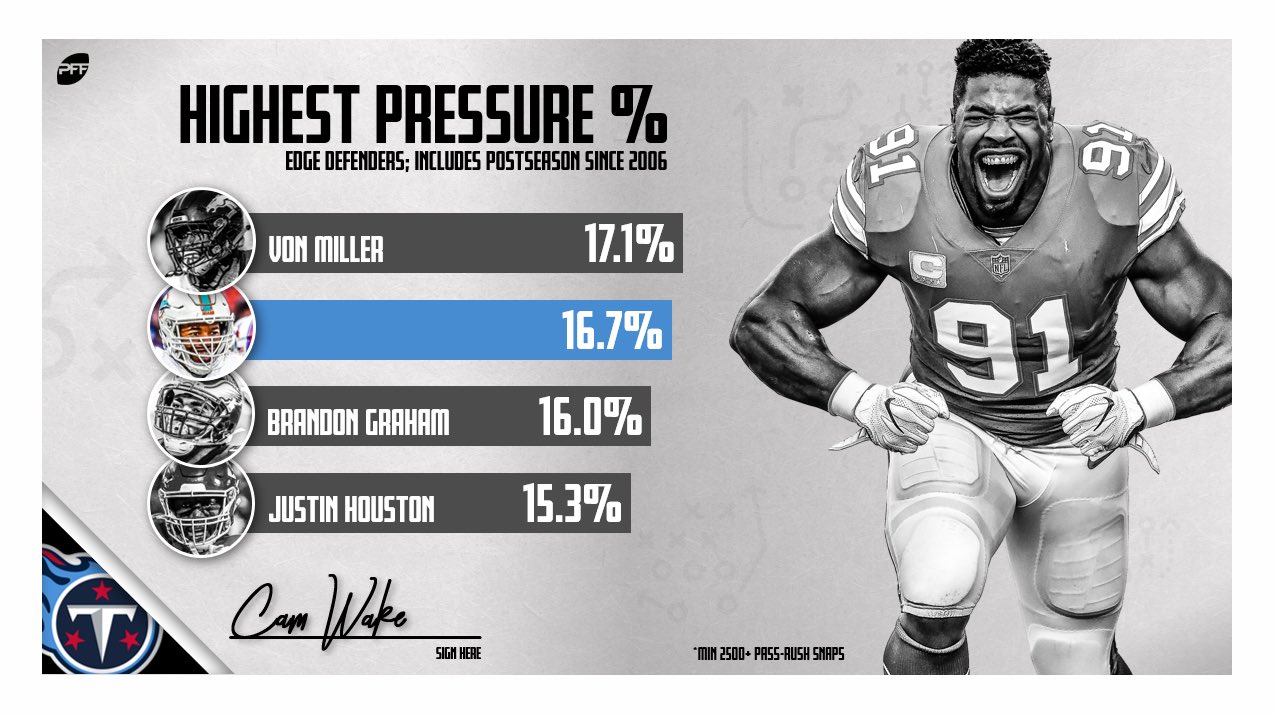 As success stories go, Cameron Wake's is a good one. After he was passed over in the 2005 NFL Draft, he signed a deal with the New York Giants as an undrafted free agent, but he was released again two months later. With little to no interest from any of the 31 other teams, Wake was forced to sit out of professional football for two years – but his journey was far from over.
Discontent with his situation working a regular old 9-5, Wake then took a job as a personal trainer so he could return to football shape and give it another shot. He eventually signed a free agent contract with the BC Lions of the Canadian Football League in May 2007, and he took the league by storm. He was crowned the CFL's most outstanding rookie in 2007 and earned CFL All-Star honors in both 2007 and 2008.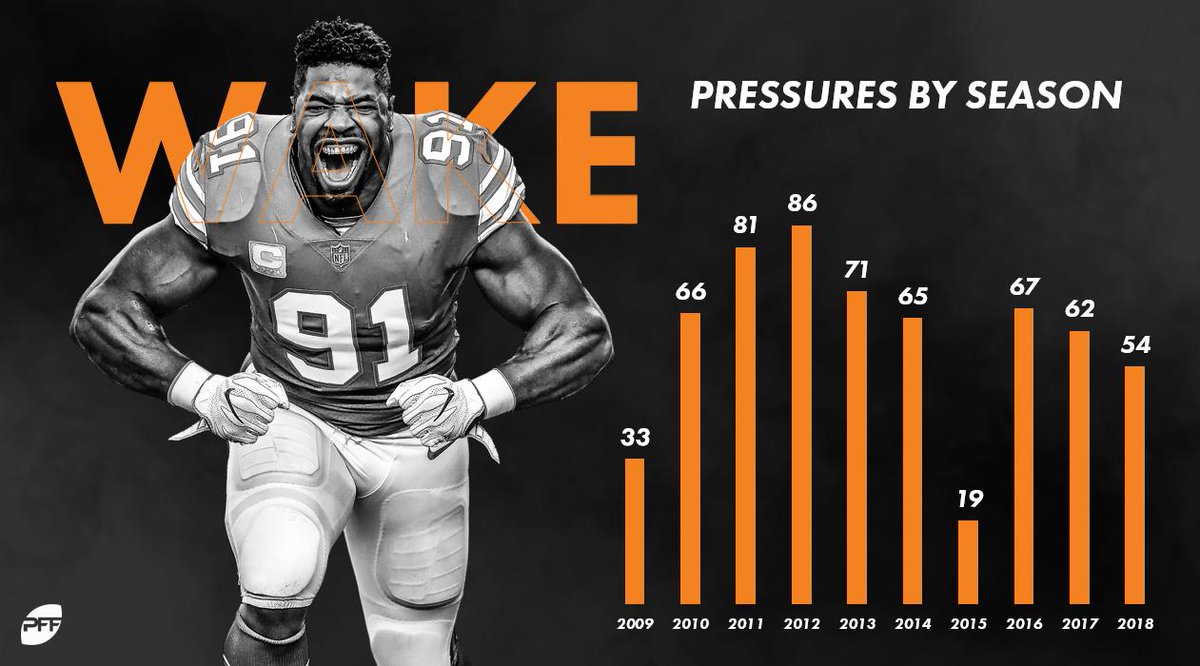 At the close of the 2008 CFL season, the edge defender drew interest — and deservedly so — from several NFL teams, and after working out for eight, he decided to sign with the Dolphins on January 18, 2009. The rest, as they say, is history.
Wake exploded out of the gates in his first NFL season, and while he was limited to only 163 snaps on the year, he more than made his name heard, as he tallied seven sacks, six hits and 20 additional hurries from his 135 pass-rushing snaps. His 2009 pressure rate of 25.2% is still the best single-season ever recorded by an edge defender with at least 100 pass-rushing snaps over the course of a season, while his 2009 overall grade of 93.2 is still the third-best single-season mark of the PFF era.
He didn't stop there. In fact, Wake went on to record overall grades of 80.0 in all but one of his ten NFL seasons up to this point, with his 2017 season (which he ended with an overall grade of 75.0 – 38th among edge defenders) being the only year that's he's missed the mark. In terms of pass-rushing grades, Wake leads all edge defenders in the PFF era in the number of single-season pass-rushing grades of at least 80.0, as he's done it for ten consecutive seasons, with six of those seasons grading at 90.0 or higher.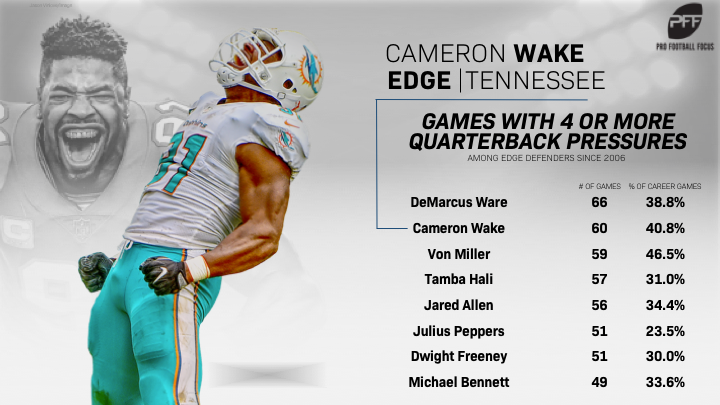 His 2018 season, which earned an overall grade of 81.6 and a pass-rushing grade of 81.1 (15th and 11th, respectively, among qualifying edge defenders last year) more than proved that Wake is far from the grasp of Father Time, as the veteran pass-rusher still managed to produce 54 total pressures from his 313 pass-rush snaps on the year. His pass-rush win rate of 21.7% ranked fourth among edge defenders with at least 100 pass-rushing snaps, while his pass-rushing productivity of 21.0 ranked third at the position, beating out notable names like Khalil Mack (18.2), Von Miller (16.8) and J.J. Watt (15.0).
His latest season just adds to a resume that is about as good as it gets among the NFL's best pass rushers. Throughout his career, Wake has produced pressure on at least 15.0% of his snaps in every single season, while he's produced at least 50 pressures in every season except his first year with the Dolphins and the 2015 season which he lost due to an Achilles injury. Over the last 10 years, Wake has produced 108 sacks, 142 hits and 354 hurries from his 3612 pass-rushing snaps in that span. His 250 knockdowns (sacks+hits) are the fourth-most in the PFF era; his 604 total pressures are the eighth-most, his career pass-rushing productivity of 19.7 and his pressure rate of 16.7% both rank second among the 76 pass-rushers with at least 2000 pass-rushing snaps in the PFF era.
In 147 games, the veteran defensive end has ended just nine games with zero pressures to his name, while he's ended 124 of those games with at least two pressures, and 60 of those games with at least four pressures.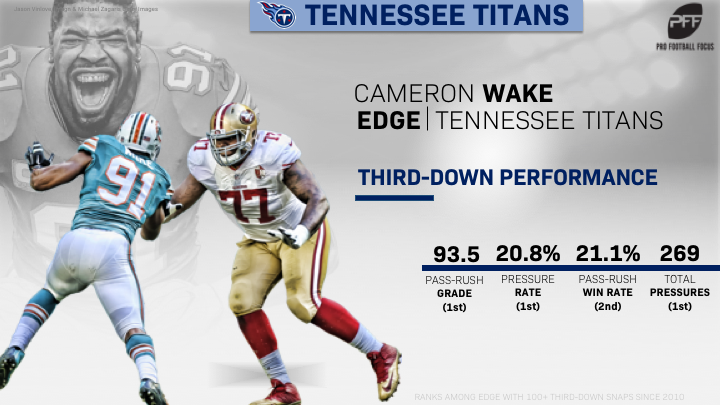 In addition to everything that Cameron Wake is on the football field, the Titans also get the added bonus of Wake's historic third-down production, as there is probably no greater third-down threat in the NFL than the 11th-year pro. Since 2010, Wake leads the NFL's edge defenders in third-down pressures (269), third-down knockdowns (109), third-down pressure rate (20.8%) and third-down pass-rush grade (93.5), while his third-down pass-rush win rate of (21.1%) ranks second to only Khalil Mack (21.2%) in that time.
There is perhaps no more inspirational story in the NFL than that of Cameron Wake, after all, he went from being an undrafted free agent to a CFL star to one of the most productive NFL pass-rushers of his generation. As Wake gets set to enter his 11th year in the league, there is nothing in his history that suggests that something as simple as age can get the better of him. The Titans got a good one, and their pass rush is set to get a significant boost next year because of it.