It's no secret, Tom Brady and Philip Rivers are two of the best quarterbacks of their generation. Luckily for us football fans, we'll get to watch them face off in the playoffs for the third time (and the first time in over ten years). If it feels like it has been forever that Brady and Rivers have been gracing your TV screens, it's because it almost has been. When the Chargers march into Gillette Stadium on Sunday, it will feature the oldest combined age of starting quarterbacks in playoff history.

The first time Brady and Rivers met in the playoffs was back in the divisional round of the 2006 season. The Chargers were coming off a dominant 14-2 regular season and looked like a shoo-in for the Super Bowl, but the Patriots managed to upset them and pull off the win in San Diego. In that game, Brady actually finished with the lowest grade (38.4) of any offensive player in the game. Brady struggled to do any damage from a clean pocket, and he was given a clean pocket 33 times on 54 dropbacks. Of his 33 clean dropbacks, Brady completed 20 passes for 211 yards, no touchdowns, one interception and a passer rating of 68.6.
Despite losing, it was a different story for Rivers in their first playoff matchup. Rivers earned an overall grade of 75.8, which was the fourth-highest grade for any offensive player in that game. Rivers was particularly good from a clean pocket, earning an 88.3 grade on clean dropbacks. However, Rivers lost, and Brady went on to lose to Peyton Manning in the AFC championship game.
The second playoff meeting between Brady and Rivers was in the AFC championship game in the 2007 season, just one year after their first playoff meeting. This time, the Patriots were 17-0 and were on pace to be crowned as the greatest team of all time. If there was one quarterback who would walk into New England to play the undefeated Patriots and not be afraid, it was Philip Rivers. The Chargers' quarterback had yet another solid game against the Patriots, earning a 71.8 overall grade. On the other hand, Brady finished with the lowest grade (37.7) yet again among all offensive players in the game. Despite Brady's poor performance, the Patriots pulled off the win again and went on to the Super Bowl.
In the previous two playoff matchups between Brady and Rivers, the winner went on to either the AFC championship or the Super Bowl, and such will be the case again when these two meet on Sunday. Another theme of previous Brady-Rivers playoff matchups is that both have been among the best quarterbacks at the time, and that will remain true for their third playoff matchup. Rivers has an overall grade of 90.8 this season, ranking fourth among quarterbacks. Brady ranks just below him with an overall grade of 90.7.
One area of the game where Rivers has a decisive lead on Brady this season is passer rating from a clean pocket. When kept clean, Rivers has completed 257-of-352 attempts for 3,090 yards, 24 touchdowns, six interceptions, and a passer rating of 115.1, ranking sixth among quarterbacks this year. Brady has completed 317-of-442 attempts for 3,612 yards, 20 touchdowns, six interceptions, and a passer rating of 105.3, ranking 16th. That puts Rivers a full 10 spots ahead of Brady.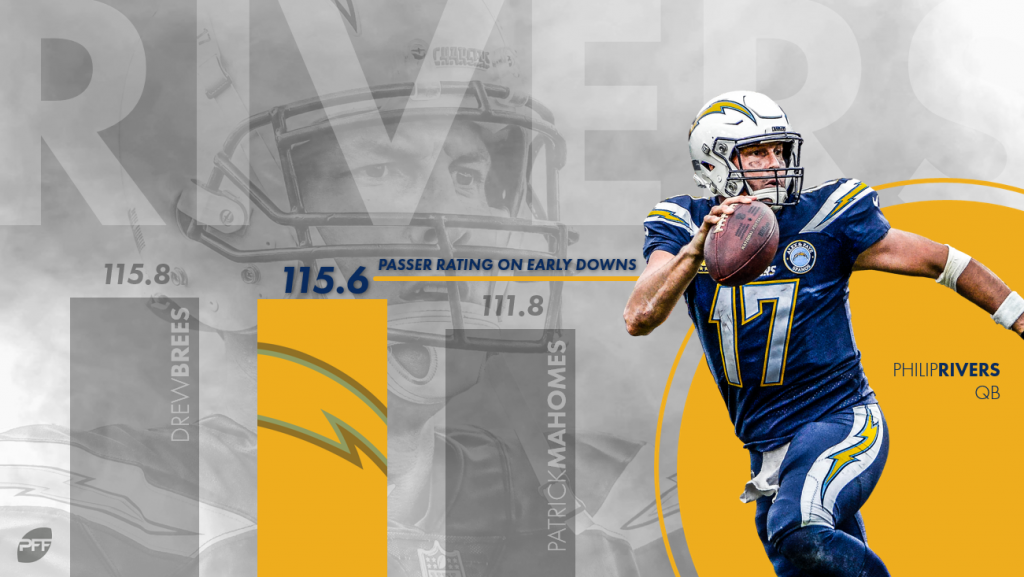 Another big part of Rivers' elite season is his work on early downs, as his passer rating of 115.6 on early downs ranks second in the NFL. Brady has done much less damage on early downs, and his passer rating of 98.4 on such downs ranks 12th. Passing early and often is a smart thing to do, as highlighted in our piece on Russell Wilson earlier this week, and it could be an X-factor when the Chargers face the Patriots.
One of the best indicators of a quarterback's effect on a team is his big-time throw percentage, and Brady has made big-time throws with the best of them for a long time. Brady's big-time throw percentage of 4.6% ranks 14th out of 38 quarterbacks this season (min. 150 attempts), and Rivers' mark of 5.7% ranks eighth. However, looking at passes only on third and long (7+ yards to go in this case), Brady has made a big-time throw on 15% of such passes, ranking first out of 25 quarterbacks with at least 50 attempts in such situations. That is an absurdly high mark, and it's a microcosm of how Brady has performed in the biggest of moments throughout his career. Rivers has a big-time throw percentage of 5.4% on third and long this season, ranking 15th.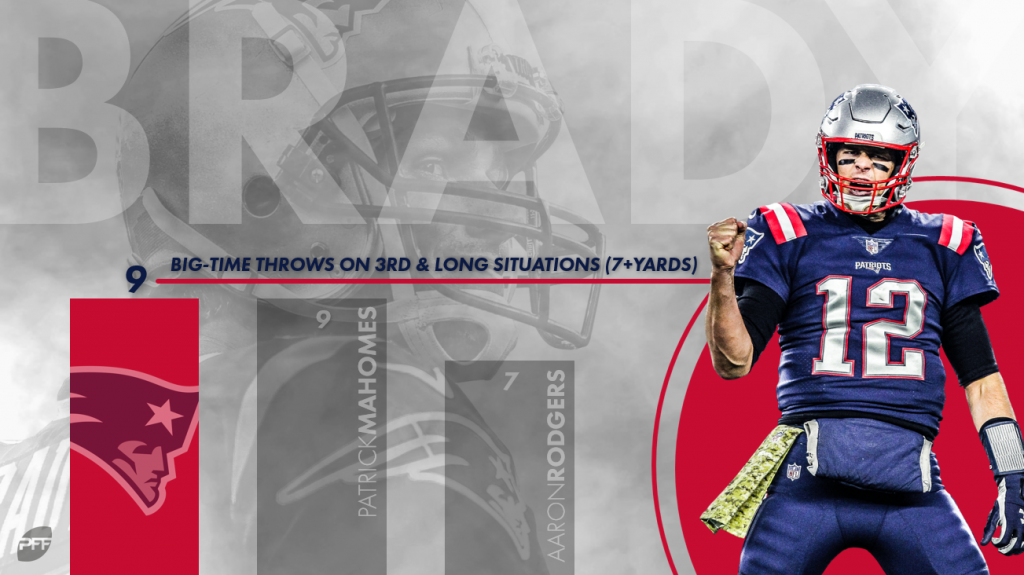 Converting third downs in the NFL is crucial, and the ability to consistently make difficult throws when the defense knows your passing is a trait that every coach wishes his quarterback had. This season, Brady has made the difficult throws on third and long at a higher rate than any other quarterback, and it could be a deciding factor on Sunday.
The trilogy between Brady and Rivers is shaping up to be a good one. Both have a top five overall grade among quarterbacks this season and both have different areas where they excel at. Could the third time be the charm for Rivers? Or will Brady and company end Rivers' Super Bowl dreams yet again?