All offseason long, leading up to the draft, during the draft, and after the draft, we at PFF talked about the importance of coverage players.  Our data analysts Eric Eager and George Chahrouri crunched a decade's worth of PFF grades and data and concluded that having a top coverage unit and a poor pass-rush resulted in more than two wins than a defense that had a top pass-rush and a poor coverage unit.  While generating pressure is a more predictable trait, finding a shutdown corner is more valuable for a defense.  This is the reason why the Browns chose to select cornerback Denzel Ward over edge defender Bradley Chubb, a player many in the draft community thought was the best prospect in the 2018 class.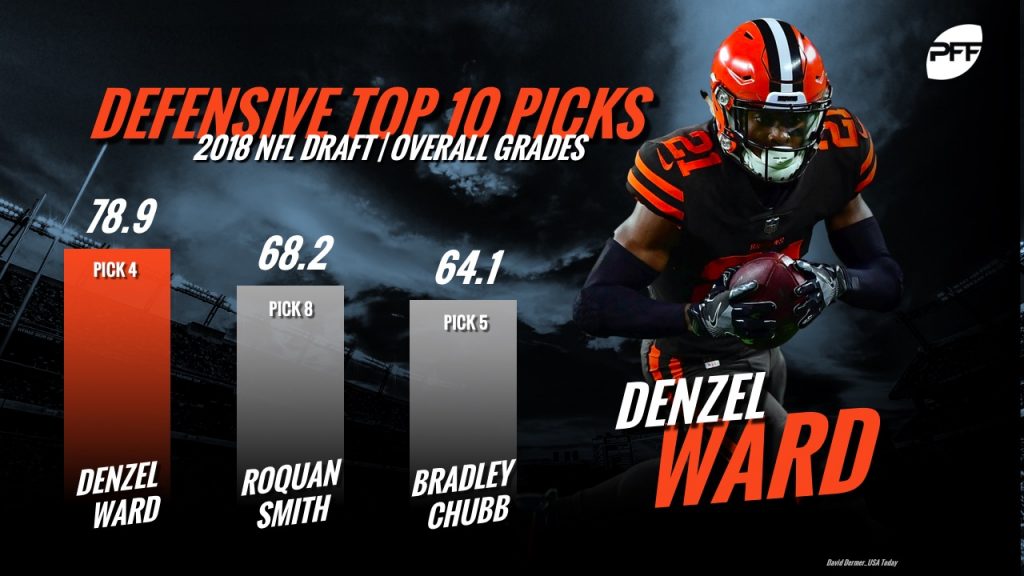 Currently, the Browns rank first in the NFL in EPA allowed per pass play.  This isn't 100% because of Ward, but he's a key component of the turnaround by a defense that ranked dead last in the same statistic a year ago.  General Manager John Dorsey completely overhauled the secondary with the additions of free safety Damarious Randall and cornerbacks Terrance Mitchell (unfortunately lost to injury), TJ Carrie, and EJ Gaines.  Randall and Mitchell have had the biggest impact of the free agents (Randall was acquired via trade) as Mitchell has logged two takeaways and provided a physical presence opposite Ward, and Randall has cleaned up the back end of the secondary.
Also going under the radar this season has been the excellent coverage play of third-year linebacker Joe Schobert, who himself has three takeaways, two pass breakups, and has the best coverage grade of any player at any position in the NFL at 90.8.  All these components have led to the excellent play that the Browns defense has had in the first five games of the 2018 season, but none of these players have been more valuable than the fourth overall pick.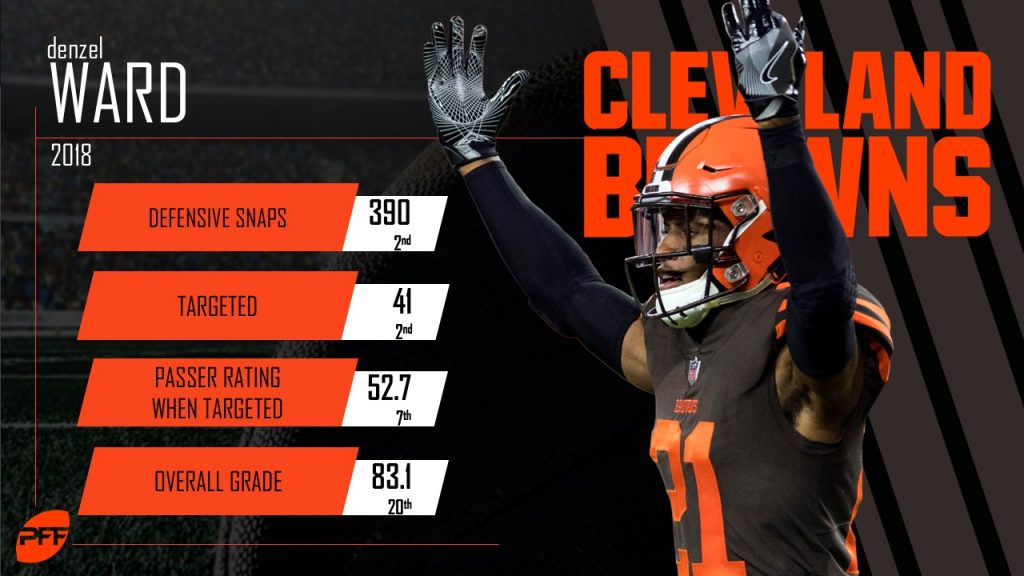 Ward's 83.1 coverage grade ranks second at his position and is tied for eighth amongst all positions with at least 100 snaps in coverage. Quarterbacks haven't been avoiding him either, as he's been second-most targeted coverage defender in the NFL at a whopping 41 targets, but he has allowed just 21 catches and only 0.92 yards per cover snap.  If there are blips in his statistics, it's because he's given up two touchdowns. However, those touchdowns were to Antonio Brown and Michael Thomas, two elite wide receivers, so that can be excused a bit.
Even in that game against Pittsburgh, he did an admirable job covering Brown on seven targets and logged an interception and a pass defense (on top of another interception when covering tight end Jesse James).  Over the past three games, Ward has been targeted 24 times but has allowed just eight catches for 97 yards, all while he has forced five incompletions and also made two defensive stops.
Much like the addition of Marshon Lattimore in New Orleans in 2017, Ward has effectively shut down his side of the field. This makes the entire defense better as a result and also allows defensive coordinator Gregg Williams to deploy his exotic blitz packages. Ward also has given the Browns a cornerback with press capabilities, as he's shown a press look on 129 snaps through five weeks, which is more than double the number of times as the next closest defender on the Browns (Mitchell, 61).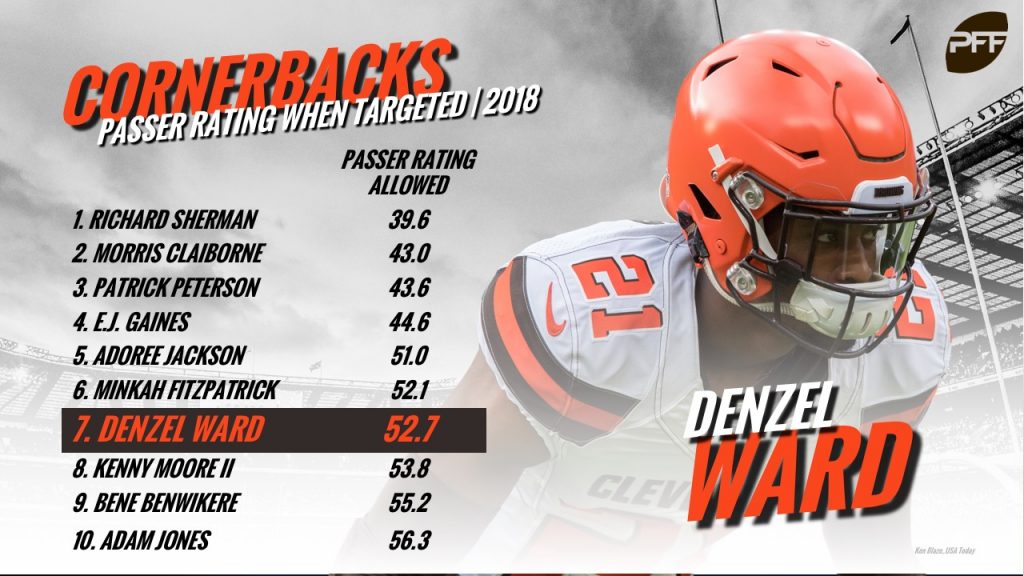 All this doesn't mean we didn't like Bradley Chubb as a prospect. In fact, we had him as the No. 13 player on our final big board and think he'll be a very good edge-rusher for years to come. He leads the Broncos in total pressures this season, ahead of Von Miller shockingly, but he's yet to produce the same value or impact for the Broncos as Ward has for the Browns. Chubb has yet to force a takeaway, as the secondary behind him is struggling.
It's obviously just the start to their careers for these young, exciting playmakers, but the early returns are playing big dividends for the Cleveland defense that sports an NFL-best 15 takeaways and a plus-eight turnover differential. Gregg Williams defenses are often feast or famine, their success will most likely regress due to the volatility of turnovers, but Ward has been at the forefront of the impressive turnaround from 2017 and he should be able to help lead a defense that will likely finish as a top ten unit this year.