NFL Insider Ian Rapoport has reported that the Baltimore Ravens have released Pro-Bowl safety, Eric Weddle. The move, which is likely a financial one, saves the Ravens $7.5 million against the cap and incurs just $1.75 million in dead money. Weddle may be 34 years old, but as he's proved in recent seasons, he can still offer an upgrade to any safety-needy team in the market. He will now join other big names such as Earl Thomas, Landon Collins, Adrian Amos Jr., and Tyrann Mathieu in free agency.
Weddle entered the league as a second-round pick back in 2007, and he quickly developed into one of the most consistent safeties in the game. Now 12 years into his career, he's graded above 70.0 in 11 of his 12 professional seasons, above 80.0 in eight of those seasons, and above 90.0 in two of those seasons, with his 2012 mark of 92.2 being the third-best single-season mark ever recorded by a safety. No safety in the PFF era has tallied more single-season grades above 70.0 or 80.0 than Weddle.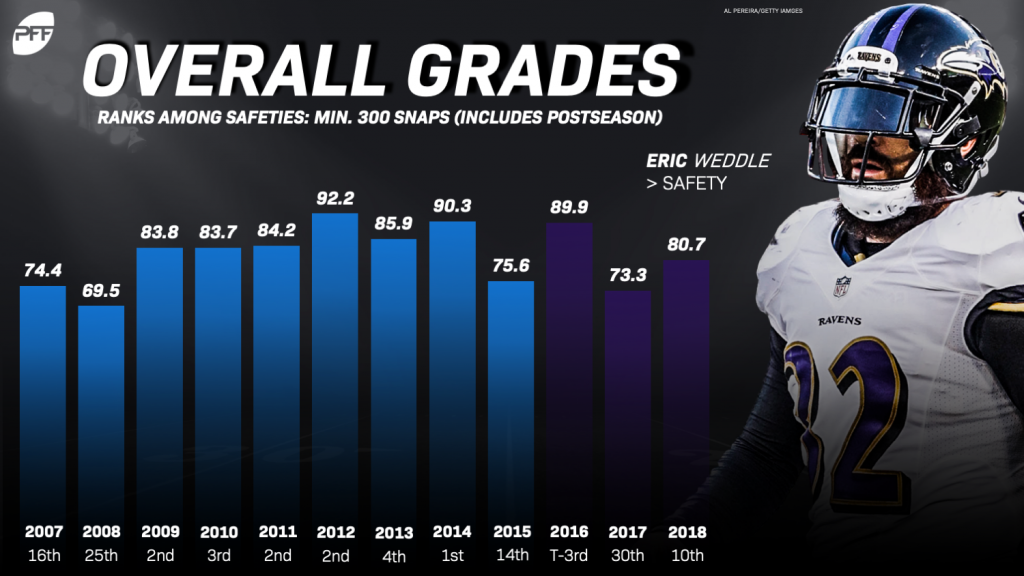 Throughout his career, Weddle has not only been the model of consistency; he's also been the model of durability. He's played at least 500 snaps in each of his 12 seasons in the league, and he has played at least 800 snaps in 10 of those seasons. His 1078 defensive snaps in 2018 were the 14th-most at the position, while his 3193 snaps over the past three years are the seventh-most among safeties in that span. As if that wasn't impressive enough, his overall career grade of 94.7 ranks first among 253 safeties with at least 1000 snaps in the PFF era, while his run-defense grade of 95.1 and his coverage grade of 94.1 rank second and third, respectively.
While he's not yet managed to replicate his career-best single-season performance of 2012, his 2016 season – his first with the Ravens – came pretty close. That year, Weddle was a force in all facets of the game and ended the year with run-defense (89.7 – third among safeties), coverage (88.7 – fourth) and tackling (90.8 – second) grades all above 88.0. In total, he accumulated four interceptions and four pass breakups from his 22 targets in coverage, he ranked fourth among safeties with 24 defensive stops against the run, and he missed just three tackles on his 96 tackle attempts. Not bad for a then-32-year-old.
In his most recent season, Weddle was once again an impact player against both run and the pass. He allowed a total of 111 yards into his coverage, at an average of just 0.18 yards per coverage snap that tied for the eighth-best mark at the position. Showing zero signs of slowing down, Weddle was at his best in coverage against wide receivers,  yielding a passer rating of just 57.0 when quarterbacks targeted wideouts – usually the biggest and fastest players on the field – in his coverage. Again, showing his all-around ability, Weddle also missed only five tackles on 78 attempts and finished the year with 17 total defensive stops against the run – 17th-most at the position.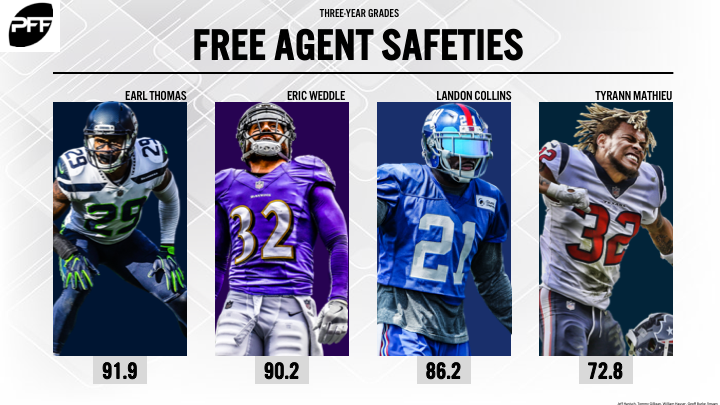 Weddle's release will mean that the now-13th-year safety will join a crowded, yet exceptionally talented pool of safeties who are also looking for new homes for the 2019 season, and while Weddle may be older than the vast majority of those players, teams should not be discouraged from inquiring about his services. As he's proved season after season, Weddle is still capable of performing at a high level in all facets of the game, and he should quickly be considered one of the best talents available at the position.