With Iowa State trailing 10-0 early in the second quarter to Texas Tech, Cyclones quarterback Brock Purdy readied from the shotgun on first and goal from the one-yard line. Most quarterbacks would likely be asked to go under center and hand the ball off being so close to the endzone, limiting the distance needed to score.
But then again, maybe not when your backfield is home to college football's best running back in space.
Purdy handled the snap and transferred the ball to running back David Montgomery, who was met at the line of scrimmage by a swarm of Red Raiders defenders — not a problem for the NCAA's leader in avoided tackles.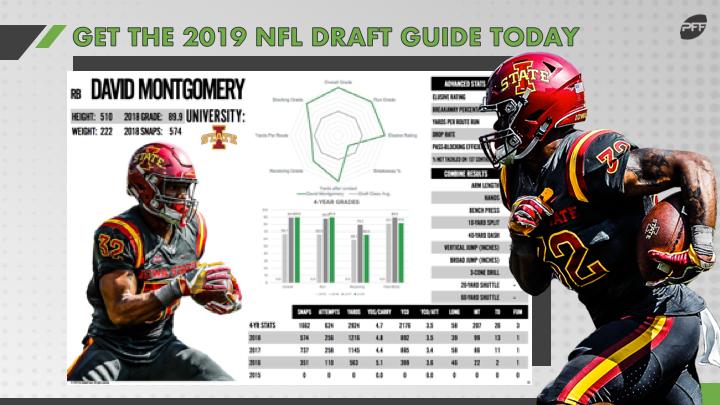 With more space and an unnatural ability to power through contact, Montgomery bulldozed his way past the bulky linebackers and barreled his way into the endzone to bring Iowa State within three.
On paper, it was a mere one yard gained after contact. In the grand scheme of things, though, it was a game-changer. The Cyclones went on to win 40-31, and Montgomery finished the day with 125 yards — 74 after contact — and 11 missed tackles forced.
That extra effort was emblematic of a college career full of shiftiness and toughness, which is likely what prompted the Chicago Bears to select the elusive running back in the third round of the 2019 NFL Draft. Montgomery finished the season with 99 avoided tackles, the most among all running backs in the NCAA in 2018.
As a result, he was the fourth-highest graded running back in 2018 and the highest graded draft-eligible running back (91.1). And he improved his overall grade from a 66.7 in his freshman campaign to an 89.3 mark in his sophomore year, where he put up similar numbers to his 2018 year.
And while Montgomery is more known for making defenders miss rather than breaking away for long runs, he still gained chunks at an impressive rate last season. He ranked fourth among draft-eligible backs in runs of 10 or more yards (40) — but his longest was only 39 yards. That shouldn't be a concern at all for the Chicago Bears, because Tarik Cohen ranked seventh among 61 qualifying running backs in breakaway percentage (45.3%).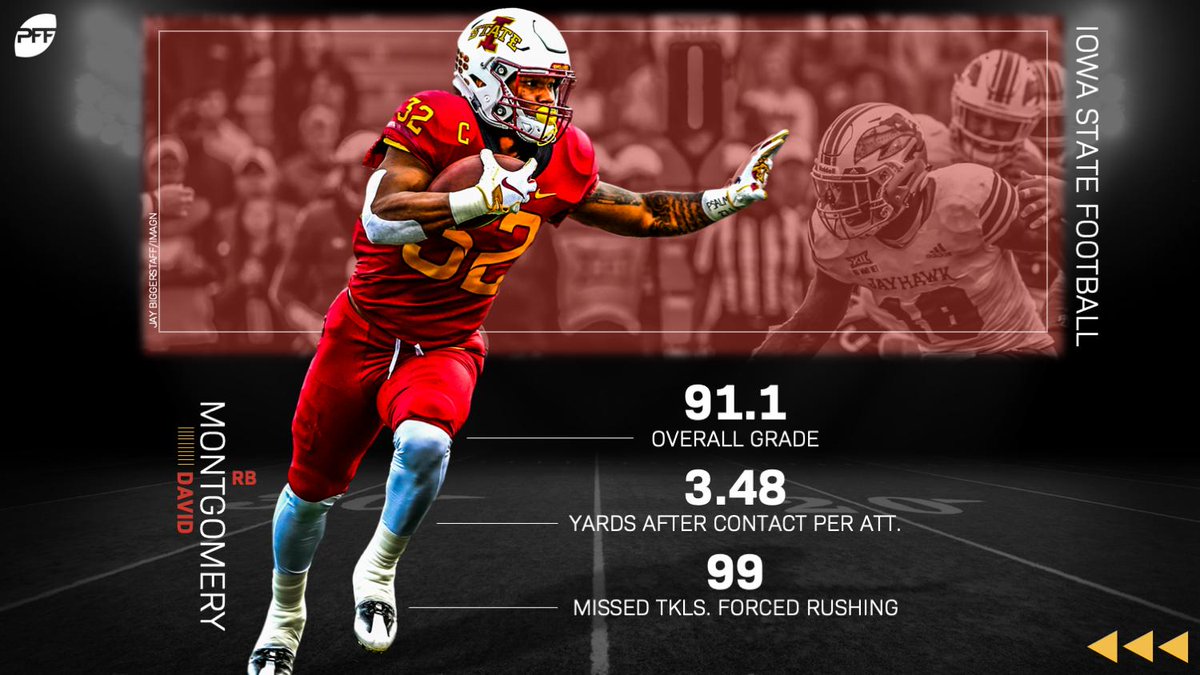 Montgomery also averaged nearly a yard and half more after contact than Cohen in 2018 — of course, the former was playing in college while the latter was in the NFL. It should be taken with a grain of salt, but it seems the Bears have hit a home run in finding a running back who can do everything else that Cohen doesn't particularly excel at.
While Cohen figures to take on the bulk of the carries in 2019, the Bears would be smart to give Montgomery his fair share. Montgomery isn't the guy who's going to break off the 80-yard stunner, but he will gain chunks of yardage through sheer brute force and agility — a perfect complement to Cohen's breakaway ability.