The San Francisco 49ers are heading into their third season under head coach Kyle Shanahan, and the expectations have never been higher. Shanahan is known for getting the most out of his offense and while we've seen breakout performances from guys like George Kittle and Jimmy Garoppolo — they've yet to hit full stride as a unit, grading 13th and 18th in the league over his first two seasons. There is a reason to believe this offense can continue to improve, however, and a big part of that could come from their talented young receiving corps.  Let's take a deeper look at the promising group of wideouts that has been developing over the last few seasons.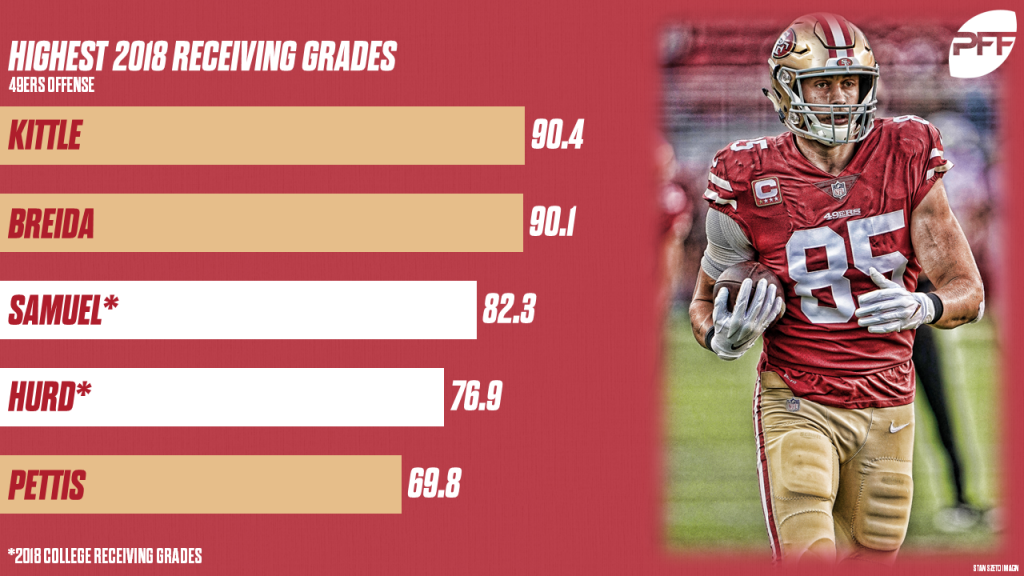 Pettis had a rollercoaster rookie season in 2018 that was both plagued by injuries and showed flashes of brilliance. Pettis played in a total of 11 games producing 467 receiving yards, five touchdowns and a team-leading 69.8 receiving grade. While he didn't see a large volume of targets in his first year, what he did with the ball was electric. Of all wideouts with 40 or more targets last season, Pettis was tied for the most yards after the catch per reception in the league at 7.9. Pettis also showed big-play ability as his yards per reception figure totaled an impressive 17.3. Combine those stats with an outstanding 125.7 passer rating when targeted, Pettis can be a dangerous weapon in the 49ers' offense. 
Samuel was selected 36th overall in this year's draft, and the rookie wideout has a legit shot of earning a big role in the offense by the start of the regular season.  The 49ers have lacked a physical wide receiver since the days of Anquan Boldin and Samuel could be that and much more. During his final season at the University of South Carolina, Samuel finished with 882 receiving yards and 11 touchdowns, earning an 82.3 receiving grade that ranked 27th in his draft class. However, it's his ability after the catch that puts him on another level. Of all receivers in the country last season with at least 50 targets, Samuel's 9.5 yards after the catch per reception and his 21 avoided tackles after a reception ranked in the top six of both categories. Samuel is a force when the ball is in his hands, and with Shanahan's creativity on offense, he should see plenty of targets come his way.
The savvy veteran of the group, Goodwin will be entering his third season with San Francisco and seventh of his career. The 2018 season didn't go as planned for Goodwin, who missed five games and finished with a receiving grade of just 63.8. There is a good reason to think he can bounce back in 2019, however, as prior to last year, all signs were pointing up for Goodwin after his first season with the 49ers. The 2017 campaign saw him post career-high marks in receiving grade (76.4), receiving yards (962) and receptions (56). His ability to stretch the defense was evident as he finished that season ranked 10th in deep receiving yards. Goodwin can cause defenses plenty of trouble with his speed, and now with more pass-catching weapons for defenses to worry about, there's no reason to think he can't replicate his success from 2017.
Another player who's looking to put last season behind them, Taylor took a step back in 2018 after his promising rookie campaign. Taylor admittingly struggled to get back to full health after offseason back surgery, but his numbers from 2017 showcase his upside. Of all qualifying rookie wide receivers that year, Taylor finished second in catch rate (72.9%), hauling in 43 of his 59 targets.  Now fully healthy, Taylor looks to get back on track and be a reliable target from the slot.
While Hurd and Bourne may not be expected to see a significant amount of playing time right off the bat — both have the potential to impact the 49ers' offense in 2019. Hurd, a former running back, has the measurables to be a matchup nightmare but will need to fine-tune his pass-catching skills at the next level.
Bourne, on the other hand, was an undrafted free agent in 2017 but took advantage of playing time with a depleted receiving corps last season. Bourne proved his worth in 2018 by leading all 49er wideouts in receiving yards (487) while catching an impressive 70% of his targets.  
Shanahan will be tasked with putting these young wideouts in situations where they can succeed, but with a healthy Garoppolo coming back and talented weapons at his disposal, the 49ers' passing game should be fun to follow in 2019.