Every season the NFL gives up some surprise performances from players throughout the league. Some can be explained by a change in scheme or position that put a player in a better position to succeed, some by a contract year and the appeal of a big pay-day, but some just come out of the blue and seem to defy all explanation.
Here are a group of players that fall across that spectrum, but each of whom had an incredibly impressive 2017, and was a huge surprise in doing so:
Case Keenum – quarterback – Minnesota Vikings
There may be no more surprising season than Case Keenum's at quarterback for the Minnesota Vikings. Keenum came in for an injured Sam Bradford after Week 1 of the season, and despite an ill-fated attempt at putting a hobbled Bradford back under center, continued to impress as the year wore on, including into the playoffs. Keenum was playing in the best situation he has seen throughout his NFL career and had the second-best sack percentage of any quarterback in the game (the percentage of pressured plays he allowed to result in sacks).
Patrick Robinson – cornerback – Philadelphia Eagles
Few players enjoyed the kind of surprise season that Patrick Robinson did, and the impact that it had on the Eagles may be second to none. Robinson was moved to the slot primarily in 2017 for the first time in his career, and that resulted in by far his best season. He allowed just 54.5 percent of passes thrown his way to be caught when guarding the slot, the second-best mark in the league, narrowly trailing Denver's Chris Harris (54.0 percent). On those targets, though, he had three interceptions compared to none from Harris, yielding a passer rating more than 40 points better (65.2 versus 108.8).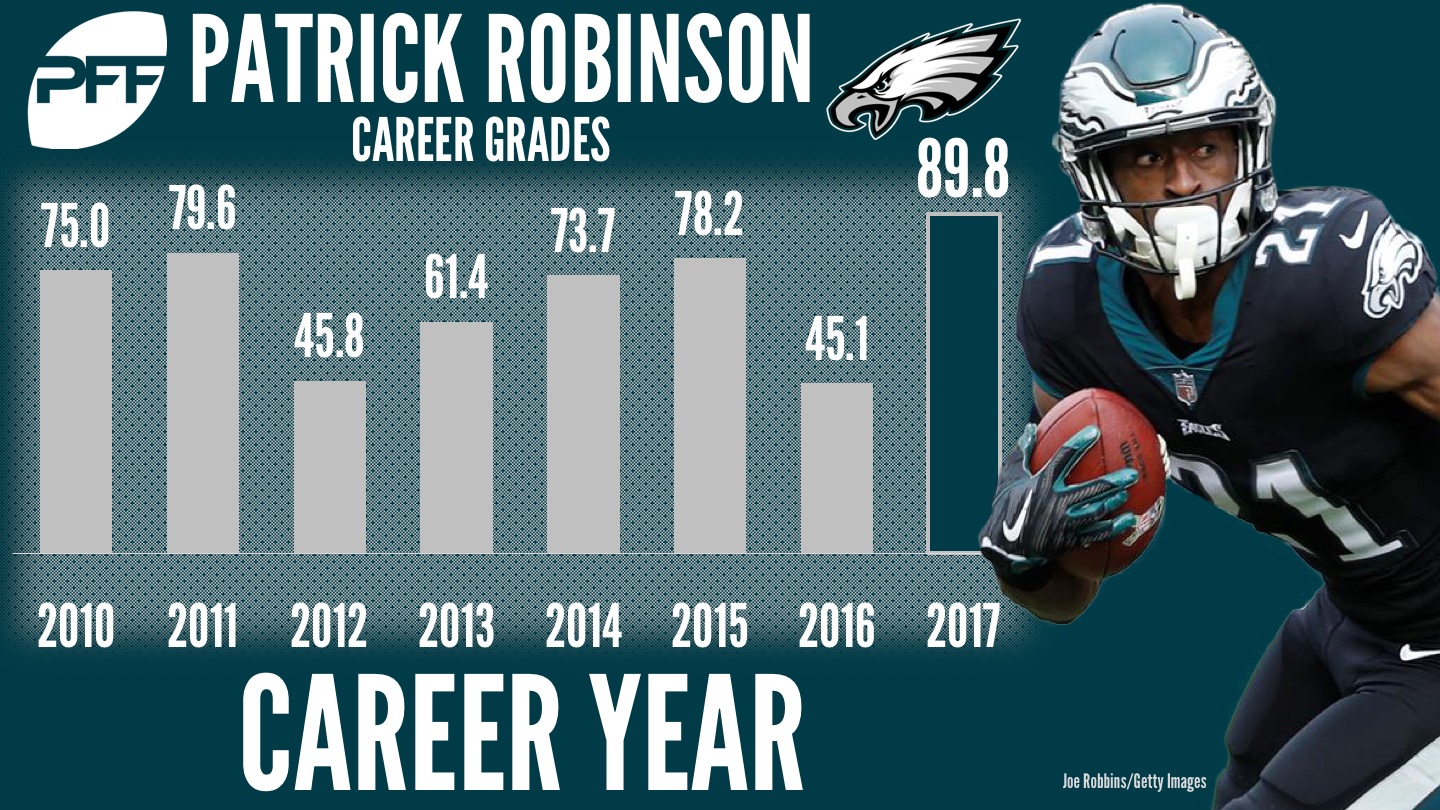 David Andrews – center – New England Patriots
David Andrews has been a darling of some for a while and he ended the previous season playing well, particularly in the playoffs, but this season as a whole was a big surprise – building off that finish and really generating some impressive play. While there were plenty of ugly games in his tape a year ago, this season those was largely absent, particularly when it comes to pass protection, where he allowed just 22 total pressures over the regular season. Andrews also improved dramatically as a run-blocker, dealing much better with big defensive linemen and helping the New England run game continue to be successful even without a big bruising back.
Alex Collins – running back – Baltimore Ravens
Alex Collins began the season on the practice squad before being activated by the Ravens and was ultimately pressed into action and given some carries. His prowess running the football quickly earned him a bigger role within the offense and by the end of the year he was the team's bellcow. His rushing grade was 89.7, the best mark in the entire league, and only his relative struggles as a receiver kept him from leading all running backs in overall grades. His performance as a ball carrier was a huge shock, even for those that were fans of his as a prospect coming out, given how his NFL career had panned out to that point.
Daryl Williams – tackle – Carolina Panthers
The Carolina Panthers had been high on the prospects of right tackle Daryl Williams for some time now, but heading into this season there had been little evidence that they should have been. This season was the year they were finally repaid for that faith as Williams proved to be one of the best right tackles in the league all season. He ended the year with an overall grade of 86.5, the highest among right tackles and the third-best among all tackles, trailing only David Bakhtiari and Joe Staley. That represents a jump in grading of more than 16.0 points from a season ago, and more than 20.0 points from the year before that.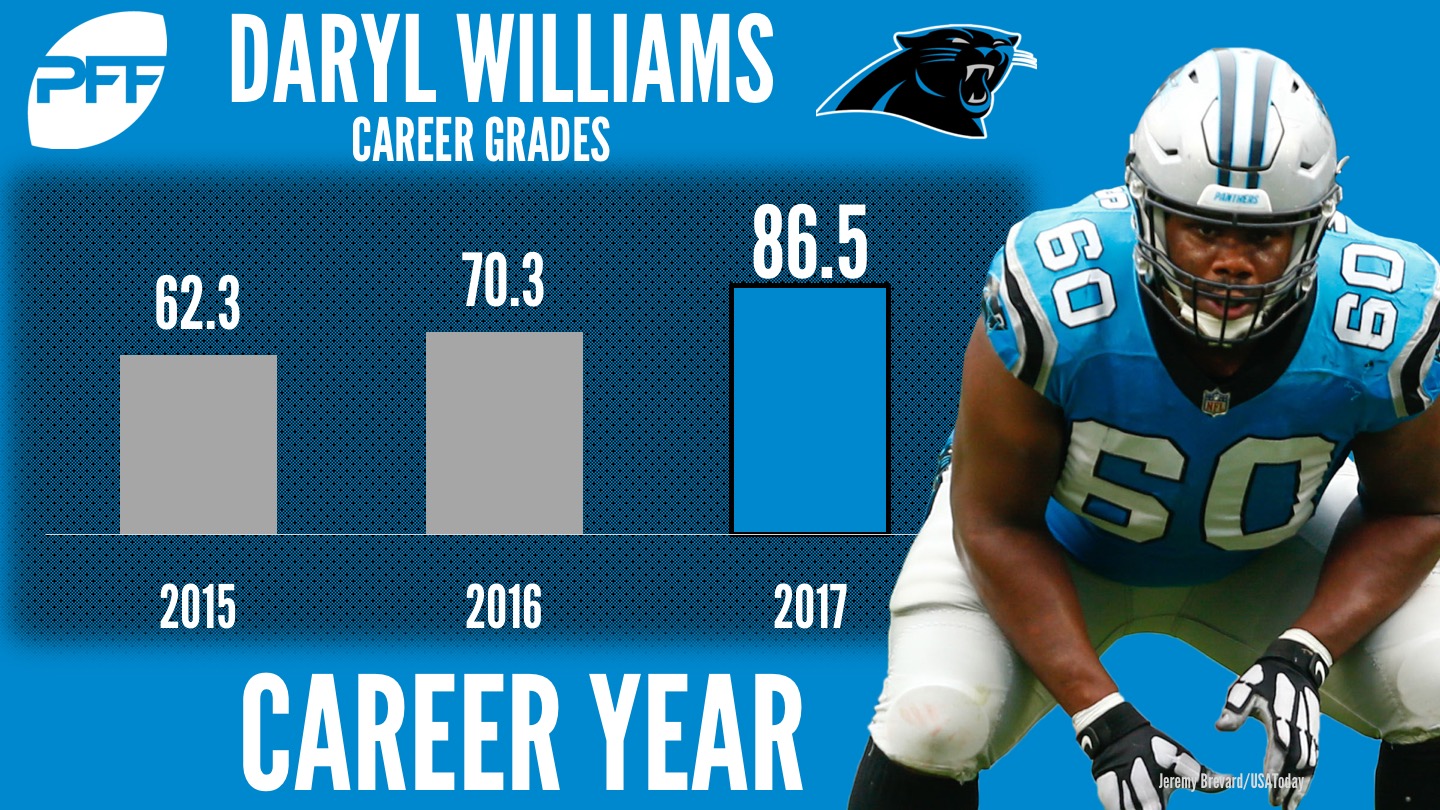 Tramon Williams – cornerback – Arizona Cardinals
The Arizona Cardinals have been trying for years to find somebody capable of starting opposite Patrick Peterson and holding their own, at least proving to be good enough to survive the weight of targets that will inevitably come their way because of the threat of Peterson. This year, Tramon Williams proved to be that guy, even though it had been four years since his last season of any quality. Williams allowed a passer rating of just 58.4 when targeted this season, almost 50 points better than a year ago.
Kendall Fuller – cornerback – Washington Redskins
One of the surprising aspects of the Washington Redskins including CB Kendall Fuller as a makeweight in the trade for Alex Smith was just how impressive his 2017 season was for them. Fuller developed into one of the league's most impressive young corners this year, allowing a passer rating of just 56.7 when targeted and surrendering fewer than 10 yards per reception. He was one of only five players at the position to break the 90.0 barrier in overall PFF grading, and given what we had seen from him heading into this season that was a significant surprise.
DeMarcus Lawrence – edge – Dallas Cowboys
A season ago, DeMarcus Lawrence played 369 snaps and generated just one sack and 21 total pressures. The idea that he would explode onto the scene and be one of the league's most devastating pass-rushers in 2017 did not seem a likely proposition heading into the year, but that's exactly what happened. Lawrence had seven sacks in the first three games, opened the season with seven consecutive games with a sack and ended the year with 79 total pressures. That pressure total was the second-most in the league among edge rushers and he had the best pass-rushing productivity score in the league at 14.8.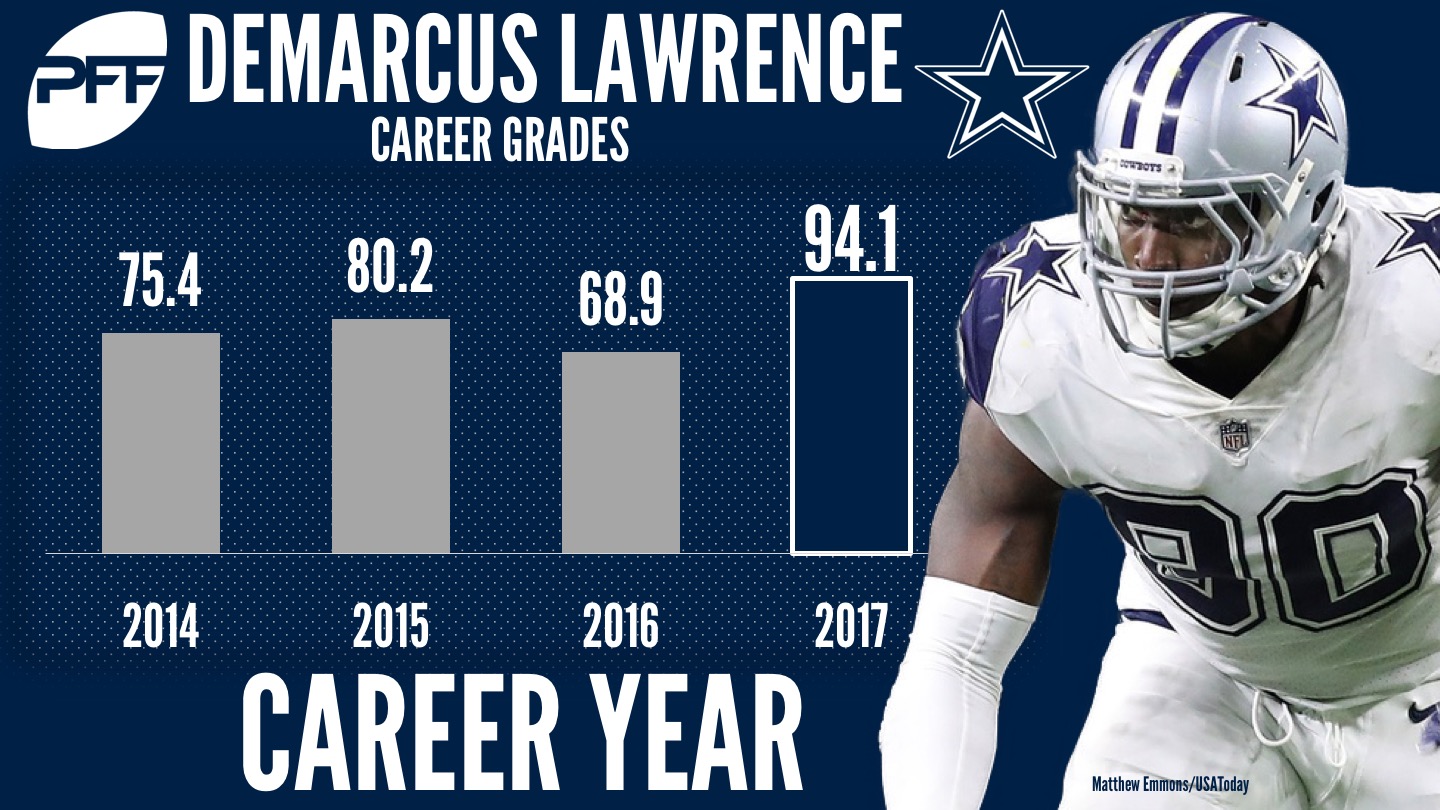 NaVorro Bowman – LB – Oakland Raiders
NaVorro Bowman is a former All-Pro linebacker, so that he has quality play in him was not a surprise – that we ever saw it again, particularly after the 49ers had decided they were better off releasing him, was a major shock. Bowman moved across the bay and was a pleasant surprise for the Oakland defense, a unit that has been desperate for capable linebacker play for years. As a Raider, he had positive grades in all facets of the game and was particularly effective against the run. At the very minimum, he proved that there is still life left in his NFL career after injuries had threatened to end it entirely.
Jabaal Sheard – edge – Indianapolis Colts
Few would have predicted that Jabaal Sheard would be one of the game's most productive edge defenders in 2017, even if much of his damage was done against some of the worst blockers in football. Sheard notched 67 total pressures this season and 38 defensive stops, just two shy of Cameron Jordan's 40 for the Saints. He had a 10-pressure game against the Texans in Week 9, but he still recorded at least one pressure in every other game, and was held to just a single pressure only once – in the first game of the season. Sheard had impressive grades against the run and the pass, and while he has been a good player for a while, that he was this dominant was a substantial surprise.