As we did last week, we are going to explore the Super Bowl odds for the remaining four teams in the NFL playoffs. 
This model uses our PFFELO rating system, opponent-adjusted PFF grades, coaching and "spot" (weather, familiarity, etc.) variables, and simulates the remainder of the season 30,000 times. These are numbers are related to those that go into the PFF Greenline product, but may vary depending on injury statuses and market sentiment, which are built into Greenline but are not completely built into the playoff simulation. Enjoy!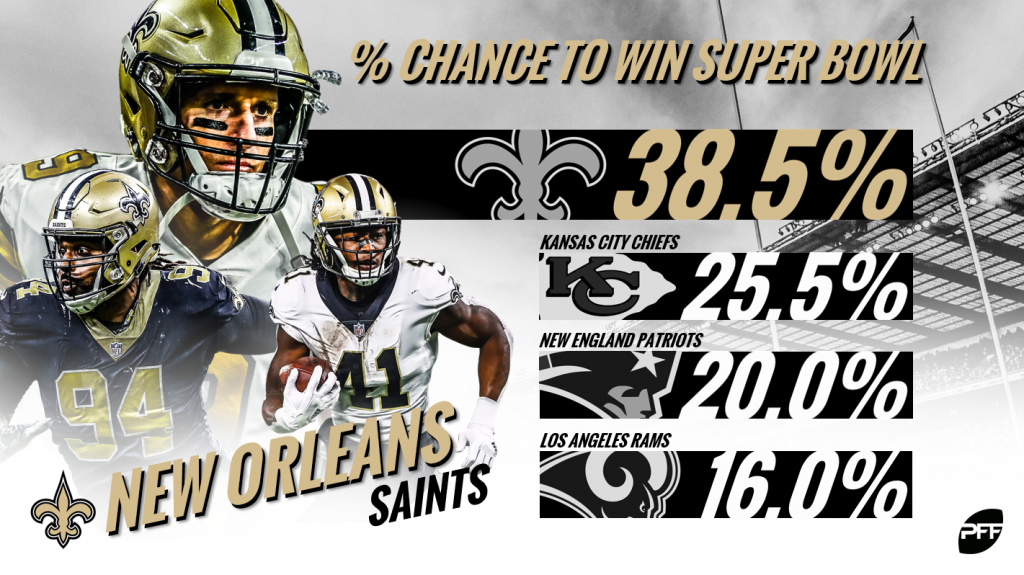 (38.5% to win the Super Bowl)
The Saints outlasted the defending Super Bowl champions at home on the back of their coverage unit and brilliance of Michael Thomas. It definitely wasn't Drew Brees' best performance, but he was effective when he needed to be as Michael Thomas turned 16 targets into 12 receptions, seven first downs and a ridiculous 171 yards with 54 coming after the catch. With St. Nick and the Eagles driving as the game wound down, Marshon Lattimore came up with his second interception of the game on a deflection off of Alshon Jeffery's hands to seal the victory. Most encouraging for the Saints was their coverage performance when not applying pressure. Foles was under pressure on 10 of his 31 dropbacks, and when he wasn't under pressure, he completed only 62% of his attempts for 127 yards and two interceptions. With the Rams heading to New Orleans, the Saints will have to continue to perform at a high level in coverage.
The Rams have allowed one of the lowest pressure percentages in the NFL with Goff splitting a 92.9 passing grade when clean vs. a 46.7 passing grade when under pressure. Paramount to their success this weekend will be how well they can perform in coverage when Jared Goff is kept clean behind his fantastic offensive line.
(25.5% to win the Super Bowl)
The Chiefs took down a surging but overrated Colts team on Saturday, with Patrick Mahomes generating 240 yards on 35 clean-pocket dropbacks. More than 100 of his passing yards went to tight end Travis Kelce, and the offense as a whole clearly benefited from the return of Sammy Watkins, who turned eight targets into 62 yards in his comeback from a foot injury. Damien Williams continues to demonstrate that running backs are a dime a dozen, producing a Kareem Hunt-like 129 yards on the ground (77 after contact), many of which helped ice the game when the Chiefs were already ahead.
If they are going to advance and play in their third Super Bowl in franchise history, their defense will have to play as well as it did against the Colts, where they held Andrew Luck to just 5.9 yards per clean-pocket pass. Rookie undrafted cornerback Charvarius Ward has added a spark to the defense as the third cornerback in place of veteran Orlando Scandrick, breaking up three of the eight passes that came into his coverage while allowing just 42 passing yards the entire day. Their trio of Ward, Kendall Fuller and Steven Nelson is quietly good enough for this team to advance, especially with Dee Ford, Chris Jones and Justin Houston providing solid pass rush all season.
(20.0% to win the Super Bowl)
Like clockwork, the New England Patriots are in the AFC title game in 2018. Unlike their previous five Super Bowl appearances, though, New England will have to travel on their road to the Super Bowl, a path that was not fruitful in 2013 and 2015, when they lost in Denver in both instances.
The Patriots have a lot going for them; their offense is now top four in EPA generated on early-down passes, despite playing some of the season without the combination of Julian Edelman, Rob Gronkowski and now Josh Gordon. Going into last week, we noted that they had the league's highest drop rate on third down passes, something that, if abated, could see their offense soar in subsequent weeks. We saw that against the Chargers, but will it continue in Kansas City, where Andy Reid has often had Bill Belichick's number, and the Chiefs' defense has improved in recent weeks. We're not going to doubt them. 
(16.0% to win the Super Bowl)
Now that the Rams finally have a running back who breaks tackles, they looked sharp as ever offensively against the Cowboys. Jared Goff was under pressure only five times all night, turning his 24 clean-pocket dropbacks into 7.3 yards per pass attempt with no turnovers, distributing roughly evenly to Robert Woods (69 yards) and Brandin Cooks (65 yards). While running the football and asking Goff to do less will likely not be a positive EV approach moving on the playoffs, it did help them advance against a Dallas team that, while 8-3 in their last 11 games, were -8 in point differential during that time.
They go back to New Orleans without Cooper Kupp, who appeared to be Goff's favorite target before his injury, averaging over 2.25 yards per route run, which is a top-10 mark at his position. Beginning with Sheldon Rankins, the Saints have their fair share of injuries as well, but in our opinion, the Saints should be favored heavily to reach their second Super Bowl in franchise history next Sunday, leaving the Rams' probability to secure their second title where it currently is.