The Kansas City Chiefs begin their playoff journey this season as the AFC favorites. Here at PFF, our playoff model gives them a 38.1 percent chance to make the Super Bowl and an 18.1 percent chance of winning the Super Bowl, ranking behind only the New Orleans Saints. Of course, much of that is due to their high-powered offense; only the Los Angeles Rams have a better overall team offensive grade than the Chiefs do this season. Their defense, on the other hand, does not get much love. It's a unit that is considered average at best, and that aligns with their regular season team defensive ranking of 19th in terms of PFF grade. There is one area where their defense excels though – getting after the quarterback.

The Chiefs' defense boasts the highest team pass-rushing grade in the league this season at 90.0. They have generated pressure on 35.8% of opposing dropbacks (the 11th-best rate in the league) despite only blitzing on 23.7% of their pass-rushing snaps (20th- most). Whenever you see a team that can generate pressure without blitzing at a high rate, it points to talented pass rushers on the defensive front, and the Chiefs certainly have that in Justin Houston, Dee Ford, and Chris Jones.
Houston was the known commodity of the group coming into the season. From 2012-2017, he generated pressure on 16.3% of his pass-rushing snaps; that ranked fifth-best among 139 edge defenders with 500-plus snaps over that period. Ford and Jones, however, didn't have as much recognition league-wide.
Jones took a big step forward last season, finishing the year with an overall grade of 89.7. He advanced even further this year to an overall grade of 90.5, but where his jump forward was even more pronounced was as a pass rusher. Jones went from 38 pressures last season to 73 this year, which ranked third among all interior defenders behind only Aaron Donald and Fletcher Cox.
Ford's jump as a pass rusher this season, in a contract year, was even larger. Coming into 2018, he hadn't exactly lived up to his first-round draft position. He had averaged just 29 pressures per season over the first four campaigns of his career. In Year Five, Ford posted 77 pressures – more than any other edge defender.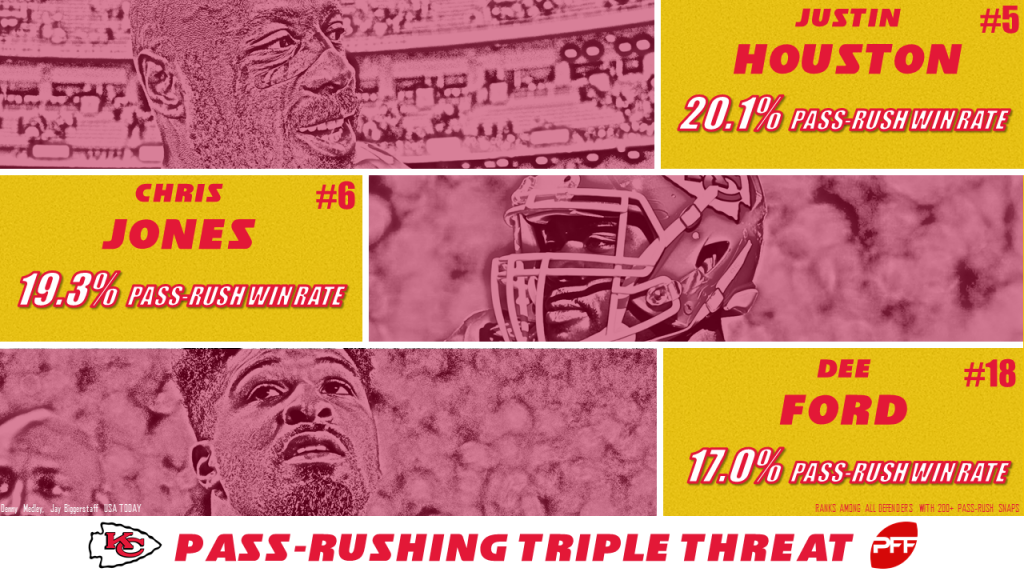 There were 177 defenders in the NFL that rushed the passer at least 200 times this past season. Houston, Jones, and Ford rank among the top 20 in both pressure rate, and pass-rush win rate – a metric that takes into account plays in which the defender beats their blocker but doesn't get the pressure due to something out of their control (such as a quick quarterback release). They are the only team in the league that has three of the top-20 performers in either of those categories. The defense as a whole might not get much credit, but their pass rush, and in particular those three, should be recognized as an elite unit.
They'll certainly need those three to get to Andrew Luck in the Divisional Round. When Luck is kept clean and given time to operate without pressure, he is one of the league's best. He had a passing grade of 92.2 from a clean pocket during the regular season with 31 passing touchdowns, which ranked second in the NFL behind Patrick Mahomes. Unlike in years past, the Colts' offensive scheme and offensive line have done an excellent job of keeping him clean as well.
Luck has only been pressured on 29.5% of his dropbacks this year. That is the sixth-lowest mark among starting quarterbacks, and it is largely due to a focus on getting the ball out quickly. His average time to throw has dropped from 2.9 seconds in 2016 to 2.5 seconds this season; a differential of 0.4 seconds is an eternity in the landscape of an NFL play.
That being said, the Chiefs have shown the ability to get to the quarterback not only often but quickly. Their average time to pressure of 2.38 seconds is the seventh-best mark in the league. If the Chiefs offense does what it has done all year, then the pass rushers will be given the opportunity to pin their ears back and get after Luck. Whether or not they can get home quickly on those pass rushes will go a long way towards determining which team advances to the AFC Championship.