In case anyone wasn't sure, Sunday's 38-10 win by the Green Bay Packers over the Seattle Seahawks offered proof: Aaron Rodgers is still a terrifyingly good quarterback to try to defend.
Rodgers is currently the No. 5 QB in PFF's grades with a mark of 87.7, and while he still trails Tom Brady, Andrew Luck, Matt Ryan and Drew Brees over the season, the only thing keeping him back from them are two horrendous early-season games against Minnesota and Dallas.
In fact, since Week 7, Rodgers is the highest-graded QB in football.
He now has had five strong games in a row. This latest outing against Seattle was his best game of the season, and showed that the old Aaron Rodgers is still very much alive and capable of leading this team where it wants to go. (So long as a calf injury he suffered during the win doesn't get in his way.)
One interesting dynamic heading into this game was the loss to injury of star free safety Earl Thomas from the Seattle secondary. Thomas is the player who makes that defense function from a schematic point of view. His unique range and burst allows him to sit relatively shallow in the middle of the field and still be able to affect throws to the sideline, but also make plays across the middle and against the run in a way most other free safeties can't. Most players need to decide between those two aspects of play and either be a factor on those sideline plays, or remain a force closer to the line over the middle, but not influence both.
Rodgers and the Packers, however, are singularly unlikely to put the ball where Thomas typically roamed – the deep middle of the field.
Rodgers has the lowest interception rate in NFL history (1.6 percent of attempts) by being conservative, but in a completely different way to QBs like Alex Smith. While Smith (also top 10 in that category all-time at 2.2 percent) avoids turnovers by maintaining the league's lowest average depth of target in most seasons, Rodgers will throw deep — but he keeps the ball towards the sidelines, as far more interceptions happen over the middle.
Rodgers has attempted just 22 passes this season over 20 yards in the air between the numbers, which accounts for 47.2 percent of the width of the field. He has completed only four passes deep down the middle this year from 502 pass attempts, and that's part of the reason his interception percentage is again low in 2016 at just 1.4 percent — even below his career average.
With no Thomas, it would seem logical that Rodgers might adjust that plan and test a player whose NFL experience heading into the game was 151 snaps of defense this year, and 42 snaps over the previous two seasons, in free safety Steven Terrell, but Rodgers didn't even attempt a pass over 20 yards in the middle of the field. In fact, he didn't attempt one over 10 yards in the air over the middle. In 23 pass attempts, he stuck to the sideline and shallow routes over the middle, keeping the ball effectively away from the free safety in the middle of the field, who played reasonably well in the place of Thomas.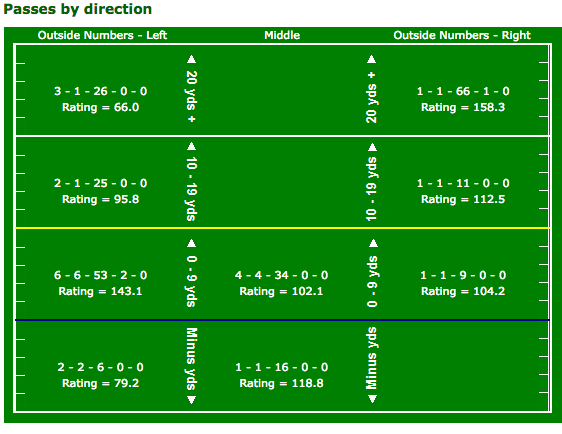 But in keeping the ball away from the middle of the field, Rodgers was able to target defenders who were essentially left on an island and without the usual subtle influence from Thomas and his unique range.
Cornerback Richard Sherman was thrown at just twice in the game, and instead the ball went to other coverage defenders. Corner DeShawn Shead was thrown at eight times, allowing 58 yards. Linebacker K.J. Wright was thrown at four times, three of them because they forced him into an unfavorable matchup covering a wide receiver. Safety Kam Chancellor was thrown at three times, all three covering a wideout, and slot corner Jeremy Lane saw the ball head his way three times, allowing the biggest passing play of the game – a 66-yarder to Davante Adams – in the process.
This was a demonstration of the mastery Rodgers still possesses in terms of diagnosing a defense, identifying winning matchups and delivering the ball where it needs to go. Rodgers was able to hold the ball for an average of over three seconds per attempt – an eternity in an NFL pocket – because his offensive line again held up, surrendering just six pressures all game. The Packers were even able to get some semblance of a running game going, in particular through converted wide receiver Ty Montgomery, who averaged 4.6 yards per carry and demonstrated the ability to shed would-be tacklers like a running back.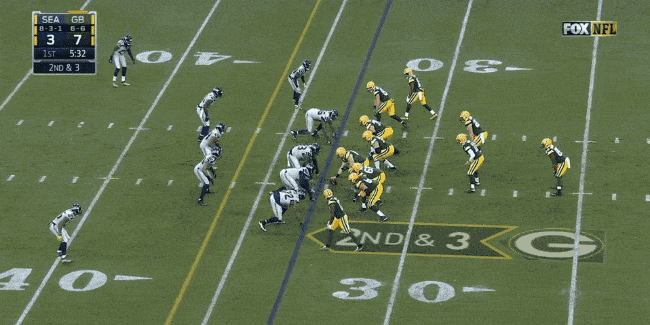 Green Bay's offense is clearly not quite what it once was, and the team overall has had better seasons, but they now have a winning record again and are just a game back in the wild-card race. With Rodgers playing this well, this team will frighten anybody.