While running backs are generally considered to be interchangeable with little trade-off as a result, rookies Saquon Barkley and Nick Chubb are proving their worth and more as PFF's third- and fifth-highest graded rookie running backs through Week 14 since 2006. As the only running back to currently have more than 50 percent of his yards come on runs of 15 or more yards, Barkley has clearly cemented himself as one of the best at the position. And as the league leader with 4.5 yards after contact per carry, Chubb is making the Cleveland Browns regret not using him more heavily earlier in the year. But all in all, these two are combining for something special.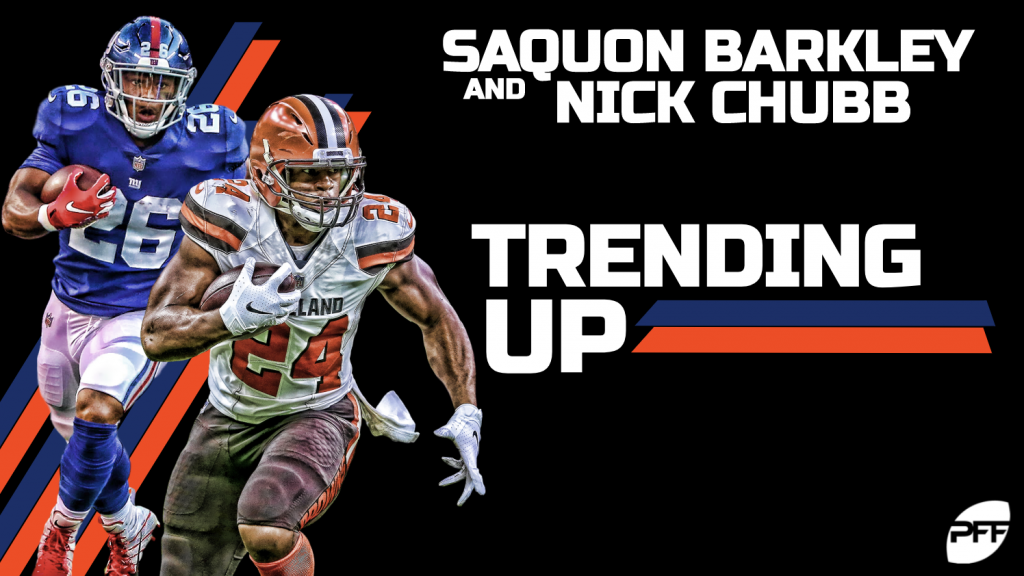 With three weeks to go in the regular season, Barkley's 595 yards on runs of 15 yards or more are the second-most by a rookie running back in an entire season since 2006, trailing only Adrian Peterson's monster 2007 campaign. Barkley has plenty of time to surpass Peterson's mark, but the New York Giants' young stud has more up his sleeve than grinding for large chunks of yards — his efforts in the passing game are just as important.
At Penn State, Barkley's success in the passing game was well-documented, particularly last year when he racked up over 600 yards receiving and an 83.1 percent catch rate. The Giants are using him in the same way, just a lot more frequently. Barkley's 370 snaps in route are the most by a rookie running back since at least 2006, but that's not all too surprising considering how valuable multi-faceted backs have become. He's seen 93 targets on those snaps — also the most since 2006, when Reggie Bush had 93 himself through Week 14. That's more than all but 20 wide receivers, by the way.
While Chubb hasn't been as flashy as Barkley, his production is largely the result of his own skillset as opposed to a lot of help up front — he's averaging only .74 yards before contact on rushing attempts but is one of just two running backs averaging more than four yards after contact. To attain such high numbers despite not being able to find a lot of space at the line of scrimmage, Chubb has also flashed his elusiveness. He ranks fifth among running backs with 4.5 snaps per missed tackle forced.
Most runners who are able to break off chunks of yards after contact are shifty, changing direction when holes aren't immediately apparent. But Chubb has used his 227-pound frame to emerge as a powerful north-south runner. He's the only running back averaging more than five yards after contact on attempts when the runner doesn't change direction and is one of three to average six or more yards total on those carries. He, too, can be a factor in the passing game, but he's not targeted nearly as much as Barkley.
The NFL's young running back corps is the arguably the most dynamic group ever. When you have two rookies performing at record-setting paces and easily carving up defenses on the ground in addition to having the same threat as a WR2 in the passing game, opposing teams will take notice. Barkley and Chubb are setting the blueprint for what teams need to be looking for in next year's draft.