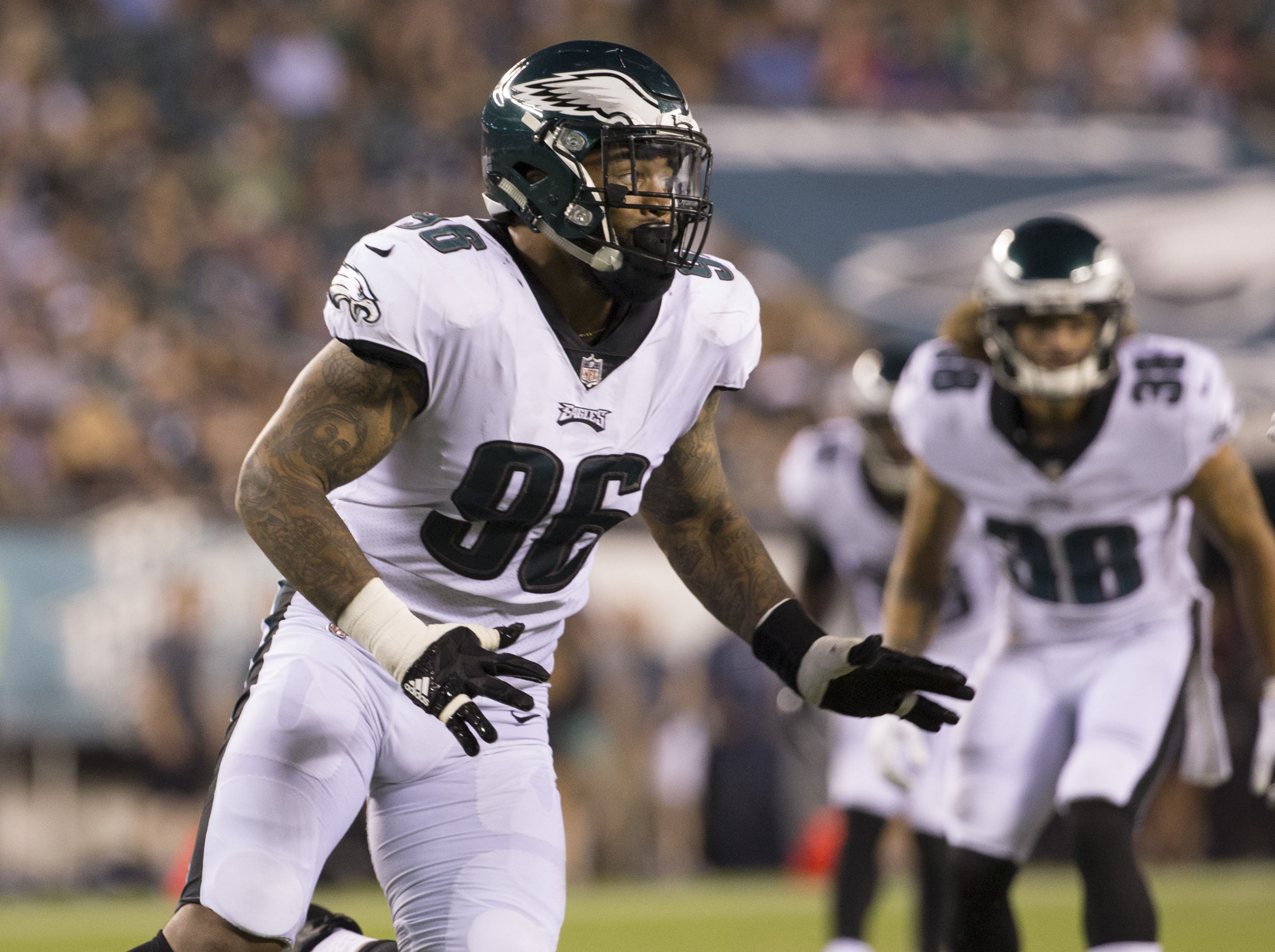 PHILADELPHIA, PA - AUGUST 17: Derek Barnett #96 of the Philadelphia Eagles plays against the Buffalo Bills in the preseason game at Lincoln Financial Field on August 17, 2017 in Philadelphia, Pennsylvania. The Eagles defeated the Bills 20-16. (Photo by Mitchell Leff/Getty Images)
As the NFL regular season draws closer, PFF takes a look at those rookies who should be very impactful on a team's success this season. Be it a first-round pick, or later, these rookies will look to supplant their roles in helping their new team this season, and beyond.
While we've taken a look at the AFC East and AFC South, so today we'll examine those impactful rookies in the NFC East: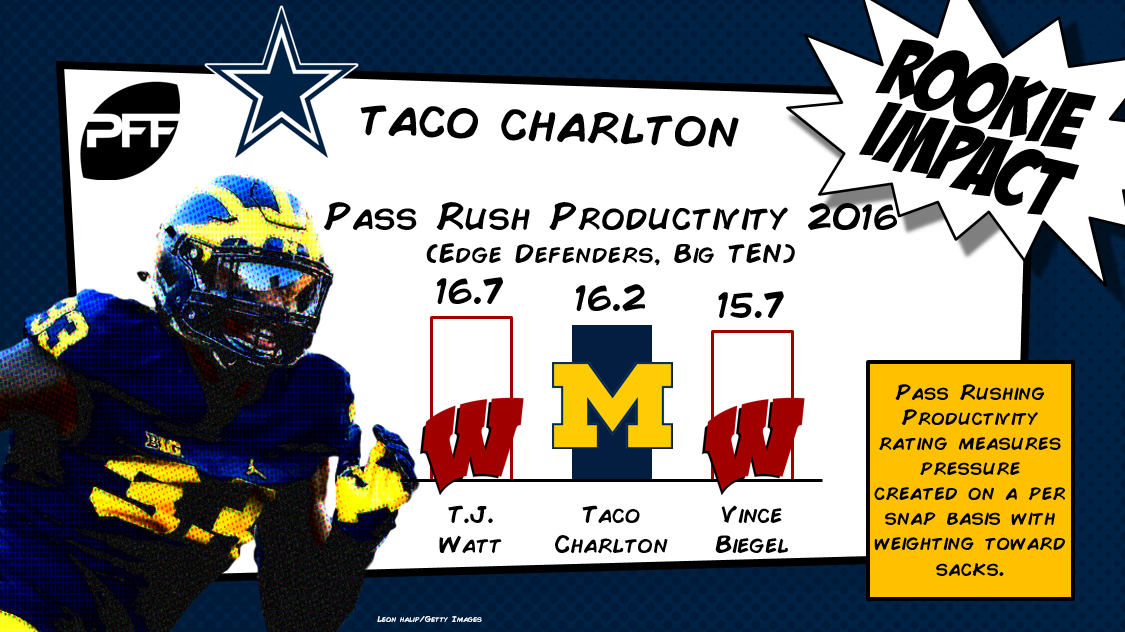 Charlton was the headliner of some blunt criticism early in the preseason from his defensive coordinator Rod Marinelli for not playing "good enough". Part of that criticism was because of his lack of pass-rushing productivity, but he's responded well since recording two sacks and two hurries in just 27 pass-rushing snaps. Putting up solid pass-rushing grades and getting heat on the quarterback with efficiency has the former Michigan Wolverine primed and ready to make an impact on a Cowboys defense that struggled to pressure opposing quarterbacks in 2016.
In his final season in college, Charlton was extremely efficient getting after the quarterback and did so at a rate higher than No. 1 overall pick Myles Garrett (16.2 PRP vs 13.5 PRP). While Charlton didn't excel in run defense, he wasn't exactly a liability there either as he graded positively each of the past three seasons increasing his run stop total from five to 15 to 19. With David Irving the only player returning with a positive pass rushing grade from 2016, Charlton should see significant action and be a very impactful rookie for Dallas in 2017.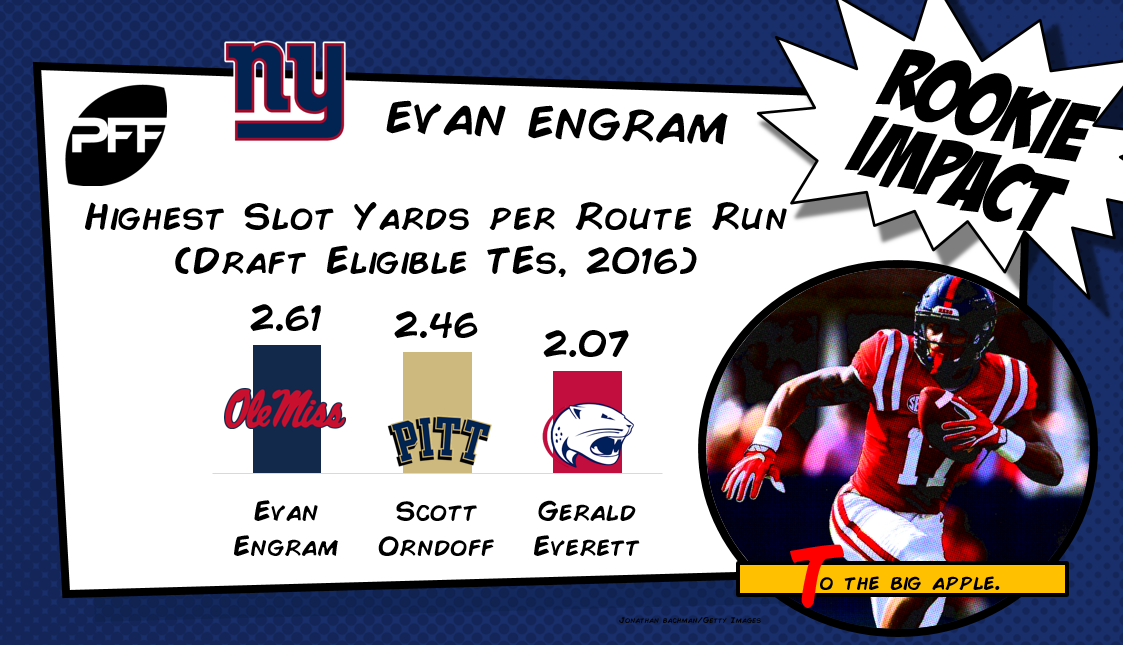 Rookie tight-ends don't typically put up monster numbers. Even Rob Gronkowski only caught 46 passes for 611 yards but did haul in 10 touchdowns. It's pretty rare for rookie tight ends to gain over 500 yards and score double digit touchdowns. The last time one did put up over 500 yards, was Tim Wright with Tampa Bay in 2013 and paired that with five touchdowns. Gronk is the last rookie tight end to crack the double-digit mark in touchdowns and he is only the second to do so in NFL history (Mike Ditka had one of the most impressive seasons in NFL history in 1961 – seriously! Look it up). This isn't to minimize Giants TE Evan Engram, it's merely to bring in perspective of what a rookie tight end can do to be impactful.
That said, the Giants spent a first-round pick on a hybrid, big, slot-inline tight end whom they hope to use to create mismatches in their passing game. So far this preseason, Engram has spent the majority of his snaps as an inline tight end (47 of 73 snaps) but that's a low percentage for a traditional TE. He's been moved all over the formation being utilized as a wide receiver on 13 snaps. Engram has been efficient as a receiver catching six of his eight targets for 75 yards but has yet to hit pay dirt. In his final season at Mississippi, Engram caught 70.2 percent of his targets and came close to cracking 1,000 yards as he reached 936. Engram doesn't have the size of a Gronkowski or a Tony Gonzalez but with how the Giants use him this year, the rookie has an opportunity to create mismatches inside the numbers and put up big numbers as an impactful rookie tight end.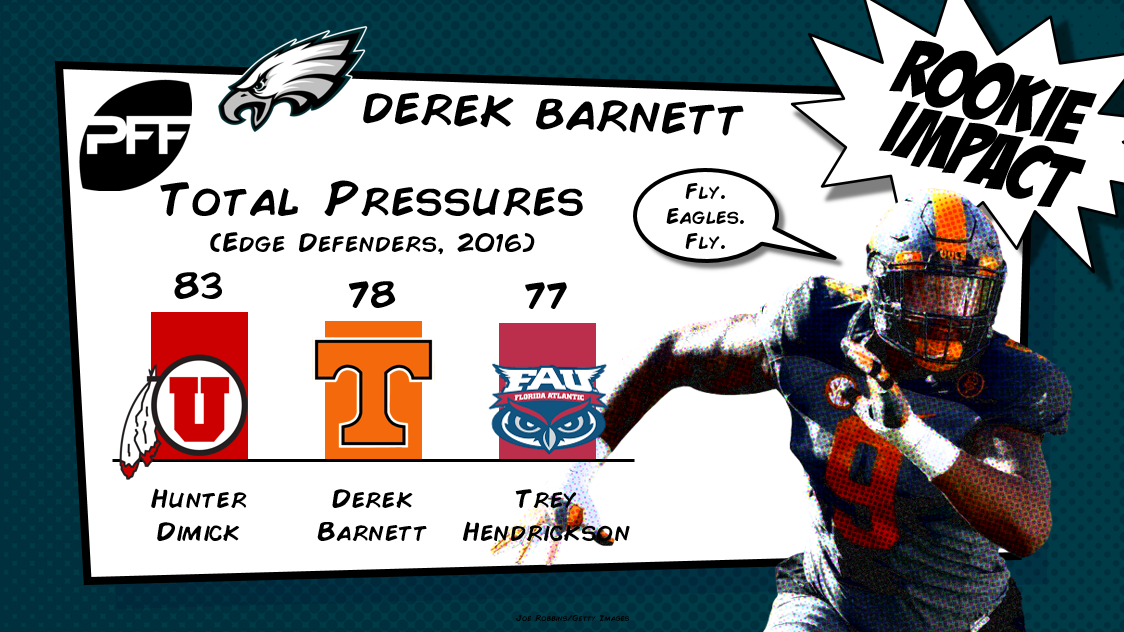 If you have paid attention to PFF over the past year, you'll already know a lot about Derek Barnett. Incredibly efficient and stout against the run in college, Barnett matched and surpassed the production of Myles Garrett each of the past three seasons. Barnett doesn't possess that "prototypical" look of an elite pass-rusher nor did he blow the tops off the charts in the combine workouts but what he lacks in looks and workout numbers, he more than makes it up being a really good football player.
In three preseason games, Barnett has three sacks, two hits, and six hurries on just 52 pass-rushing snaps for a pass rushing productivity of 18.8. In his final season in college, Barnett was incredibly efficient producing 13 sacks, 25 hits and 41 hits with a pass-rushing productivity of 16.9. Barnett is able to win with a variety of moves and a deadly ability to bend the edge. Opposite arguably the most underrated edge-rusher in the game, Brandon Graham, Barnett will make opposing quarterbacks suffer this year.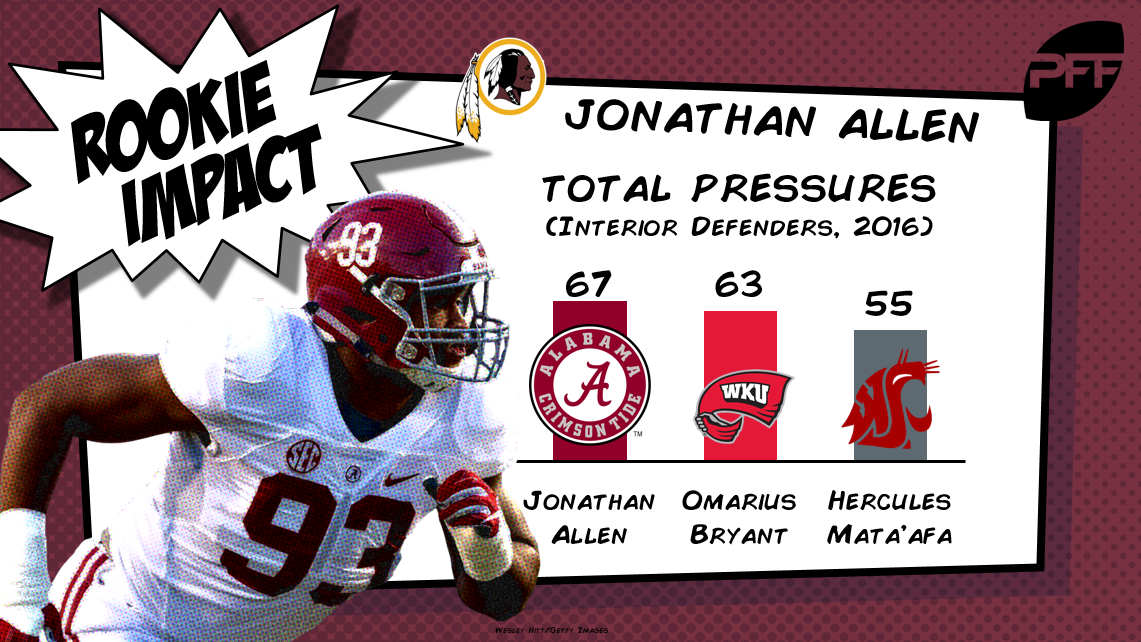 Another player that put up monster college numbers but fell in the draft because he didn't blow the combine out of the water, all you need to know about Jonathan Allen is there to see on the field – an incredibly disruptive player with excellent hand usage. Allen started the preseason with a bang recording a sack, hit and hurry each on just 14 pass-rushing snaps but has yet to get pressure on the QB since (18 snaps).
Allen had the best season of all interior defenders in college football last year and it wasn't really even close. Excellent in run defense and even better as a pass-rusher, Allen played all up and down the line of scrimmage recording 13 sacks (first in nation), 13 hits (second), and 41 hurries (second) for a PRP of 12.0 (second) missing just four tackles and sporting the best run stop percentage in the nation at 11.5. If those numbers don't tell the whole story, I'm not sure what will. Allen will get plenty of snaps in Washington and has the ability to wreck plays before they start happening.