To call Ronnie Stanley's first three years in the NFL anything but a success would be a lie. The big man out of Notre Dame has logged at least 834 snaps in all three seasons as a pro so far, and his lowest overall grade in a season came as a rookie when he earned a mark of 74.8. Stanley has gotten off to one of the best starts to an NFL career that we've seen in the PFF era (2006 – present) from a left tackle: Since 2006, there have been 29 players to log at least 2,000 snaps at left tackle over their first three seasons, among that group, Stanley ranks ninth with a 78.8 overall grade across that window.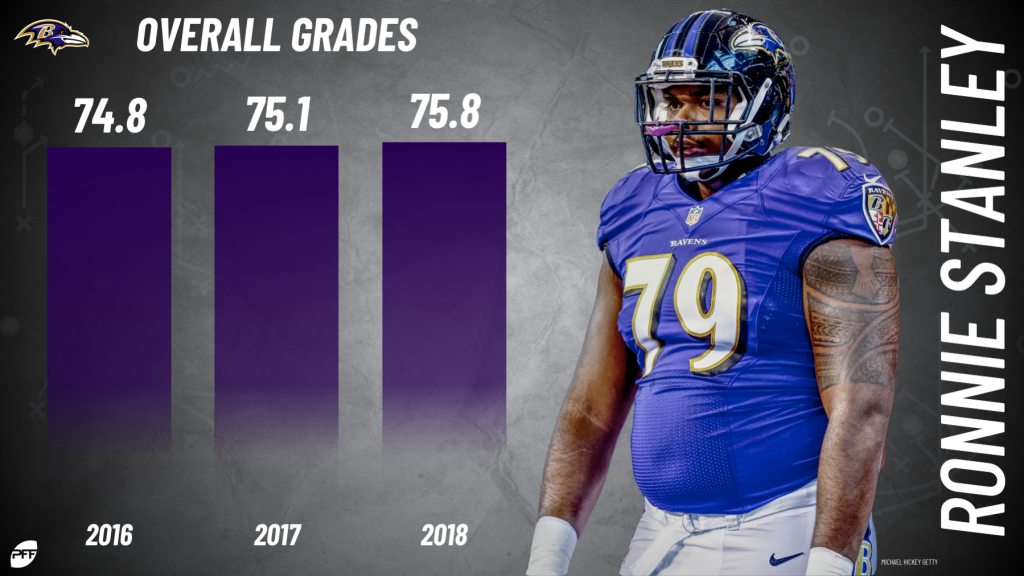 Where Stanley has really shined thus far has been in pass protection, where his 84.9 pass-blocking grade over his first three years ranks fifth among those 29 left tackles, trailing only Joe Thomas, Michael Roos, Jake Long and Taylor Lewan. Stanley has earned a pass-blocking grade of at least 76.2 in all three seasons, and in 2018, he set a career high with an 86.8 pass-blocking grade —  third out of the 23 players who logged at least 500 snaps at left tackle.
Stanley showed a penchant for protecting his quarterback right from the get-go — his 6.0% pressure allowed rate ranked eighth among of 18 players who logged at least 1,000 pass protection snaps at left tackle from 2016-17 — but he really took a step forward in 2018, dropping his pressure rate to 3.5%, which trailed only Tyron Smith (3.3%). The former first-round pick was one of just four left tackles last season to log at least 500 pass-blocking snaps while surrendering just two or fewer sacks, and his 20 total pressures surrendered for the season were the second fewest.
When it comes to run blocking, Stanley has been solid. His game film isn't overloaded with impact blocks — his 6.7% impact run-block percentage ranks 26th out of 30 left tackles who've logged at least 500 run-blocking snaps over the past three seasons — but there also aren't many occasions of him getting beat either, as his 8.1% negatively graded block rate ranks third best among that group.
Ronnie Stanley is quietly developing into one of the better left tackles in the entire league, if he continues the upward trend in performance, it wouldn't be surprising if we were referring to him as All-Pro Ronnie Stanley this time next year.