The Seattle Seahawks went to AT&T Stadium and defeated the Dallas Cowboys 21-12, simultaneously ending the Cowboys' playoff aspirations and keeping their own alive.
QB Dak Prescott was 21-of-34 for 182 yards and threw two interceptions on the day. RB Ezekiel Elliott returned from suspension and rushed 24 times for 97 yards, chipping in another 21 yards receiving. WR Dez Bryant was pretty quiet, only catching three passes for 44 yards.
QB Russell Wilson failed to reach 100 yards passing, as he was only 14-of-21 for 93 yards, but he did have two touchdowns and did not turn over the football, although he did fumble. Wilson also led the team in rushing with 29 yards. RB Mike Davis was second on the team with 25 yards.
A big turning point in the game was when Prescott overthrew his intended target, allowing CB Justin Coleman to scoop the interception which he promptly returned for a touchdown that gave Seattle the lead for good. With that, we give you our PFF-exclusive takeaways from the contest for each team.

Top 5 Grades:
LB K.J. Wright, 85.9 overall grade
G Luke Joeckel, 82.1 overall grade
Edge Frank Clark, 82.1 overall grade
RB Mike Davis, 80.1 overall grade
LB Bobby Wagner, 79.2 overall grade
Performances of Note:
Davis gained less than two yards per carry and had a longest gain of eight yards but the raw stats don't do justice to the work he put in for the Seahawks on the ground. Davis broke a couple of tackles and racked up more yards after contact (30) than he gained in total on the ground (25). Help, as ever, was limited from the Seahawks' offensive line but Davis found glimmers of daylight where they were found and more than made the most of the running room he got. Davis also added a pair of first downs through the air to just keep the Seahawks' offense ticking sufficiently when the Cowboys had them largely under wraps.
The Seahawks' offense in this game was certainly not about volume of production. They had less than 100 receiving yards for the entire team but they made the most of the drives that they either did manage to move the ball or were presented with advantageous field position. Baldwin picked up the Seahawks' longest gain of the game with a 20-yard gain on a crossing pattern where he lost Jourdan Lewis before capping off a scoring drive where he ghosted away from Chidobe Awuzie to the pylon. Baldwin might've had only had four catches for 35 yards but in key moments he showed his ability to completely lose his coverage.
The Seattle defense looked like a different unit and the return of Wright was a huge difference. Wright especially excelled in pass coverage. In 42 snaps in pass coverage Wright was thrown at eight times, allowing only three receptions for 15 yards. Wright broke up a pass and also was gifted an interception on a Dez Bryant drop over the middle. Wright finished with an elite 90.7 coverage grade.
With star tackle Tyron Smith coming out of the game on the first drive, Clark took advantage of Dallas' poor backup play and wreaked havoc in the backfield. Clark finished with six hurries and a sack and earned a 79.6 pass-rush grade. Clark was also solid in run defense, with three solo tackles all resulting in a stop. Clark's 80.6 run-defense grade was the best among Seattle defenders.

Top 5 Grades:
LB Sean Lee, 88.4 overall grade
Edge DeMarcus Lawrence, 83.3 overall grade
G Zack Martin, 82.9 overall grade
LB Damien Wilson, 81.3 overall grade
LB Anthony Hitchens, 78.5 overall grade
Performances of Note:
Martin was key in helping the Cowboys offense move the ball on the ground to start the game, but where he was best was in pass protection. Where the rest of the offensive line struggled in pass protection, Martin did not allow a single pressure on 46 pass-blocking snaps. Martin finished with an 87.7 pass-blocking grade.
WR Dez Bryant, 32.2 overall grade
It was an overall bad looking game all around for Bryant on Sunday. Early on in the game cameras showed Bryant demanding the ball on offense, only to fumble the ball on his first catch of the day shortly after, setting up a Seahawks touchdown. Bryant also had two drops, one of which popped into the hands of K.J. Wright, ending a Cowboy drive. Bryant was thrown at six times and caught three balls for 42 yards and Dak Prescott's passer rating was a mere 33.3 when targeting him.
Lee's ability to hit the right gaps and find the ball consistently behind the Cowboys' aggressive defensive line makes him arguably the most valuable piece of the Dallas defense. Lee added another six stops against the Seahawks, taking his season total past 40 for the fourth straight season and for the fifth time in his career, in spite of the fact that he is yet to surpass 600 snaps on the season. Lee has 16 stops since returning to the lineup two weeks ago and has missed only two tackles.
Lawrence continues to build on his stunning season, a sack and a hit saw him rack up his 15th straight multi-pressure game. He got the upper hand early on Germain Ifedi, beating him on a quick pass on the first play of the game before setting up and finishing his own sack midway through the second quarter. The only disappointment for Lawrence in this game is that for how easy it seemed for him to get past Ifedi at times, he didn't rack up enough volume of disruption to help the Cowboys keep the clamps on the Seattle offense in key moments.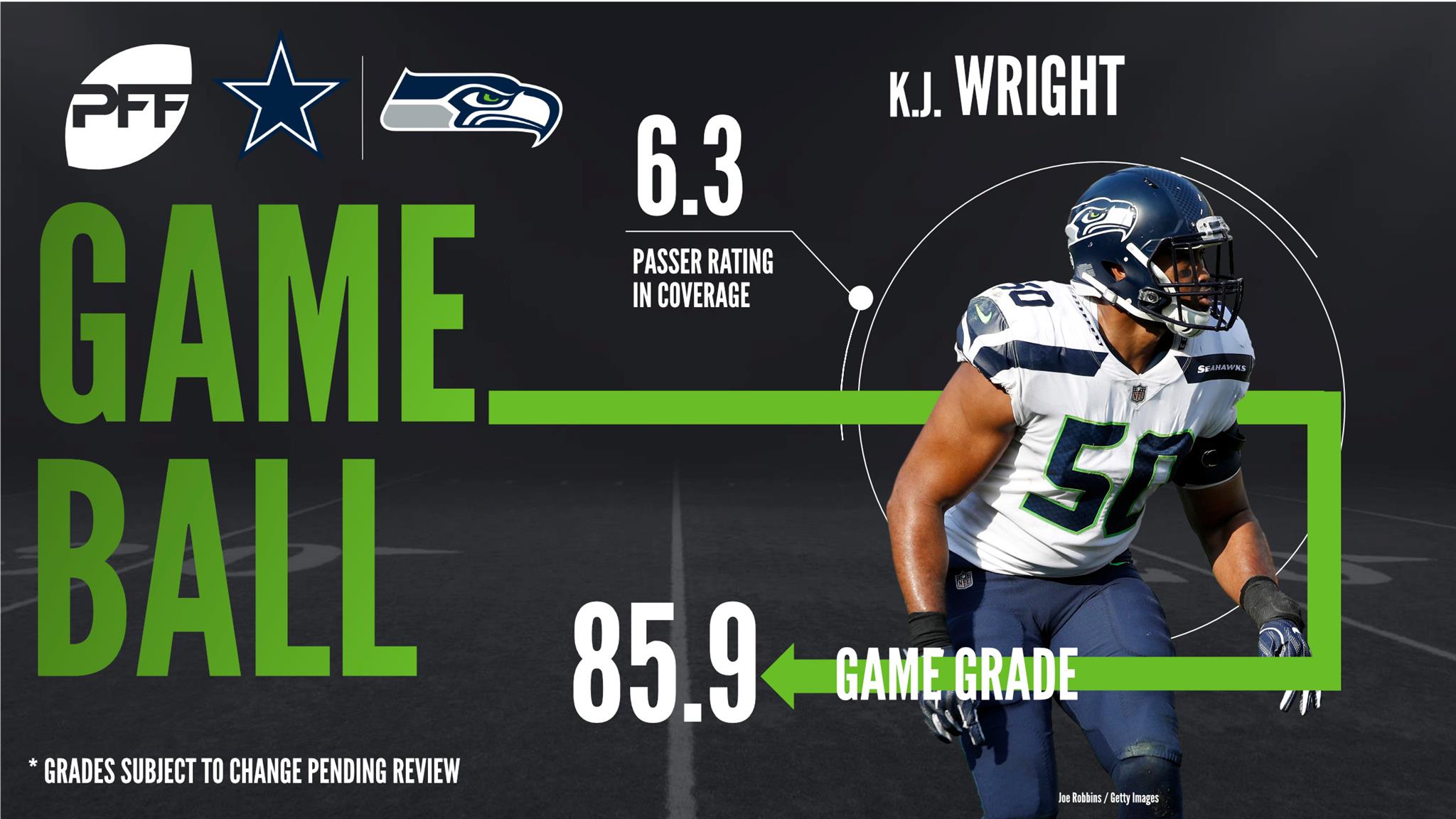 *Grades subject to change