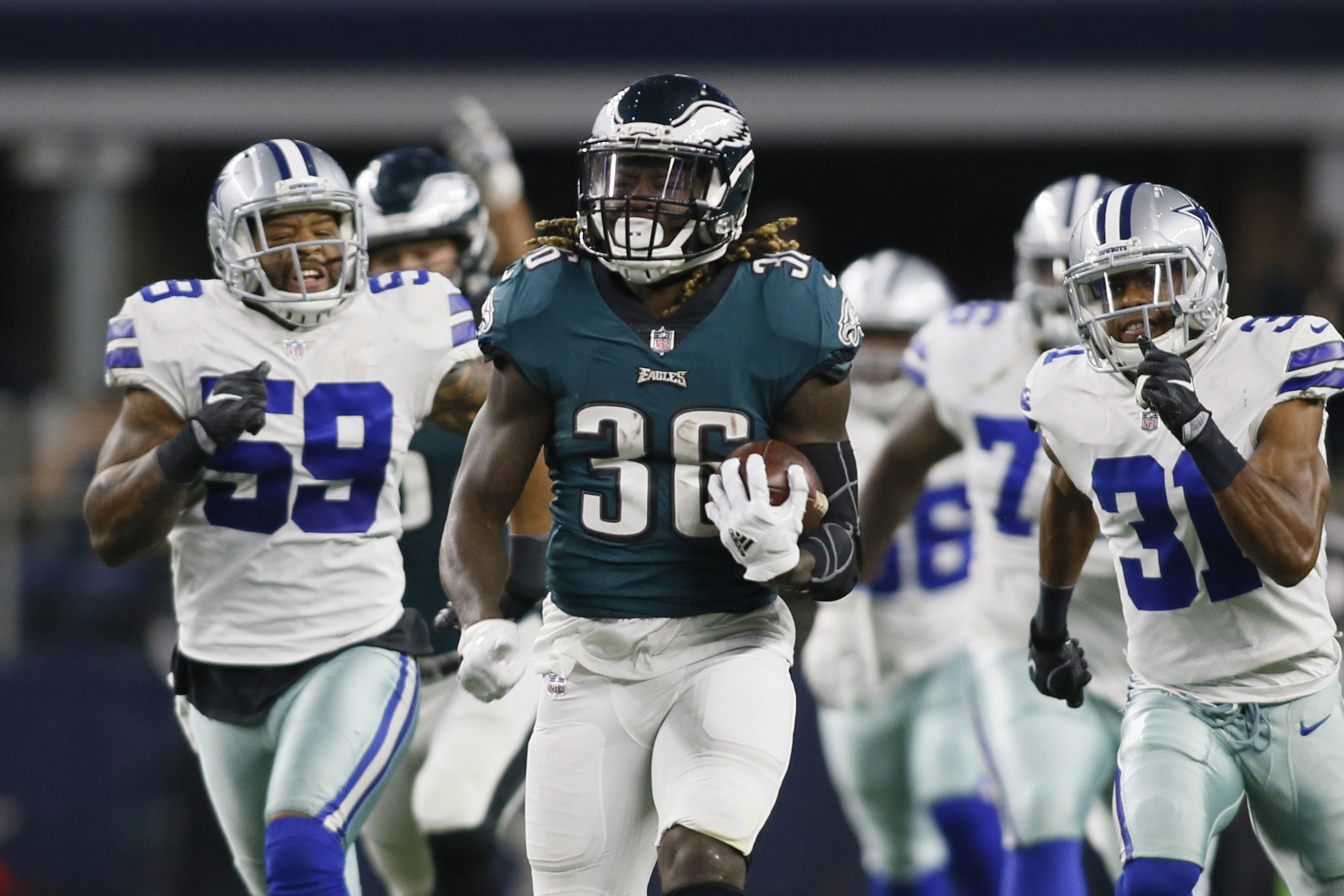 Nov 19, 2017; Arlington, TX, USA; Philadelphia Eagles running back Jay Ajayi (36) runs the ball against the Dallas Cowboys in the third quarter at AT&T Stadium. Mandatory Credit: Tim Heitman-USA TODAY Sports
Behind a balanced offensive, and defensive attack, the Philadelphia Eagles rolled over the Dallas Cowboys on Sunday night, capping an exciting, and telling Week 11 NFL Sunday slate of games, with a 37-9 victory.
Philadelphia quarterback Carson Wentz threw for two scores while the Eagles backfield combined for 215 yards on the ground and their defense held the Cowboys offense in check for the evening, allowing just 225 total yards. Wentz connected on his two scoring throws in the second half, pushing Philly's lead to 29-9 before Eagles LB Nigel Bradham added the icing on the cake in the victory.
With 10:55 remaining in the fourth quarter, rookie defensive end Derek Barnett forced a fumble on a strip-sack of Dallas QB Dak Prescott, a fumble in which Bradham scooped up, made a couple of Cowboys miss and returned for a scoop-and-score touchdown that dotted the exclamation point in the victory. Prescott was sacked a total of just four times, however was pressured often as the Cowboys sorely felt the loss of their All-Pro LT Tyron Smith for a second consecutive week.
Alfred Morris had a great evening on the ground, but with the Philadelphia lead surging late in the game, Dallas was forced to abandon the running game while subsequently, the Eagles defense shut down their passing attack. With that, we give you our PFF exclusive takeaways from the contest for each team.

Top 5 Grades:
CB Patrick Robinson, 92.4 overall grade
CB Ronald Darby, 89.8 overall grade
G Brandon Brooks, 86.6 overall grade
LB Nigel Bradham, 84.1 overall grade
WR Alshon Jeffery, 84.0 overall grade
Performances of Note:
On a night where the Eagles rushing attack wore down the Cowboys, Alshon Jeffery made the most of the targets that came his way. He was thrown to six times, catching four for 67 yards and a touchdown reception while being draped on by CB Jourdan Lewis. Jeffery was the bright spot in the Eagles passing attack as they struggled with drops throughout the game amassing four on the night.
The Eagles offensive game plan worked to perfection, relying heavily on their athletic offensive line in the run game and allowing Carson Wentz to work off of that with the play action and quick passing game. Wentz was under pressure on only 12 of his dropbacks and he was efficient when not blitzed, completing 12-of-24 passes for 142 yards and two touchdowns when given time. As mentioned earlier, the Eagles offensive line was dominant as tackle Halapoulivaati Vaitai was the only one not to grade above 80.0.
Robinson had a great night in coverage. He allowed three catches for just 16 yards on seven targets, including two pass breakups. Robinson also had three tackles in coverage that resulted in defensive stops.
Barnett didn't make much of an impact in run defense, but he has come on strong of late as a pass-rusher. Barnett disrupted the quarterback six times on 22 snaps rushing the passer, tying a season-high. He had two sacks and two hits, including the aforementioned strip sack in the fourth quarter that was the final nail in the coffin.

Top 5 Grades:
C Travis Frederick, 84.1 overall grade
RB Alfred Morris, 80.7 overall grade
LB Jaylon Smith, 79.0 overall grade
DI David Irving, 77.3 overall grade
LB Justin Durant, 76.8 overall grade
Performances of Note:
With Ezekiel Elliott serving his suspension, Morris received the bulk of the workload. He averaged 5.4 yards per carry, including 3.6 after first contact, and forced four missed tackles. He rattled off two runs of 20-plus yards despite the offensive line not having their best night.
After Chaz Green struggled mightily last week, all eyes were on his replacement to see if he could shore up Tyron Smith's vacated left tackle position. While he fared much better than Green, he was still beaten far more often than the Cowboys would have liked, as he allowed one sack, one hit, and three hurries. He did have a couple nice blocks in the run game, but those evened out with the poor ones over the course of the game. The offense has more issues than just left tackle, but Dallas really needs a healthy Tyron Smith back as soon as possible.
The Cowboys defense struggled mightily against the Eagles athletic offensive line, often getting sealed out of running lanes at the second level. Jaylon Smith fell victim to that too as he recorded a run defense grade of 36.9. However, he played well in coverage as he was targeted three times, allowing one receptioin for only two yards which led to a grade of 88.3 in that department.
David Irving was the Cowboys only real threat rushing the passer Sunday night as he recorded three total pressures and a batted pass which led to a pass-rush grade of 82.7. Irving was the lone Cowboy to record a grade above 80.0 rushing the passer as the front four failed to record a sack.
PFF Game Ball: Patrick Robinson, CB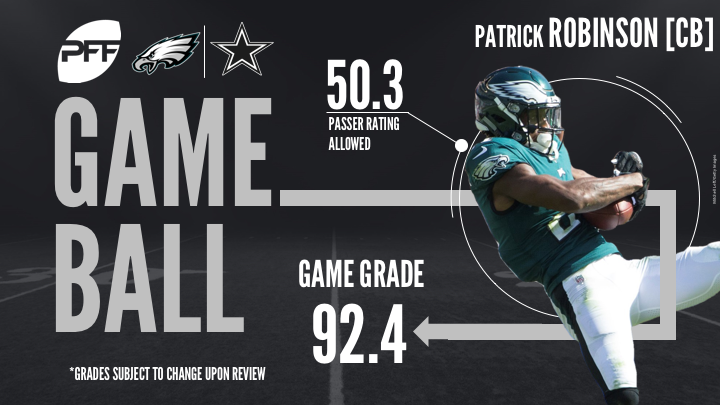 *Grades are subject to change upon review