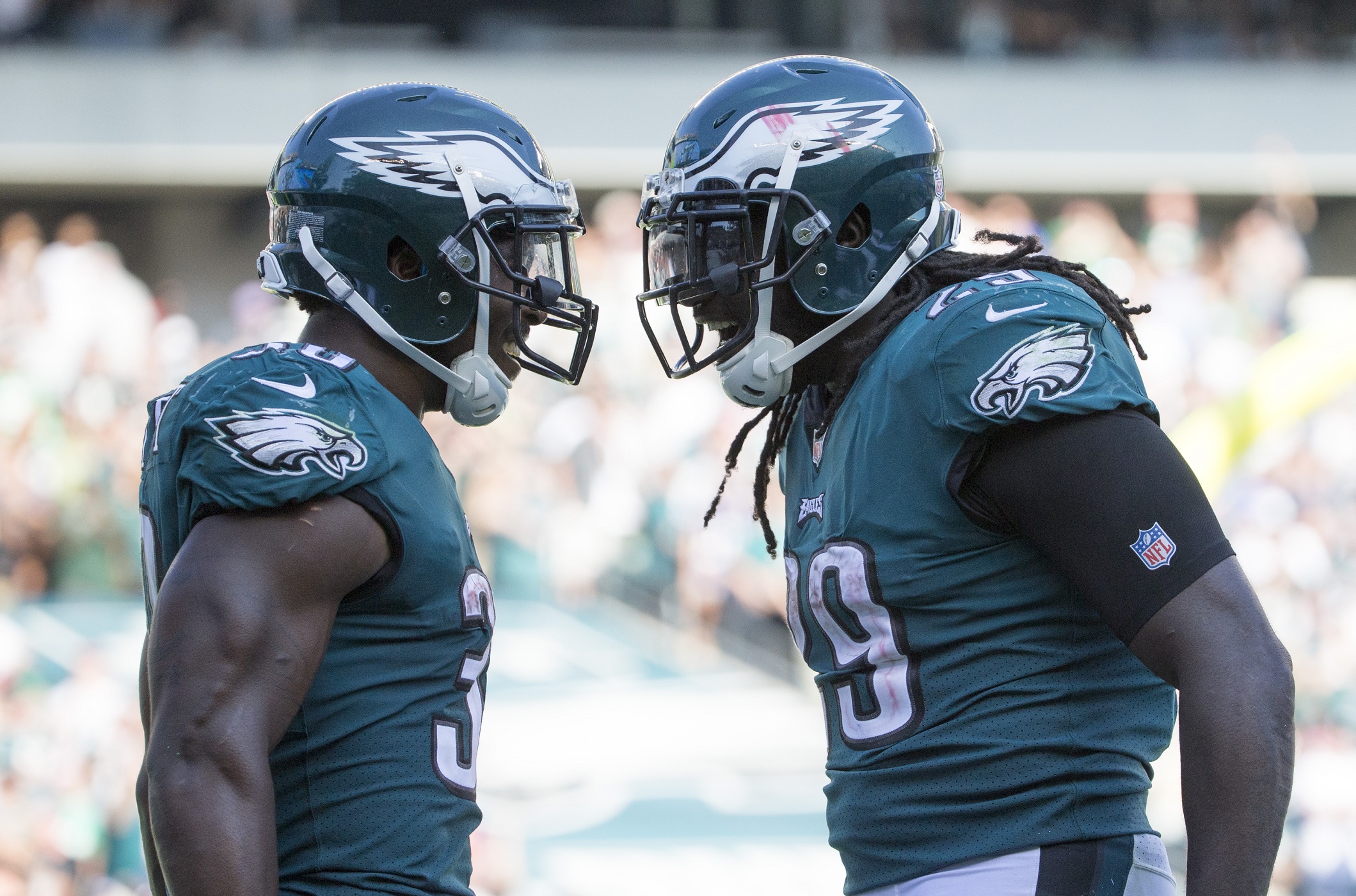 PHILADELPHIA, PA - SEPTEMBER 24: Corey Clement #30 of the Philadelphia Eagles celebrates with LeGarrette Blount #29 after scoring a touchdown in the fourth quarter against the New York Giants at Lincoln Financial Field on September 24, 2017 in Philadelphia, Pennsylvania. The Eagles defeated the Giants 27-24. (Photo by Mitchell Leff/Getty Images)
The Eagles jumped to an early 13-point lead on the strength of a WR Alshon Jeffery touchdown catch from QB Carson Wentz and two field goals. The Chargers would answer with a long WR Tyrell Williams touchdown catch from QB Philip Rivers, and the two teams would trade field goals to end the half.
The Chargers made it competitive in the second half, with a HB Austin Ekeler touchdown run and a TE Hunter Henry toe-dragging touchdown grab, but the Eagles would win 26-24 due to a HB Wendell Smallwood touchdown run. With that, we give you our PFF exclusive takeaways from the contest for each team.

Top 5 Grades:
C Jason Kelce, 90.0 overall grade
CB Patrick Robinson, 87.1 overall grade
T Lane Johnson, 86.8 overall grade
T Jason Peters, 86.7 overall grade
G Brandon Brooks, 86.1 overall grade
Performances of Note:
When the play calling was kept to the Eagles bread and butter of zone runs, their offensive line led by Jason Kelce presented a platform for their backs to dominate. Kelce comfortably got the better of his matchup with Brandon Mebane and, along with double teams from the guards and tackles either side of him, consistently cleared a path for the ground game and was a key factor in the Eagles closing it out with an outstanding drive to wind off nearly the last 7 minutes of the game.
Another game of ups and downs from Wentz, with some big plays down the field to Zach Ertz and an early play to Nelson Agholor that were offset by some dangerous throws that on another day would have led to interceptions. Wentz's completion percentage dropped to 35 percent under pressure today, and for the season it is at 39 percent. Greater efficiency under pressure will be crucial to the Eagles and Wentz taking a step forward as the season wears on.
DI Beau Allen, 84.3 overall grade
Beau Allen had his best game of the season and gave the interior of the Chargers offensive line fits, he totaled five pressures on the day with four hurries and one sack. Allen finished with a pass-rush productivity (PRP) of 16.0, which currently ranks first among interior defenders for Week 4. Among the three interior offensive linemen for the Chargers, Kenny Wiggins had the best pass-block grade at 74.0, so Allen can expect to see stiffer competition as the season progresses.
While rookie CB Rasul Douglas struggled, veteran Patrick Robinson continued his string of solid performances with a coverage grade of 87.0. Robinson was on the field for 27 total coverage snaps and was not targeted a single time, he also recorded a pass break up on a play where he wasn't the primary defender. Robinson provides some stability to the Eagles young secondary and looks to continue his strong season as the weeks progress.

Top 5 Grades:
CB Casey Hayward, 96.9 overall grade
WR Keenan Allen, 86.7 overall grade
TE Hunter Henry, 84.7 overall grade
EDGE Melvin Ingram, 79.7 overall grade
CB Trevor Williams, 79.2 overall grade
Performances of Note:
Keenan Allen got the best of Eagles rookie CB Rasul Douglas, most of the damage was done after the catch where he racked up 80 of the 109 yards. Allen was targeted 5 times against Douglas, catching three while opposing CB Jalen Mills was able to limit him to one reception on three targets. Coming off a knee injury last season, Allen is off to a very strong start to his 2017 campaign. His 3.73 yards per route run this week currently leads all wide receivers.
Rivers was under duress often against the Eagles talented defensive front and struggled while under pressure, completing only 5-of-13 attempts for a miniscule 2.6 yards per attempt. When given time, Rivers has demonstrated throughout his career that he can put up big numbers, he did that today going 17-of-25 for 313 yards when given a clean pocket. The Chargers feature a lot of crossing routes in their offense and the numbers show it, as 20 of the 33 attempts came between 0-9 yards, eating up 179 of the 347 total passing yards.
Hayward was tested often against Alshon Jeffery and he was not found wanting. Hayward broke up more passes than he allowed Jeffery to snag. Two of Hayward's four pass defenses came while covering Jeffery, as he allowed a miserly 17 yards on 7 targets. His four passes defensed, including a near interception, are a career high, bettering the three he got against Detroit in his rookie season.
EDGE Joey Bosa, 41.9 overall grade
After a strong start to the year, Bosa has failed to build on his exceptional rookie season. A solitary hit saw Bosa fail to rack up multiple pressures for only the second time in his short career and in the run game, in spite of notching four tackles, he failed to have anywhere near the expected impact. Frequently facing one-on-one opportunities against Zach Ertz, Bosa failed to make the impression on the Eagles' backfield that could have covered for some of the woes inflicted on the interior of the Chargers defense by the Eagles' powerful offensive line.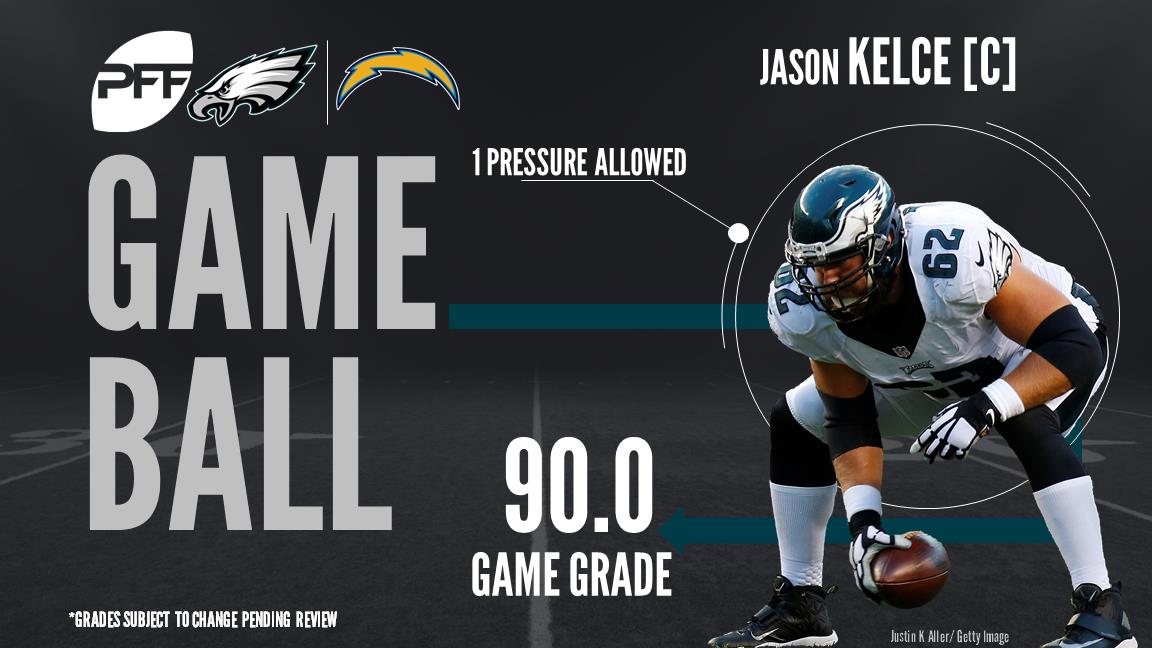 *Grades are subject to change upon review