In a game marred by an on-the-field incident between WR Michael Crabtree and CB Aqib Talib, the Oakland Raiders outlasted the Denver Broncos on Sunday afternoon, 21-14.
Raiders QB Derek Carr had a solid outing, completing 18-of-24 passes for 253 yards and two touchdowns, even without his top two targets for most of the game. Crabtree was unable to record a catch before being ejected for fighting with Talib and Amari Cooper was knocked out with a concussion. Cooper did haul in a touchdown reception before exiting with injury.
Raiders RB Marshawn Lynch toted the rock 26 times and totaled 67 yards and a touchdown in the win.
The Broncos, who turned to Paxton Lynch at quarterback, were forced to turn back to Trevor Siemian after Lynch went down with an injury. Siemian had arguably his best game statistically, completing 11-of-21 passes for 149 yards and two touchdowns. Despite leaving with the injury, Lynch still lead the Broncos with his 20 yards on the ground as the Raiders run defense stepped up to the task of stopping Denver's ground game. With that, we give you our PFF-exclusive takeaways from the contest for each team.

Top 5 Grades:
G Kelechi Osemele, 89.3 overall grade
LB NaVorro Bowman, 85.7 overall grade
QB Derek Carr, 83.9 overall grade
CB Sean Smith, 81.6 overall grade
WR Cordarrelle Patterson, 80.1 overal grade
Performances of Note:
With Carr losing both of his top two WRs early in the game, he needed to help out his team and he did. On intermedete passes he was 6-of-10 for 118 yards and a touchdown. Even though Carr's numbers might not jump out in a big way he did complete 72 percent of his passes and avoided the turnover worthy plays against a talented Denver secondary.
The Raiders had to find ways to create new playmakers and they did with Patterson, who made one big play at the most important time of the game. As the Broncos closed the gap to one score, and on a 3rd-and-10, Patterson was able to beat the man coverage of Brendan Langley and go for 50 yards and a crucial first down.
Bowman had a wild day in coverage, as he allowed two catches and 50 yards receiving on five targets, but was able to successfully defend two of the other three throws into his coverage. He made the play of the game, a pivotal interception in the end zone that saw him initially break up the pass and then secure the pick while on the ground after the ball deflected off another Raider teammate.
The Raiders have had issues finishing at the quarterback this season, but had no such problem today. The defense tallied five sacks, with Mack and Irvin accounting for three of them. Mack posted five total pressures with one sack and one batted pass, and Irvin tallied two sacks and three total defensive stops.

Top 5 Grades:
S Justin Simmons, 84.5 overall grade
DI Zach Kerr, 82.3 overall grade
ED Shaquil Barrett, 81.9 overall grade
DI Domata Peko Sr., 81.4 overall grade
CB Bradley Roby, 80.0 overall grade
Performances of Note:
Lynch's first start of the season couldn't have gone much worse, as he was woefully ineffective before leaving in the fourth quarter with what appeared to be a non-contact injury. Most telling about his struggles was his performance in a clean pocket, as he managed just 37 passing yards and a crucial interception in the end zone when not faced with Oakland's pass-rush.
Siemian's overall grade isn't fully indicative of how much more effective he was than Lynch, as he was able to lead two fourth quarter touchdown drives which put Denver within a possession of tying a game that appeared completely out of reach. He was particularly effective against the blitz, as he completed 3-of-4 throws for 61 yards when Oakland brought the extra man, and had a passer rating of 116.7 on those attempts.
The surpise of the Broncos defense in a positive way has been the play of Domata Peko. For the last few years, Peko has struggled in run defense but for the Broncos he has performed at a good level and has a chance to record the most run stops he has had in a season. Against the Raiders he made four stops on five tackles and was a force on many other runs
Barrett was a force as a pass-rusher against the Raiders recording a sack and three hurries and also managed to draw a holding call. He did so while still playing the edge in the run game with similar force.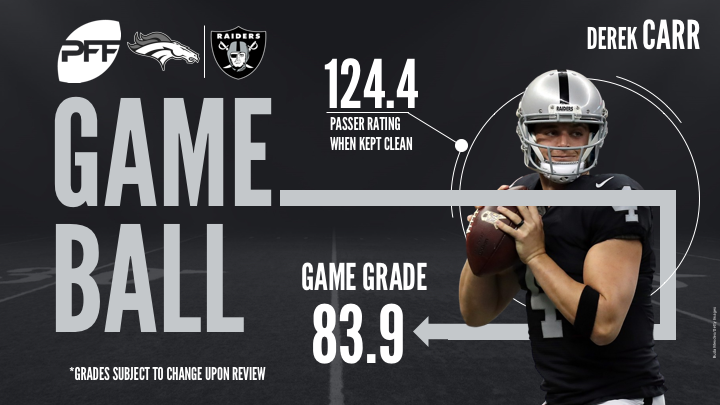 *Grades are subject to change upon review