The Houston Texans defeated the Denver Broncos, 19-17,  in Week 9 of the 2018 NFL season.
PFF's ReFocused series this season features immediate takeaways and a key to the victory from two Senior Analysts who graded the performance, watching every player on every play of the game. For more data and analysis from the game, utilize our Premium Stats 2.0 dashboard to expand your knowledge on the key players, signature stats and much more.

FINAL SCORE
Houston Texans 19, Denver Broncos 17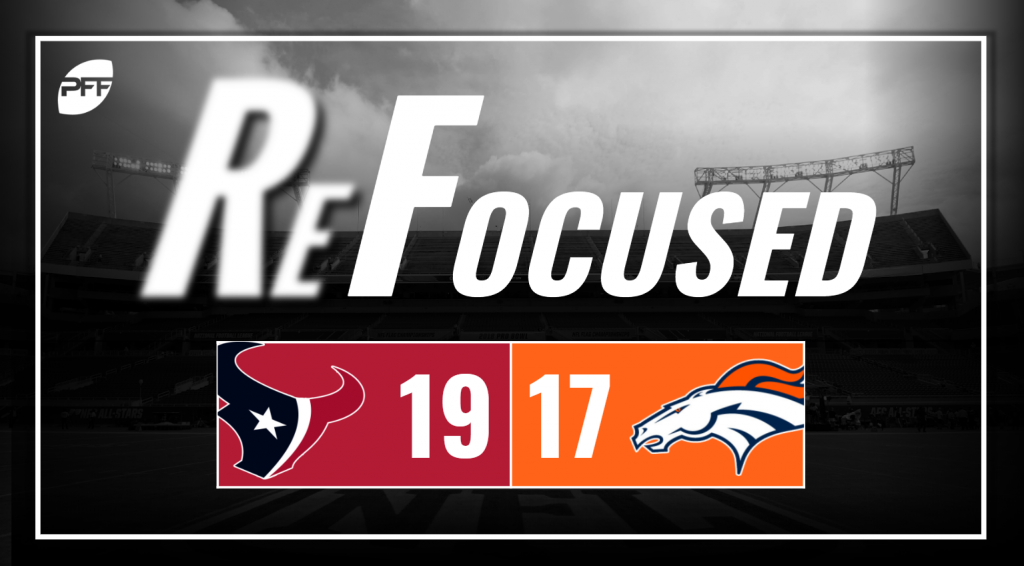 After a lightning quick start, it looked as though Demaryius Thomas was going to have himself a day in his return to Denver. He would only see one target after that drive, though, as Deshaun Watson continually looked DeAndre Hopkins' way.
Watson was spot-on all day with only a couple of bad throws on the day. He completed five of six passes for 68 yards on intermediate throws on the day.
JJ Watt was a problem for the Broncos' offensive line all day. He recorded multiple pressures in the contest. 
Kareem Jackson's fantastic season rolled on in this one. He has seemingly found the fountain of youth, as he held his opposition to few yards across a multitude of targets. 

After getting exposed on a handful of occasions this season, the Broncos' run defense came to play against Houston. The interior of the Broncos' defensive line dominated in the trenches all game long and shut down the Texans' varied attack.
Even though he was game planned for heavily, Von Miller still made his presence felt. It seemed like anytime he was given a one-on-one against the Texans tackles, he was winning the matchup.
It's a shame they didn't let Case Keenum try to get them closer for the final field goal because he was in the middle of arguably his best performance in a Broncos jersey. The much-maligned signal-caller had a handful of pretty throws on the day, including a beautiful fourth-down conversion on their final drive.
Courtland Sutton was solid in his new role filling in for Thomas, catching three of his five targets for 57 yards, but he's going to be kicking himself for not hauling in a go route in the first half that would have been a touchdown.
Keys to the Game
Houston
Leaning on the rushing attack was obviously a big part of the Texans' plan to keep Watson upright in this one, but with how well Watson was throwing the ball, it almost cost them in the end.
Denver
The Broncos played well enough on both sides of the ball to earn a win. It's a shame Brandon McManus couldn't close it out at the end.