The Chicago Bears defeated the New York Jets, 24-10,  in Week 8 of the 2018 NFL season.
PFF's ReFocused series this season features immediate takeaways and a key to the victory from two Senior Analysts who graded the performance, watching every player on every play of the game. For more data and analysis from the game, utilize our Premium Stats 2.0 dashboard to expand your knowledge on the key players, signature stats and much more.

FINAL SCORE
Chicago Bears 24, New York Jets 10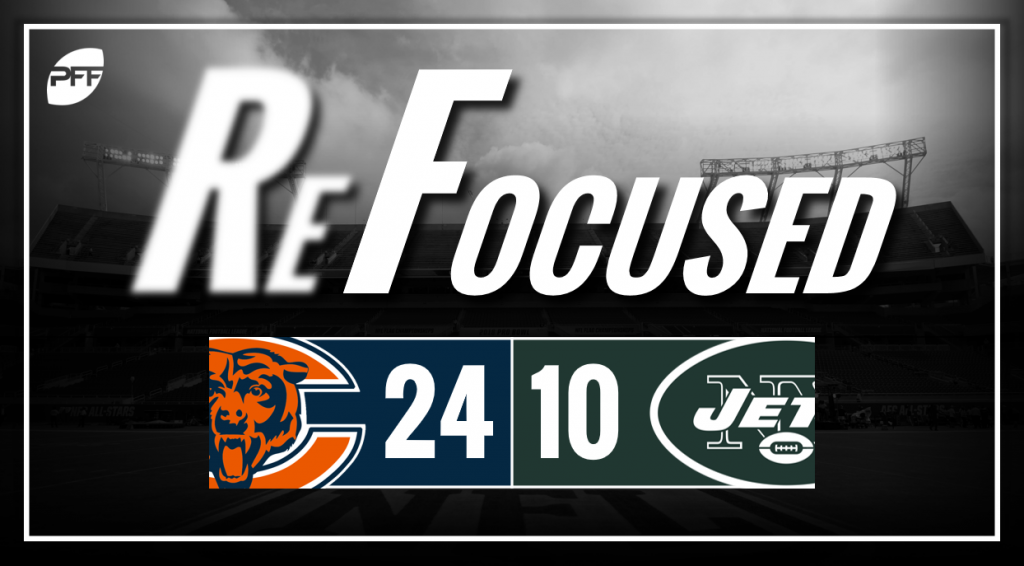 The Jets' receivers struggled to generate much separation on short and intermediate throws, with defenders like Bryce Callahan constantly acting as the receivers shadow and showing some nice playmaking skills to break up a number of contested catches.
You can see why Bears fans were so excited to see Roquan Smith on the field. His performance was virtually flawless bar a late missed tackle in garbage time, with Smith quickly able to close on ball carriers to make plays in both the run and pass game.
Mitchell Trubisky's struggles with accuracy would have been more pronounced had his defense not consistently shut down the Jets. His inconsistent play as a passer kept this game closer than it needed to be. 
One of the unheralded success stories of the Bears is this rebuilt offensive line that may not be among the best in the league, but they were devoid of liability against a heavy hitting Jets defensive line. Both Chicago tackles, Bobby Massie and Charles Leno Jr., were particularly impressed on the day. 

He might not be the most recognizable name on the Jets' defense, but it was Tarell Basham who was making the most plays of any defensive lineman. He was especially active in the run game and picked up a rare win against the underrated Leno rushing the passer.
One of the league's emerging cornerbacks, Darryl Roberts had himself another solid game where, much like his Bears counterparts, he was constantly in close coverage that both allowed him to make plays on the ball and the receiver to prevent yards after the catch.
The Jets were looking for one receiver to step up, and while Jermaine Kearse was the favorite target of his quarterback, it was Deontay Burnett who stood up with some big plays, including one highlight-reel grab that set the Jets up for a red-zone touchdown.

The Bears' stunting defensive front gave Sam Darnold a closing pocket to work from all game, but he showed plenty of poise to avoid situations that could create turnovers. Much like the Jets' season, this was encouraging from Darnold if not ultimately successful.
Keys to the Game
Chicago
The offense was inconsistent at best, but when your defense is as shutdown as they played Sunday, inconsistent is going to be enough to win games if you avoid turning it over.
New York
Inability to move the ball on offense meant any mistakes on defense that were punished were going to put them in a hole they were unable to dig themselves out of.