The New York Jets defeated the Denver Broncos, 34-16, in Week 5 of NFL action.
PFF's ReFocused series this season features immediate takeaways and a key to the victory from two Senior Analysts who graded the performance, watching every player, on every play of the game. For more data and analysis from the game, utilize our Premium Stats 2.0 dashboard to expand your knowledge on the key players, signature stats and much more.

FINAL SCORE
New York Jets 34, Denver Broncos 16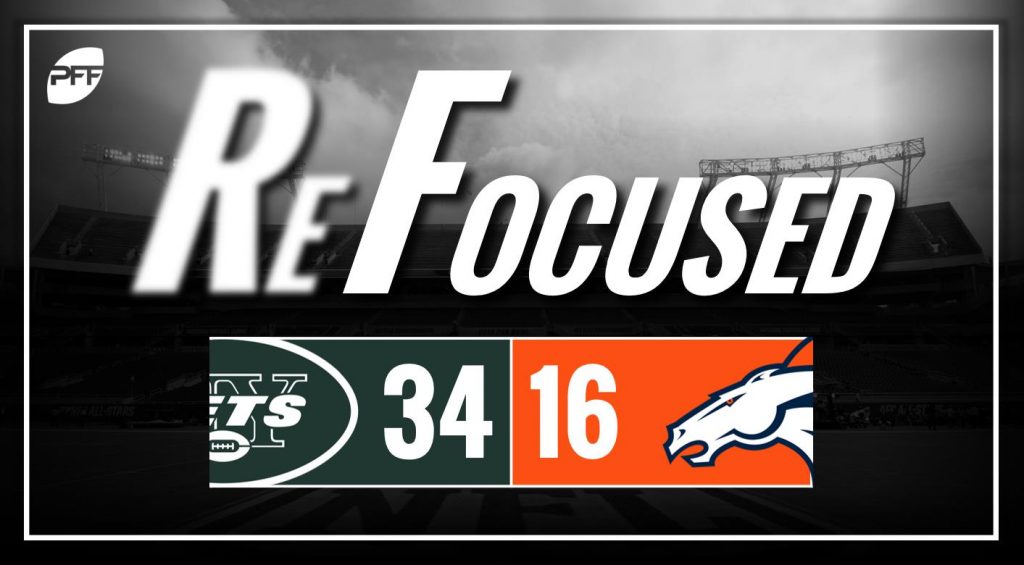 Sam Darnold's day will be remembered for two big-time throws to Robby Anderson, but the rest of Darnold's game was inconsistent at best, as he was inaccurate hitting receivers. The connection to Anderson is the first time this year that they have shown any chemistry, and if they can repeat the pitch and catch, it will open up a lot of room in the shorter passing game.
The Jets' run game tore the Broncos' defense to pieces with two runs over 50 yards for Isaiah Crowell.  The defense finished the day having allowed over 200 yards on the ground. 
Jets cornerback Morris Claiborne was fantastic in the secondary. Claiborne accounted for several pass break-ups and made plays when the Jets' defense needed them.
The Jets' defensive line across the board was fantastic in this game. Jeremiah Attaochu, Leonard Williams and Mike Pennel were a few standouts amongst a Jets defense front that controlled the game.

The Denver defense was gashed time and time again in the ground game, as they gave up 323 yards on the ground. The Broncos simply couldn't stop the Jets' power run game.
The Broncos' pass-rushers were unable to generate much pressure, as the Jets' quick passing game and the lack of run defense limited the chances Von Miller got to tee off on Darnold. As such, Darnold might have been inaccurate at parts but never was forced to make a rushed pass.
Denver had a difficult day on offense. Quarterback Case Keenum was hounded in the pocket by Jets pass-rushers, and while he was able to complete some passes down the field, he failed to find a rhythm.
Wide receivers Demaryius Thomas and Emmanuel Sanders were favorite targets of Keenum and bright spots at times, but it ultimately wasn't enough to pull off the win.
New York:
The Jets two big strikes to Anderson. Then, New York's rushing attack took the Broncos out of the game and slammed the door shut, as the Jets gained 512 yards and took the life out of the Broncos' defense.
Denver:
Denver struggled at times in pass protection, and the Broncos' offense lacked consistency for most of the game.