The Los Angeles Rams defeated the Seattle Seahawks, 33-31, in Week 5 of NFL action.
PFF's ReFocused series this season features immediate takeaways and a key to the victory from two Senior Analysts who graded the performance, watching every player, on every play of the game. For more data and analysis from the game, utilize our Premium Stats 2.0 dashboard to expand your knowledge on the key players, signature stats and much more.

Final Score: Los Angeles Rams 33, Seattle Seahawks 31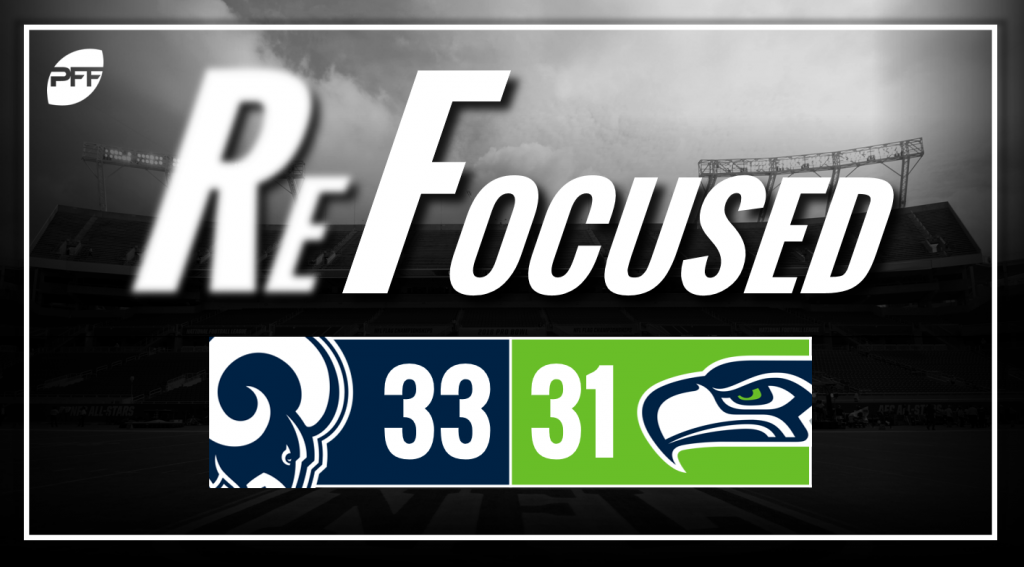 It wasn't Todd Gurley's biggest rushing day by any means, but he still managed to find the end zone three times and added another 36 yards on four catches out of the backfield. 
Jared Goff came back to earth after back-to-back stellar performances. He had a couple of miscues, including a fumble where the ball just slipped out of his hand when trying to throw. Fortunately, that one was recovered by a teammate and didn't lead to a turnover. However, Goff played better down the stretch to help lead the Rams to three scoring drives before running out the clock on their final possession.
It was a rough day at the office for Marcus Peters, who saved some face with an important pass break up late on, but was also the chief victim as Russell Wilson got the Seahawks downfield passing attack working.
It may not have been his best day, but you need only look at the speed with which J.R. Sweezy was beaten by Aaron Donald to understand that Donald can do things other players can only dream of.

This was supposed to be a slaughter in the trenches, but the Seahawks more than held their own against the Rams talented defensive front, with D.J. Fluker especially impressive with his work in the run game. The unit as a whole did a good job in pass protection in their best performance of the year.
It's easy to see why Chris Carson has turned himself into the premier back in Seattle. His ability to find the open running lane and maximize the yardage he gets continuously put the Seahawks in a good position.
It wasn't Shaquill Griffin's best outing, as it looked like he allowed multiple big gains to both Robert Woods and Josh Reynolds, and missed at least one tackle after the catch.
The Seattle defensive line was fairly ineffective. Jarran Reed made a few stops in the run game, but otherwise, they didn't play all that well against the run and really struggled to get pressure on Jared Goff. 
Keys to the game:
Los Angeles: After a slow first half, the Rams were able to put long drives together and score on their first three possessions of the second half, before taking the lead and sealing off the win.
Seattle: They moved the ball because their line didn't just hold, but did a good job neutralizing the Rams fantastic front.