The New England Patriots defeated the Miami Dolphins, 38-7, in Week 4 of NFL action.
PFF's ReFocused series this season features immediate takeaways and a key to the victory from two Senior Analysts who graded the performance, watching every player, on every play of the game. For more data and analysis from the game, utilize our Premium Stats 2.0 dashboard to expand your knowledge on the key players, signature stats and much more.

FINAL SCORE
New England Patriots 38, Miami Dolphins 7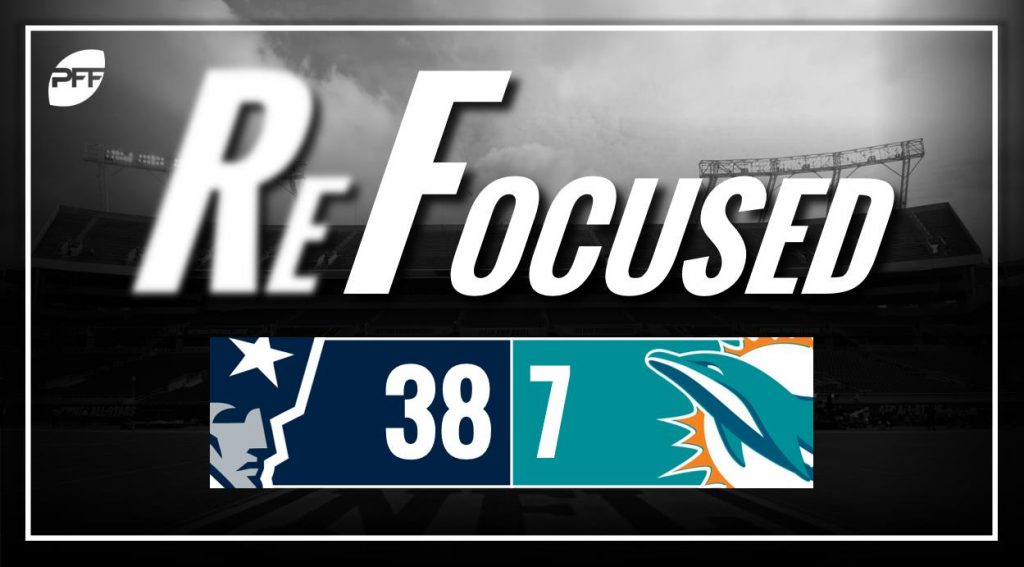 There are plenty of good things to say about the Patriots' defense. Other than a couple of flags by Stephon Gilmore, the Dolphins' passing game was shut down. Tight downfield coverage made it difficult for Tannehill to have any room for error, and the Dolphins were unable to find any success with big downfield strikes.
No one player stood out on the defensive front, but it was a total team effort in run defense. The Patriots were able to control the line of scrimmage and hold the Dolphins to just 51 yards rushing on over three yards a carry. The success in run defense kept the Dolphins in 3rd and longs, so it was easy for the Patriots to get off the field.
Tom Brady wasn't perfect. but he didn't need to be, as the Dolphins' defense couldn't cover anyone on the Patriots' offense. Brady still doesn't look like his usual self, as he's showing general inaccuracies and not able to hit tight windows as he's shown in the past few seasons.
Former Browns wide receiver Josh Gordon made his first appearance, albeit on just 12 snaps. He hauled in two catches, both for first downs. Arguably the best player on the field was running back James White, as he caught all eight of his targets for three first downs and a touchdown while adding a touchdown on the ground.

In a crucial early season divisional game, Ryan Tannehill fell flat. The Dolphins signal-caller missed on just about every downfield ball that he threw and failed to lead his team to one touchdown drive. He ended the contest with an interception and had another interception dropped. Tannehill was so ineffective that he was replaced by Brock Osweiler in the fourth quarter.
Tannehill did not get much help from his offensive line and his running backs, either. The Miami rushing attack was all but useless on Sunday and kept the Dolphins in long down and distances that forced Tannehill into downfield throws or check-downs well short of the sticks.
The Pats presented the first real test of the season for a defense that had looked improved through the first three weeks, and the Dolphins failed. Miami struggled to fit run gaps, had busts in coverage and gave up to many big plays in the blowout loss.
If there was a positive to take away from the game, Dolphins edge defender Cameron Wake was up to his usual standards, as he gave Pats' Marcus Cannon fits all game long. Rookie Minkah Fitzpatrick also played well, grabbing the first interception of his career.
Keys to the game
New England:
Brady and company methodically wore down a Dolphins defense that got no rest from their offense. Now 18 years later, and New England still owns this division.
Miami:
In the NFL, you really just need far more from your quarterback position if you are going to have a chance to win, especially on the road. The Dolphins did not get a competent game from Tannehill, and that left them with little to no chance against the Patriots.