The New York Giants defeated the Houston Texans, 27-22, continuing the third full week of action in the NFL.
PFF's ReFocused series this season features immediate takeaways and a key to the victory from two Senior Analysts who graded the performance, watching every player, on every play of the game. For more data and analysis from the game, utilize our Premium Stats 2.0 dashboard to expand your knowledge on the key players, signature stats and much more.

FINAL SCORE
New York Giants 27, Houston Texans 22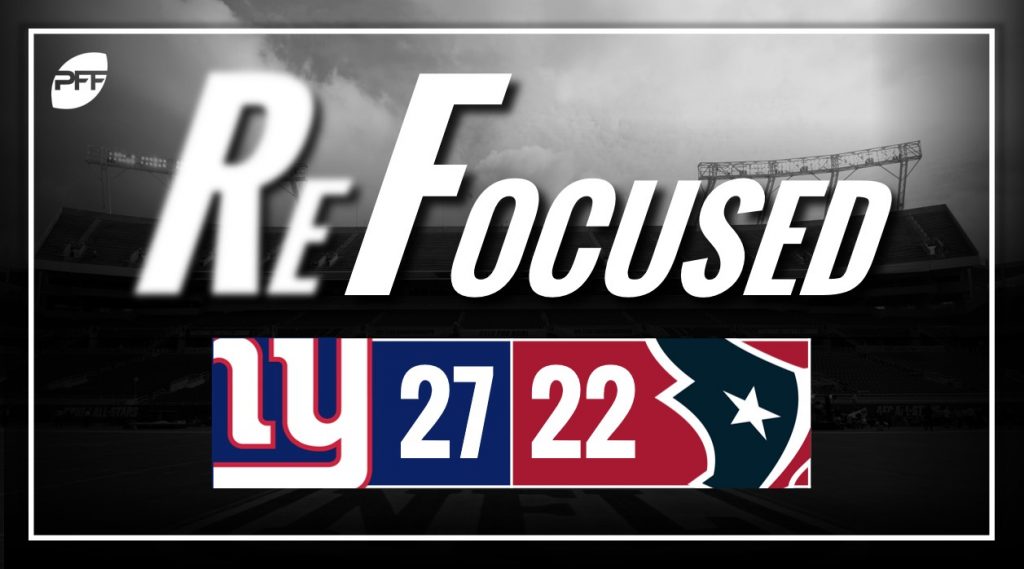 Analyst Takeaways

Odell Beckham Jr.'s athleticism was on display early and often as the fifth-year wide receiver hauled in several impressive catches. In the first half, he had an impressive 30-yard reception, where he caught the ball on a crossing pattern and turned on the burners to pull away from cornerback Kareem Jackson.
Saquon Barkley showed why Giants fans are so excited about him with multiple big runs in this game. He was bottled up on a few plays, but as displayed on his touchdown run, among others, his kind of speed is something that can't be taught, which makes him a big-play threat every time he touches the ball. The Giants' final drive, not including kneel downs, saw Barkley featured heavily, and they gave the ball to him six times, including once on a go route when split out wide.
Interior defensive lineman Damon Harrison was once again the best run defender on the field as he led the Giants with seven combined tackles. The Houston interior offensive line struggled with Harrison's power, and he not only beat blocks but also finished plays and made multiple tackles for loss.
Edge defender Kerry Wynn took advantage of Houston's struggling offensive tackles, as he was able to set the edge against the run and also recorded multiple pressures. In addition, Wynn also batted down a pass in the last minute of the game.

Deshaun Watson had a mixed outing against the Giants, as he completed 60 percent of his passes for 385 yards and two touchdowns. However, both touchdowns came late, and Watson missed some easy throws earlier in the game and also threw an interception when he forced a pass to Lamar Miller with Alec Ogletree in close coverage.
While Watson was sacked only three times, he was under pressure far more frequently as the Texans offensive line seemed unable to protect him. Furthermore, they also committed multiple pre-snap penalties which hurt the offense. This unit seemed to be a liability on the Texans team coming into the season, and they have yet to prove these critics wrong.
The Giants weren't afraid to go after linebacker Zach Cuningham in coverage, and it paid off big time in the first half. He gave up multiple catches and also gave up a defensive pass interference penalty. He improved in the second half but still gave up a 21-yard reception to Barkley who was split out wide on the play.
J.J. Watt started the game slowly, but once he got going, he showed why he is so dangerous to opposing offenses. Whether it was blowing up runs, or getting round right tackle Chad Wheeler and swatting the ball out of Eli Manning's hands, his impact was felt throughout, finishing the game with three sacks.
Keys to the game
Houston: Houston's offensive line struggled all afternoon and that put Deshaun Watson under pressure for the majority of the game. They failed to get the ground game going and they also hurt the team with multiple penalties.
Giants: The Giants game plan was clearly to put the ball into the hands of their playmakers and allow them to make defenders miss. Odell Beckham Jr. and Saquon Barkley did just that, finding enough big plays to help the Giants get the win.