The Baltimore Ravens defeated the Oakland Raiders, 34-17, in Week 12 of the 2018 NFL season.
PFF's ReFocused series this season features immediate takeaways and a key to the victory from two Senior Analysts who graded the performance, watching every player on every play of the game. For more data and analysis from the game, utilize our Premium Stats 2.0 dashboard to expand your knowledge on the key players, signature stats and much more.

FINAL SCORE
Baltimore Ravens 34, Oaklands Raiders 17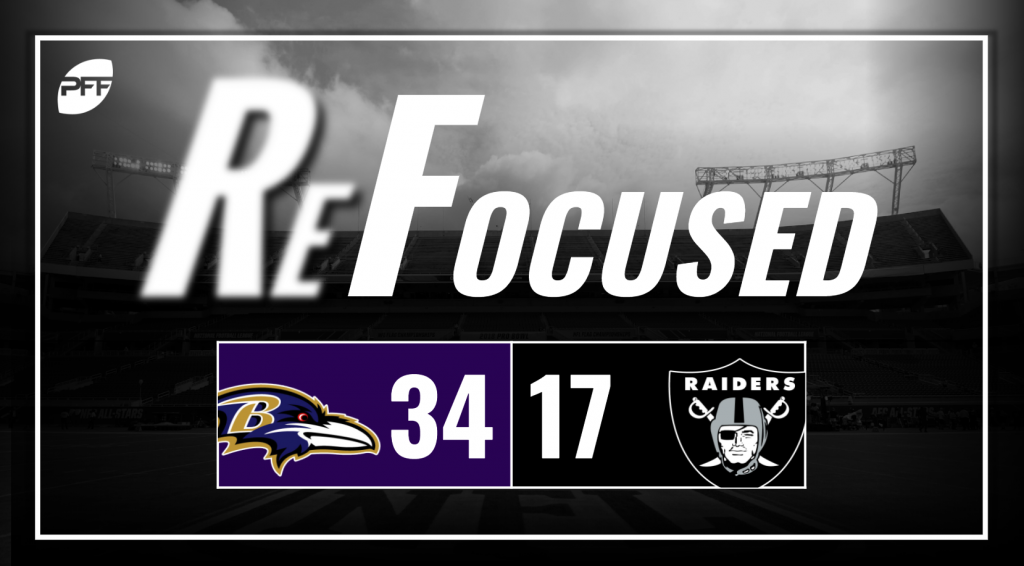 Ravens edge defender Matthew Judon stole the show late, picking up sacks on three consecutive offensive snaps across the Raiders' final two possessions, including a strip-sack that Terrell Suggs recovered and took to the house to put this game away.
Brandon Williams led the way for a Ravens' front that was largely effective against the run, picking up several stops around the line of scrimmage.
Lamar Jackson, while not perfect, showed accuracy and control on some passes down the field and moved the chains running the ball on designed quarterback runs.
Ravens running back Gus Edwards was solid in the Ravens' zone running attack, picking up first downs and giving Jackson manageable down and distances.

Outside of a well-thrown deep ball to Seth Roberts down the right sideline in the third quarter, Derek Carr struggled to place the ball well in this game. The Raiders quarterback missed on several throws underneath, and his only completion that traveled over 10 yards in the air outside of the Roberts pass was a badly underthrown pass that Jared Cook managed to pull in one-handed for Carr's lone touchdown of the day.
Oakland's offensive line held up well in pass protection for most of this game, but the wheels fell off for right tackle Brandon Parker in the fourth quarter, who surrendered all three of Judon's sacks.
Raiders cornerback Gareon Conley played well in coverage for the Raiders' defense. He broke up a deep pass down the sideline intended for Ravens' Michael Crabtree, which highlighted his strong performance overall. 
Raiders' Johnathan Hankins won some battles and lost some inside, as the Ravens' offensive line, with Ronnie Stanley leading the way, blocked well for Jackson and Baltimore's running backs. 
Keys to the Game
Baltimore
Ravens used a ball-control running attack and Jackson's athleticism to the victory.
Oakland Raiders
Despite struggling to do much offensively after their opening drive, the Raiders were within striking range entering the fourth quarter. However, surrendering both defensive and special teams touchdowns was simply too much to overcome for an offense that's not playing well.