The Tennessee Titans defeated theNew England Patriots, 34-10, in Week 10 of the 2018 NFL season.
PFF's ReFocused series this season features immediate takeaways and a key to the victory from two Senior Analysts who graded the performance, watching every player on every play of the game. For more data and analysis from the game, utilize our Premium Stats 2.0 dashboard to expand your knowledge on the key players, signature stats and much more.

FINAL SCORE
Tennessee Titans 34, New England Patriots 10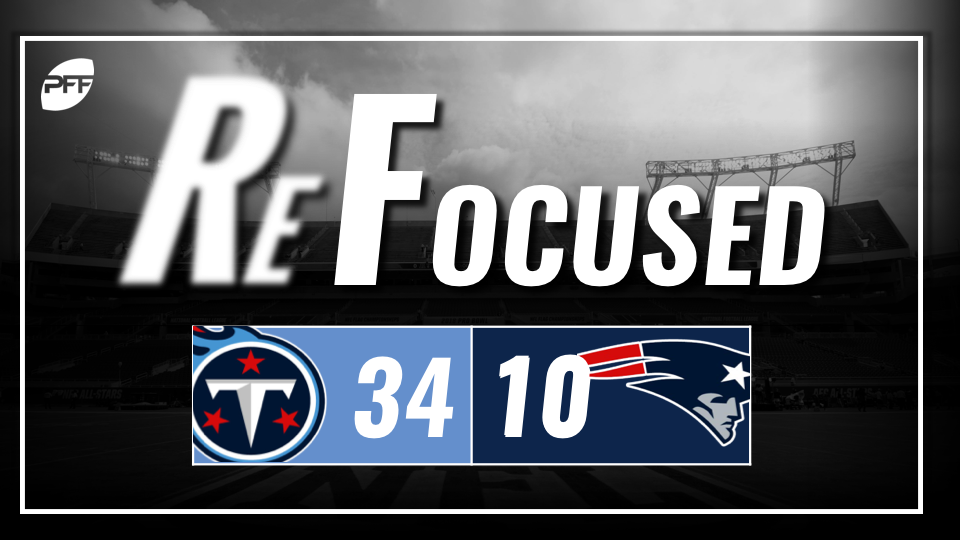 It was a tough day for Tom Brady, who looked rattled by the constantly collapsing pocket and the inability of his receivers to create separation. Brady was forced to throw the ball away on numerous occasions but also struggled to put his receivers in a position to make plays.
If there was one bright spot on the Patriots offense it was Joe Thuney. The Titans defensive line presents a great physical challenge, but Thuney held up, especially in pass protection where you rarely noticed him – which is never a bad thing.
One player who won't enjoy going over this film is Stephon Gilmore, who just could not keep up with Corey Davis. His stat line will make for some ugly reading, but it could have been even worse if not for some errant throws from Marcus Mariota.
It's fair to say this hasn't been the best year of Dont'a Hightower's illustrious career, but there were signs of him getting back to his best as the Patriots deployed him a number of ways. His work in the run game around the line of scrimmage was particularly good this afternoon.

There was no denying who the star of the show was on offense, as Corey Davis routinely beat Stephon Gilmore on his way to a big day. When Davis gets open so often and makes tough grabs on such a consistent basis, he looks every bit the prospect the Titans expected when they drafted him.
It was an encouraging performance from quarterback Marcus Mariota, who showed just what his ceiling can be. His ability to extend plays with his legs helped the Titans keep putting points on the board, and their defense did the rest.
You can set the tone with the first play of the game, and Kenny Vaccaro did just that with a big hit that showed that the Titans meant business. He didn't let up from there and arguably had his best game as a Titan.
The more you see of Rashaan Evans, the more you like him. He's not an every down player yet, but it won't be long if he keeps showing a knack to make plays in all phases of the game.
Keys to the Game
New England:  The receivers struggled to get open, and the outcome was a quarterback who was rattled and unable to ever get into a rhythm.
Tennessee:  The offense took advantage of an imposing defensive display, but showed an impressive variety, as they were able to make plays on the ground and in the air.