The  Kansas City Chiefs defeated the Los Angeles Chargers on Sunday afternoon, 38-28, during the NFL's first full Sunday of action.
PFF's ReFocused series this season features immediate takeaways and a key to the victory from two Senior Analysts who graded the performance, watching every player, on every play of the game. For more data and analysis from the game, utilize our Premium Stats 2.0 dashboard to expand your knowledge on the key players, signature stats and much more.

FINAL SCORE
Kansas City Chiefs 38, Los Angeles Chargers 28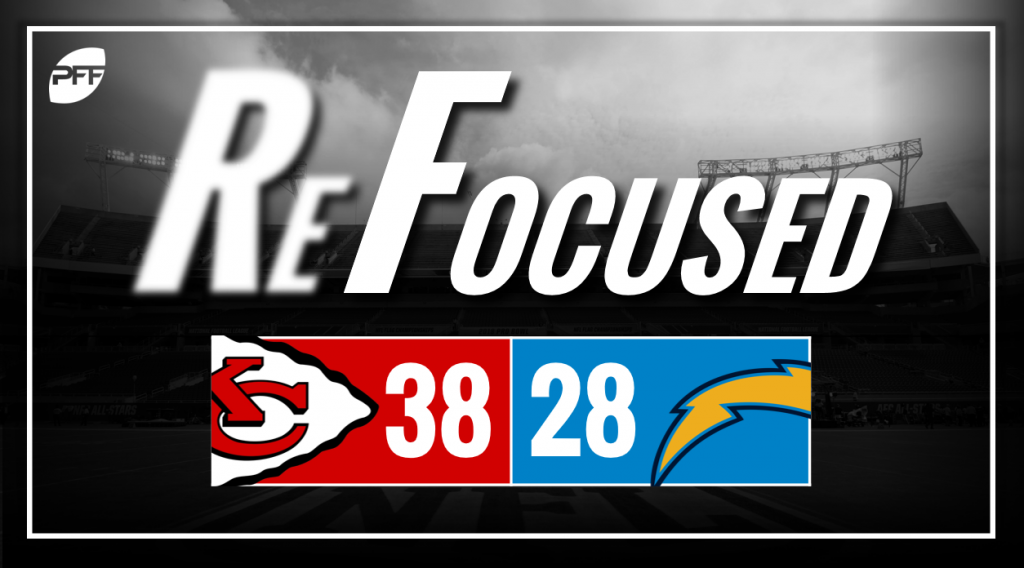 Analyst Takeaways

Patrick Mahomes threw four touchdown passes in his first start as the franchise quarterback, and displayed his impressive arm, going 15/27 for 256 yards. With Mahomes behind center, the Chiefs offense resembles one you'd see on Saturdays, as Andy Ried has tailored his playcalling to suit Mahomes' strengths. It will be interesting to see how NFL defenses adjust against them in the coming weeks.
Although the Chiefs couldn't get their running game going at full speed, Kareem Hunt looks just the same as he did a season ago, breaking multiple tackles and often dragging defenders after contact. 
If there was one thing that stood out for the Chiefs defense, it was the frequency at which they were missing tackles. Reggie Ragland and Anthony Hitchens both missed multiple tackles, but there were at least half a dozen other players that missed a tackle too.
Interior defensive lineman Chris Jones continues to be a force as a pass-rusher. He had great success when going up against Dan Feeney and he got to Chargers quarterback Philip Rivers on a handful of occasions.

Quarterback Philip Rivers wasn't perfect, but he did rack up a ton of yardage through the air. It should have been even more though, as receivers Travis Benjamin and Tyrell Williams had some crucial drops that could have potentially changed the outcome of the game.
Although Austin Ekeler had fewer touches than Melvin Gordon, Ekeler made some stand-out plays that make it seem like he could carve out a decent role in the Chargers' offense this season.
The Chargers pass-rush was not as prevalent without Joey Bosa, as Kansas City were able to provide Mahomes with solid protection for the most of the game. Melvin Ingram was able to pressure Mahomes a few times today, but he should benefit greatly when Bosa returns, as opposing offenses will have to devote their attention between the two.
The Chargers defense didn't have an answer for speedster Tyreek Hill, and he exploited them for 169 receiving yards and three touchdowns, one being a punt return. One of the bright spots for the Chargers was  Rookie Derwin James, who had a solid game, notably breaking up a pass in the end zone and recording a sack.
Keys to the game
Kansas City: Tyreek Hill had a monster game for the Chiefs, and started it off with a punt return touchdown. The Chiefs had a great game plan and ran a lot of misdirection, which created matchup problems for the Chargers with Tyreek Hill in space.
Los Angeles: Austin Ekeler showed he could contribute both as a runner and receiver, and was easily was the best player on the Chargers offense on Sunday, albeit on limited snaps.