The New England Patriots defeated the New York Giants on Thursday evening, 17-12 continuing the fourth full week of preseason action in the NFL.
PFF's ReFocused series this season features immediate takeaways and a key to the victory from two Senior Analysts who graded the performance, watching every player, on every play of the game. For more data and analysis from the game, utilize our Premium Stats 2.0 dashboard to expand your knowledge on the key players, signature stats and much more.

FINAL SCORE
New England Patriots 17, New York Giants 12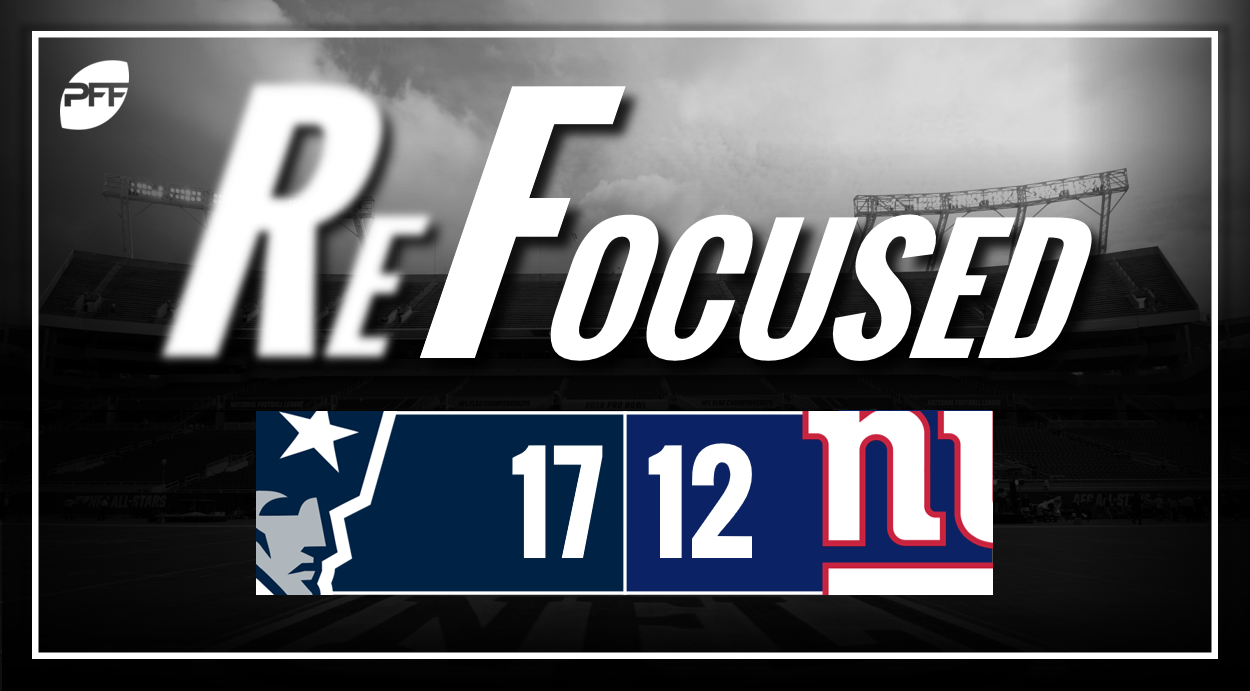 Analyst Takeaways

Danny Etling had an up-and-down night as New England gave him a full game while Tom Brady and Brian Hoyer sat Week 4 out. He forced passes into coverage that became interceptions, but Etling threw an outstanding go route that was dropped in the first half. Up and downs aside, he sealed the victory with an 86-yard touchdown run on a zone read. Etling probably didn't win a job with his performance tonight, but he could have a spot on the practice squad.
The interior of the Patriots' offensive line performed pretty well not giving up a ton of pressure while they got some decent push in the running game. Ted Karras, James Ferentz and Brian Schwenke weren't spectacular, but they proved that they could provide some solid depth if one of the starters were to go down.
Cornerback J.C. Jackson easily earned the Patriots' player of the game honors tonight. He picked off two passes in which he smothered the wide receiver in coverage all while he demonstrated good ball skills to make each of the plays. Jackson may have made enough of a late push to make New England's regular-season roster with what he put on film in this game.
Geneo Grissom flashed some potential as an edge rusher tonight as he consistently put pressure on the quarterback and capped off his strong performance with a strip sack on a speed rush in the fourth quarter. Grissom definitely opened the eyes tonight even if he doesn't make the Patriots' roster.

Rookie QB Kyle Lauletta didn't have a very good night as he forced passes into tight coverage on two occasions, and each of them resulted in an interception. Lauletta was not afraid to let the deep ball fly as he took multiple shots downfield, but he got a little too risky at times with those turnovers. WR Amba Etta-Tawo had the best play of the night for New York's offense as he took a shallow crossing route to the house with a great burst of speed and a juke move on the Patriots' safety. Etta-Tawo was only targeted on one other occasion throughout the game, but his 41-yard touchdown certainly got Giants fans on their feet in a game that didn't provide much excitement on that side of the ball.
CB Donte Deayon was the Giants' standout performer tonight as he made Etling pay for forcing two passes into tight coverage with two interceptions. Deayon may be on New York's roster bubble, but he definitely improved his chances of making an NFL roster tonight.
Linebacker Calvin Munson played well in coverage tonight as he chased down backfield routes all night long and didn't allow many yards after the catch. The Giants desperately need linebackers who can play on third down, and Munson flashed that ability tonight against second and third-stringers.
KEY TO THE GAME
New England: The Patriots' secondary played well all night long as they held the Giants' passing attack to 210 yards on 42 attempts.
New York: Inconsistency from each of the Giants' quarterbacks cost them the game tonight, especially the two big mistakes from Lauletta.