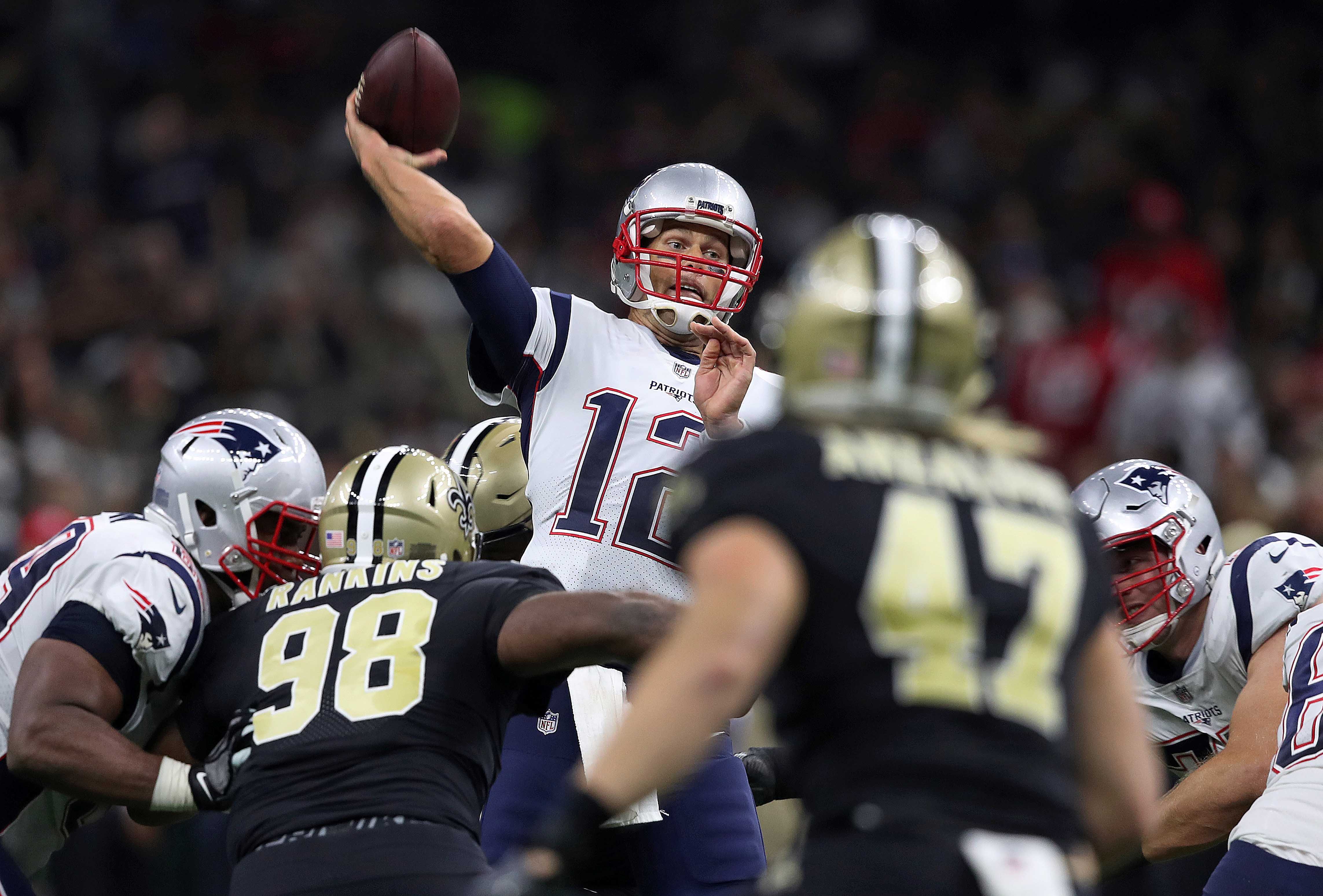 NEW ORLEANS, LA - SEPTEMBER 17: New England Patriots quarterback Tom Brady fires a pass in the second quarter during a game against the New Orleans Saints at the Mercedes-Benz Superdome in New Orleans, La., Sept. 17, 2017. (Photo by Jim Davis/The Boston Globe via Getty Images)
Both teams were effective moving the ball, but the Patriots were excellent in the first half, scoring 30 points, including three QB Tom Brady touchdown passes to three different receivers and a RB Mike Gillislee touchdown run. The Saints put up 13 points of their own, including a QB Drew Brees touchdown to WR Brandon Coleman.
The fourth quarer would feature another Brees touchdown pass to TE Coby Fleener, but the Patriots maintained their lead, en route to the 36-20 win. With that, we give you our PFF exclusive takeaways from the contest for each team.

Top 5 Grades:
QB Tom Brady, 86.5 overall grade
RG Shaq Mason, 86.1 overall grade
TE Rob Gronkowski, 85.0 overall grade
CB Jonathan Jones, 84.9 overall grade
DE Deatrich Wise, 84.0 overall grade
Performances of Note:
QB Tom Brady, 86.5 overall grade
That's how a future Hall of Famer bounces back from an ugly Week 1. Brady was off target on only seven of his 39 targeted pass Sunday. He was lights out down the field, going 4-of-5 for 102 yards and a touchdown on passes 20-plus yards past the line of scrimmage. He made it look easy.
There's the Gronk we know and love. He tallied 116 yards on nine targets before exiting early with an injury. Even before that though it's worth questioning if he's fully healthy as there appeared to be a little hitch in his stride and looked a touch slow out of breaks.
The Patriots managed a measley 10 pressures all day long on Drew Brees, but four of those came via the rookie pass-rusher. Wise had a sack, two hits and a hurry on 27 pass-rushing snaps. It was a breakout performance for one of PFF's sleepers heading into the draft.
Another week, another solid performance from the free agent-signing. He was targeted three times on 44 coverage snaps and allowed a total of 40 yards. Against a quarterback like Brees, those are good overall numbers.

Top 5 Grades:
CB Marshon Lattimore, 89.0 overall grade
QB Drew Brees, 88.0 overall grade
DE Cameron Jordan, 87.0 overall grade
DE Alex Okafor, 81.9 overall grade
DT Sheldon Rankins, 78.5 overall grade
Performances of Note:
QB Drew Brees, 88.0 overall grade
While he missed a handful of throws, Brees was let down a number of times by his receivers. Whether it was via the three drops or the handful of contested catches they were unable to make, Brees' receiving corps could have easily pushed their quarterback over 400 yards with a little help.
Ginn was the main culprit on the day. He was targeted six times and gained only 24 yards on those targets with a dropped pass. He's never been much in traffic and that was yet again the case today.
With trade rumors swirling, if the Saints were trying to showcase Vaccaro to get something in return, they did a poor job of it. He missed two tackles, had a holding penalty, and was beaten a couple other times in coverage.
While the defense as a whole yielded 400-plus passing yards, Lattimore was only responsible for 28 of those. He had two of the Saints four pass breakups on the day and yielded only one catch for more than five yards.
PFF Game Ball: Tom Brady, QB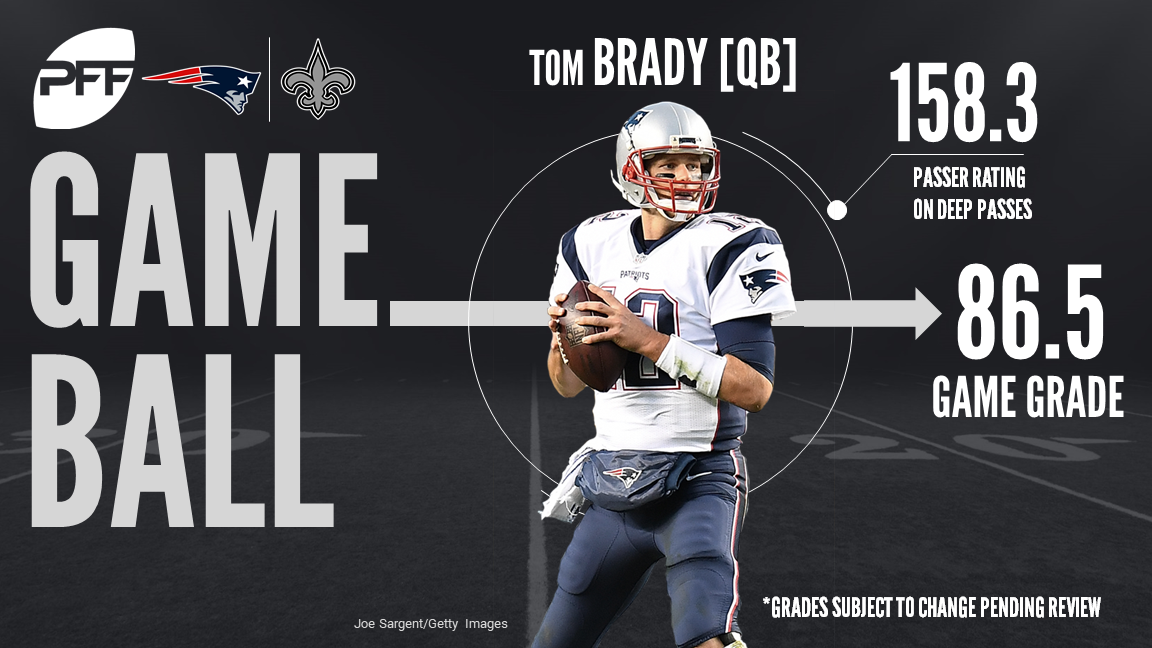 *Grades are subject to change upon review