Miami would open the scoring with a field goal, but the Chargers would get a field goal of their own along with a RB Melvin Gordon touchdown run to gain the lead at halftime.
In the third quarter, the Chargers would respond to a WR Kenny Stills touchdown catch with a QB Philip Rivers to TE Antonio Gates score, one that broke the all-time tight end touchdown record. However, the Dolphins would come away with the 19-17 win when the Younghoe Koo missed a field goal near the end of regulation. With that, we give you our PFF exclusive takeaways from the contest for each team.

Top 5 Grades:
DI Ndamukong Suh, 89.7 overall grade
EDGE William Hayes, 82.6 overall grade
T Ja'Wuan James, 81 overall grade
QB Jay Cutler, 80.3 overall grade
CB Bobby McCain, 78.5 overall grade
Performances of Note:
QB Jay Cutler, 80.3 overall grade
QB Jay Cutler looked comfortable under head coach Adam Gase's familiar offense. He excelled when given time in the pocket, completing 83 percent of his 24 attempts for 199 yards and a touchdown. Cutler took a fair amount of shots deep, attempting 7 passes over 20 yards and completing 3 for 91 yards.
HB Jay Ajayi, 77.7 overall grade
HB Jay Ajayi was a workhorse for the Dolphins in their win, carrying the ball 28 times for 122 yards. Ajayi was tough to bring down for the Chargers as he forced 8 missed tackles and finished with 82 yards after contact. He ended the day with an elusive rating of 78.1, for context he led the league last season with an elusive rating of 76.
Ndamukong Suh continues to be one of the best interior defenders in football and he dominated this game up the middle for the Dolphins defense. Suh finished the day with just one solo run stop, but that doesn't take into account how he consistently squeezed holes shut or forced Chargers' running backs to change their points of attack. He finished with a game high 90.2 run defense grade. Suh also recorded four quarterback hurries, a few of which happened less than two seconds after the snap.
It was an impressive game for Hayes, as he made a big impact despite limited snaps. Hayes only rushed the quarterback 17 times in this game, but ended up with a sack and three additional quarterback hurries. That's good for a very strong 19.1 pass-rush productivity score in this game. Hayes also played well against the run, finishing with a run defense grade of 81.9.

Top 5 Grades:
T Russell Okung, 88.5 overall grade
WR Keenan Allen, 87.2 overall grade
TE Hunter Henry, 82.8 overall grade
CB Trevor Williams, 81.7 overall grade
QB Philip Rivers, 80.0 overall grade
Performances of Note:
For the second straight week, Rivers played well and put his team in a position to win with a last-second field goal, only to see special teams let him down. Rivers was quite effective in this game, pushing the ball downfield as often as he could. He really showed what he could do when he was given time in the pocket. When throwing from a clean pocket with no pressure (63 percent of his dropbacks), Rivers completed a ridiculous 24-of-25 passes for 265 yards.
The Chargers shelled out big money for what they hoped would be an upgrade at the tackle position when they signed Okung this offseason. He proved to be just that in this game, playing extremely well protecting Rivers' blind side. Okung allowed just one pressure all game and it was pretty late in the play. He's allowed just three total pressures this season and has a pass-blocking efficiency of 96.6. Okung also had a team-high run-blocking grade of 87.7 in this game.
Second-year CB Trevor Williams was the standout player in the Chargers secondary, as he was targeted 5 times, allowing three catches for 41 yards. He limited opposing receivers to only three yards after the catch and also recorded a pass breakup. Williams finished with the second highest coverage grade on the team of 81.3.
EDGE rushers Melvin Ingram and Joey Bosa were neutralized by Miami's game plan of getting the ball out of QB Jay Cutlers hands quickly, as he averaged 2.34 seconds per attempt. Ingram and Bosa still had their impact as they totaled 6 pressures and a sack. Ingram finished with a pass-rush grade of 77.7, which was tops on the defense.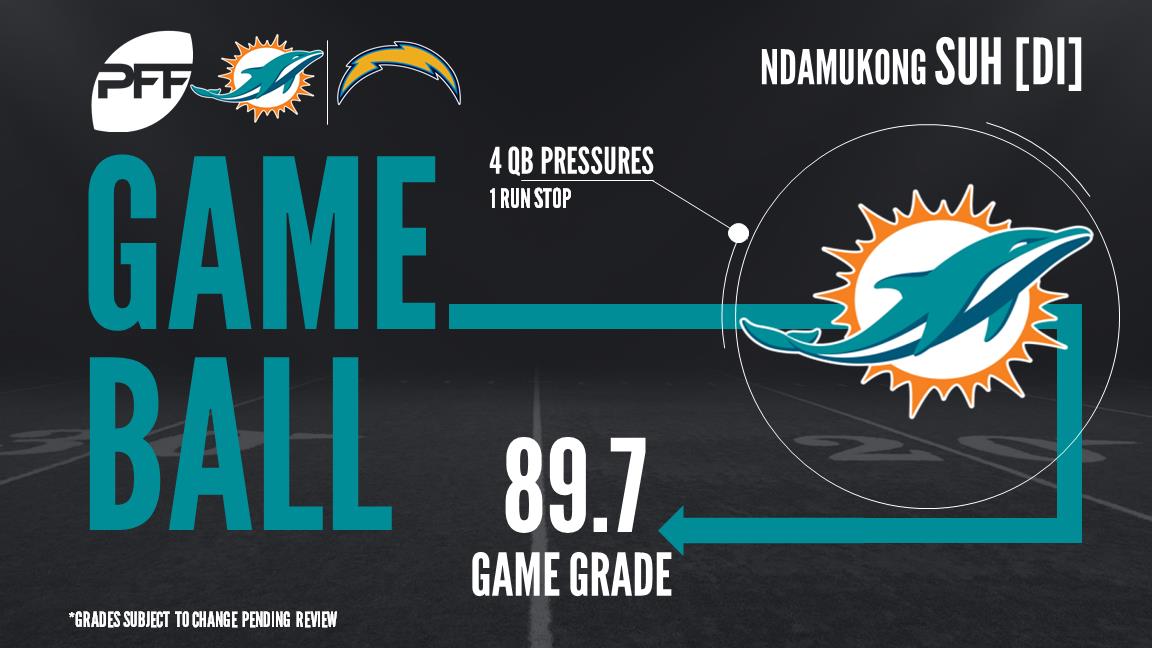 *Grades are subject to change upon review