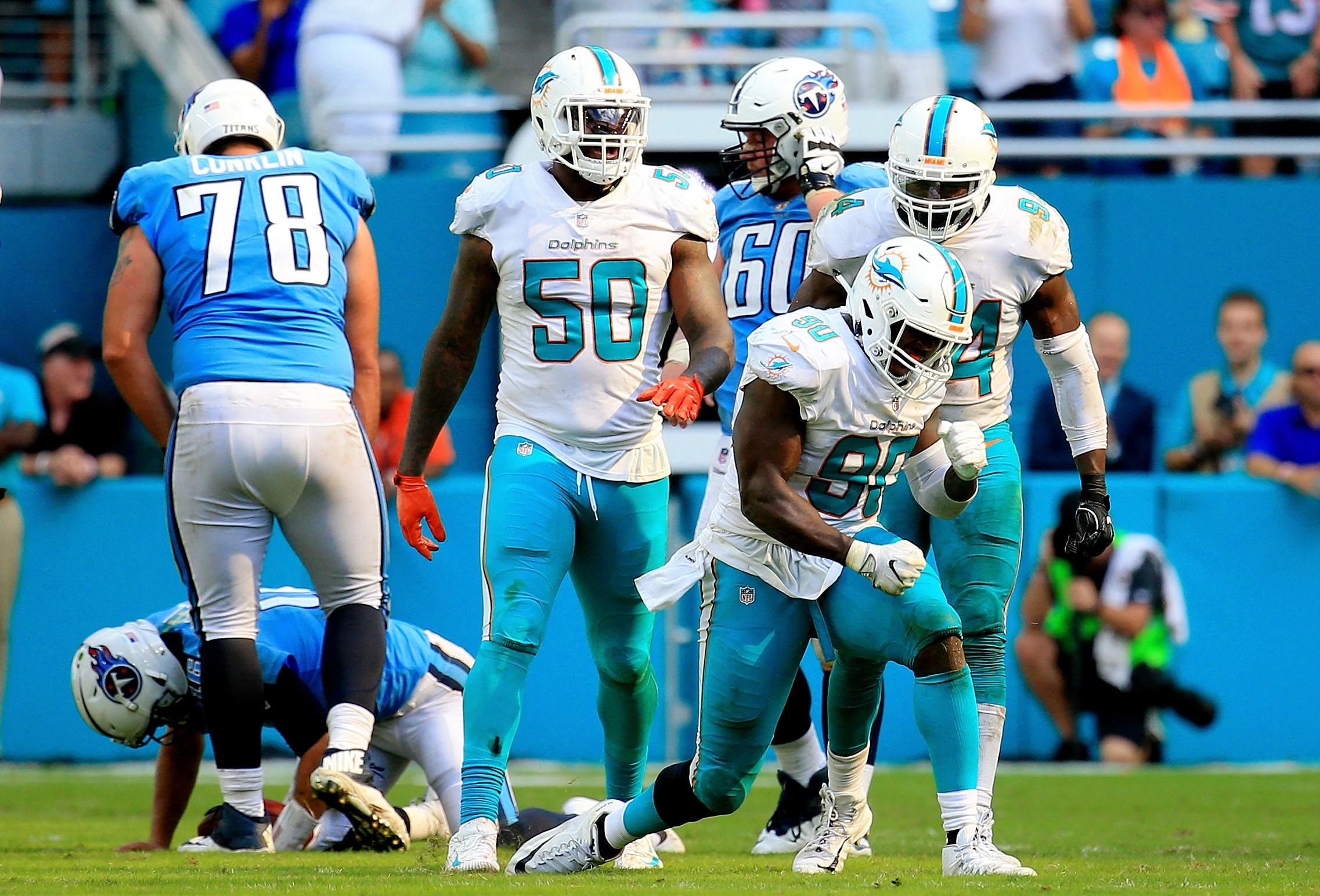 MIAMI GARDENS, FL - OCTOBER 08: Charles Harris #90, Andre Branch #50 and Lawrence Timmons #94 of the Miami Dolphins celebrate after sacking Matt Cassel #16 of the Tennessee Titans in the fourth quarter on October 8, 2017 at Hard Rock Stadium in Miami Gardens, Florida. (Photo by Chris Trotman/Getty Images)
Without QB Marcus Mariota in action, the Tennessee Titans offense stalled in the early going, as did the Jay Cutler-led Miami Dolphins offense. The only first half touchdown on the day came by the way of a Reshad Jones scoop and score for the Dolphins defense which lead to a 10-3 halftime lead.
Culter went on to put the game out of reach in the fourth quarter, connecting with wide receiver Jarvis Landry for a six-yard touchdown. The Dolphins' gunslinger finished the contest with 92 passing yards, one touchdown and one interception.
Standing in Mariota's place under center, Titans veteran quarterback Matt Cassel completed 21 of 32 passes for 141 yards and one touchdown. Of course, his efforts weren't enough to make up for Tennessee's lackluster rushing attack.
Headlined by veteran running back DeMarco Murray, the Titans' backfield combined for just 72 yards on 21 carries (3.42 yards per carry).
With that, we give you our PFF exclusive takeaways from the contest for each team.

Top 5 Grades:
LB Kiko Alonso, 91.9 overall grade
S Reshad Jones, 90.3 overall grade
LB Lawrence Timmons, 85.7 overall grade
G Anthony Steen, 83.9 overall grade
DI Ndamukong Suh, 83.8 overall grade
Performances of Note:
QB Jay Cutler, 73.8 overall grade
Jay Cutler was not needed to do much against the Titans to get the win. While Cutler failed to throw for 100 yards and had one interception, he was more than willing to throw the ball away and not force anything other than the one interception, letting his defense and run game win the game. When Cutler was pressured, he only completed one on seven attempts for 14 yards.
With the struggles the Dolphins offense had against the Titans, it would seem easy to blame the offensive line. However, this would be unfair, as the offensive line managed to get movement in the run game. In the passing game, the unit only allowed five pressures on 28 dropbacks.
LB Kiko Alonso, 91.9 overall grade
Kiko Alonso stood out in a game that will not exactly be replayed often. Alonso was a force to be reckoned with, as he allowed only 18 yards in coverage on four targets and recorded 6 defensive stops including a sack.
Reshad Jones' smart play of running the fumble for the touchdown in the first quarter ended up being the difference maker. He was also a force in the run game, recording three run stops on 20 running plays.

Top 5 Grades:
S Kevin Byard, 84.7 overall grade

LB Wesley Woodyard, 83.2 overall grade

DI DaQuan Jones, 82.7 overall grade

TE Delanie Walker, 81.7 overall grade

CB Adoree' Jackson, 80.2 overall grade
Performances of Note:
QB Matt Cassel, 77.0 overall grade
Matt Cassel showed why he is still employed as a backup QB. While he was unable to lead the Titans downfield or create big plays, he very rarely forced any throw and gave the Titans a chance to win. Cassel was five of nine on passes over 10 yards and 16 of 18 on passes under 10 yards.
With Marcus Mariota unable to play, the Titans needed to rely on smashmouth football. However, they were unable to get much going on the ground, as both running backs combined for just two missed tackles on 18 attempts and 1 fumble and another (if the Dolphins had challenged) that would have counted.
Kevin Byard has established himself as the best safety on the roster for the Titans. Against the Dolphins, Byard recorded two run stops and another in the passing game.
The ups and downs of Adoree' Jackson rookie campaign hit another successful game against the Dolphins, as he only allowed two catches on five targets for 15 yards. When he was targeted, he allowed a 47.9 passer rating against.
PFF Game Ball:
 Kiko Alonso, LB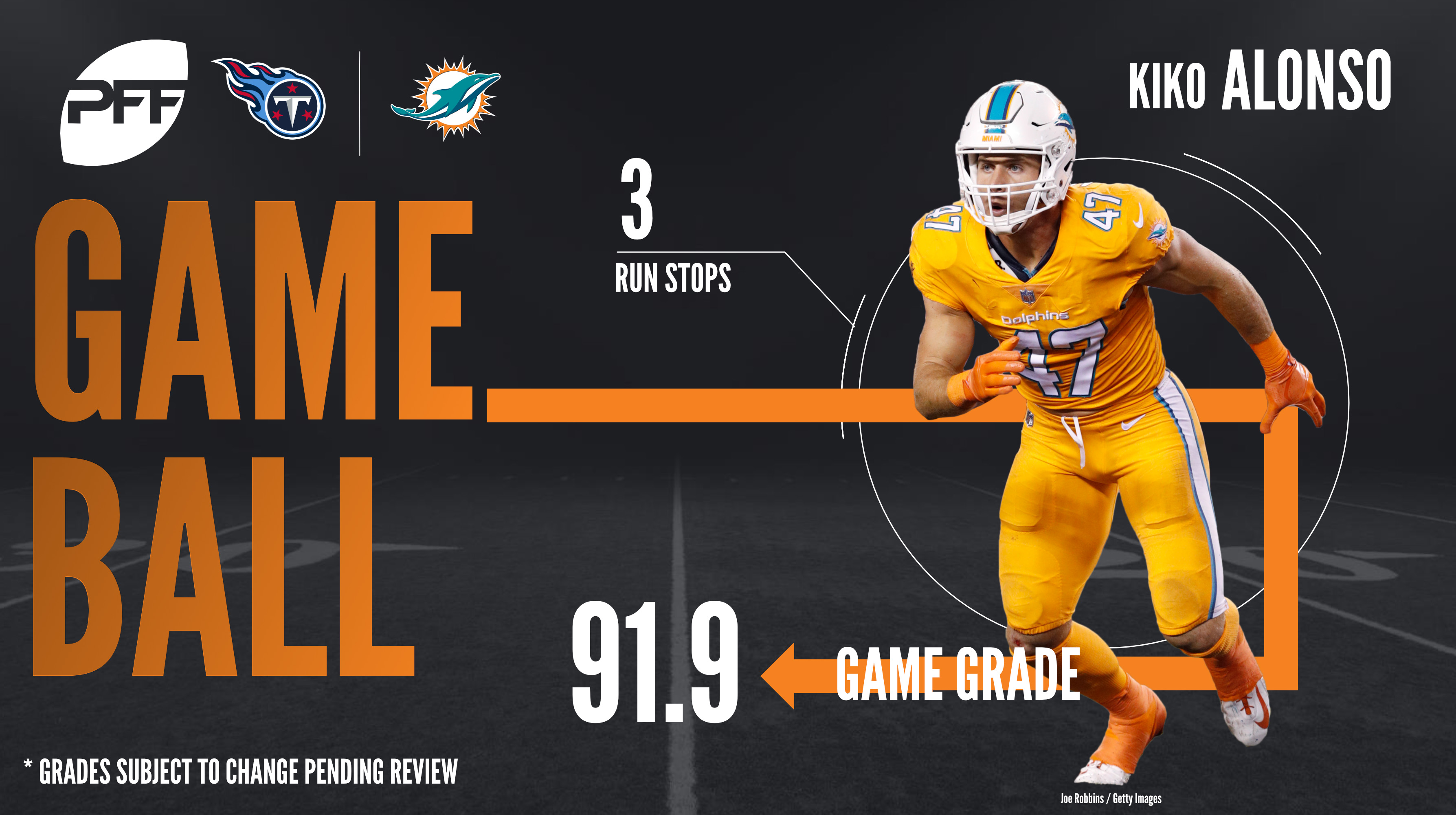 *Grades are subject to change upon review