Quarterback Jared Goff and the rest of the Los Angeles Rams' offense took no prisoners in their Week 9 matchup against the New York Giants. Goff & Co. outscored the Giants 51-17 in East Rutherford, improving their record to 6-2 on the season.
The Rams' former No. 1 overall pick looked the part on Sunday, as he completed 14-of-22 passes for 311 yards and four touchdown passes, two of which going to veteran wide receiver Robert Woods.
Rams running back Todd Gurley also found paydirt twice in addition to his 104 total offensive yards.
Giants quarterback Eli Manning simply couldn't match Goff stride-for-stride, completing just 20 of his 36 passes for 220 yards and two touchdowns against one interception.
Evan Engram, the Giants' first-round pick in the 2017 NFL draft, stood out as a bright spot for the G-Men, as he brought in four receptions for 70 yards and one touchdown on the day. With that, we give you our PFF exclusive takeaways from the contest for each team.
Top 5 Grades:
DI Aaron Donald, 91.2 overall grade
LB Alec Ogletree, 82.1 overall grade
RB Todd Gurley, 79.6 overall grade
T Rob Havenstein, 79.0 overall grade
T Andrew Whitworth, 78.7 overall grade
Performances of Note:
The numbers don't pop off the screen for Gurley but the yardage does little to tell the story of the impact Gurley had on the game. Exploding out of the gate with a 36-yard gain to exploit the Giants' first turnover, he built on that with an explosive catch on a screen, outrunning the Giants' defense to put the Rams on the doorstep for a fifth time midway through the third quarter. His first touchdown run was his best, showing off his physicality as a runner to beat Ross Cockrell in the backfield before driving through contact on second effort for the score.
Sometimes Goff didn't have to do much to exploit defensive breakdowns, like when Goff his the wide open touchdown pass to Robert Woods. Sometimes though, he was asked to do a lot. Goff's pinpoint deep ball to Sammy Watkins after Landon Collins lost track of Watkins was a case in point of that, hitting Watkins perfectly in stride for the score. The Rams were never troubled on the scoreboard and with a litany of defensive breakdowns, Goff was rarely troubled finding his receivers. A forced throw against a corner blitz on a rollout to the right was a rare blemish for Goff in a game where he did plenty enough to exploit a misfiring Giants secondary.
Few believed the Giants' interior could handle Aaron Donald, and New York's guards John Jerry and DJ Fluker barely touched the Rams' defensive tackle on some of his more impressive rushes during the game. He set the tone early with a sack forced fumble, recording another later in the game that was wiped out by penalty. In addition to his sack and strip, Donald had four further pressures in only 29 rushes.
Smart has endured a rocky start to his NFL career, and perhaps it's no surprise to see him struggling at nose tackle in Wade Phillips' hybrid front. Although a fit in the one gap scheme, Smart predominantly flashed at Tulane when given one-on-one opportunities as a pass-rusher. His role in Los Angeles is the opposite, where he is frequently required to hold up against double teams at the point of attack. Smart failed to register a tackle or stop against the Rams, highlighting his inadequacy for the role.

Top 5 Grades:
C Brett Jones, 88.0 overall grade
Edge Avery Moss, 80.9 overall grade
DI Damon Harrison, 80.7 overall grade
TE Rhett Ellison, 78.2 overall grade
DI Dalvin Tomlinson, 77.8 overall grade
Performances of Note:
Jones, an undrafted free agent from Canada, enjoyed the finest performance of his career to date. Admittedly only facing undersized rookie nose tackle Tanzel Smart primarily, Jones's power still impressed. He was able to move the Tulane product consistently on double teams, opening up large running lanes early in the game in particular. He was also perfect in pass protection on 42 dropbacks.
Shephard typified the struggles of the Giants' playmaking corps, making basic errors rarely seen in a player of his caliber. After 22 straight catches without a drop, Shephard dropped a pair against the Rams on his nine targets. His lone highlight was a 40-yard bomb deep in garbage time against backups. Without Odell, Shephard failed to pick up the slack.
A rare bright spot for the Giants' defense this week was rookie edge defender Avery Moss, who who racked up four stops, two pressures and added a batted pass in his first career start. Starting with Olivier Vernon's absence, Moss showed the Giants do have depth at defensive end with an accomplished display against run and pass. Moss made plays throughout the game, right until his final play of the game where he forced a Rams run wide into Ross Cockrell's arms before departing injured.
It would be wrong to overlook the breakdowns in the Giant's secondary here, considering the pivotal impact they had on the game in the first half especially. Eli Apple, Ross Cockrell and Dominique Rodgers-Cromartie all struggled as well but it was Collins who struggled the most. On just two targets, he gave up the most yards of any Giants' defender with 111 yards. He also gave up a touchdown on those two receptions, not to mention his roll in that third & 33 conversion. A day to forget for Collins in a season that has failed to build on his stunning 2016 form.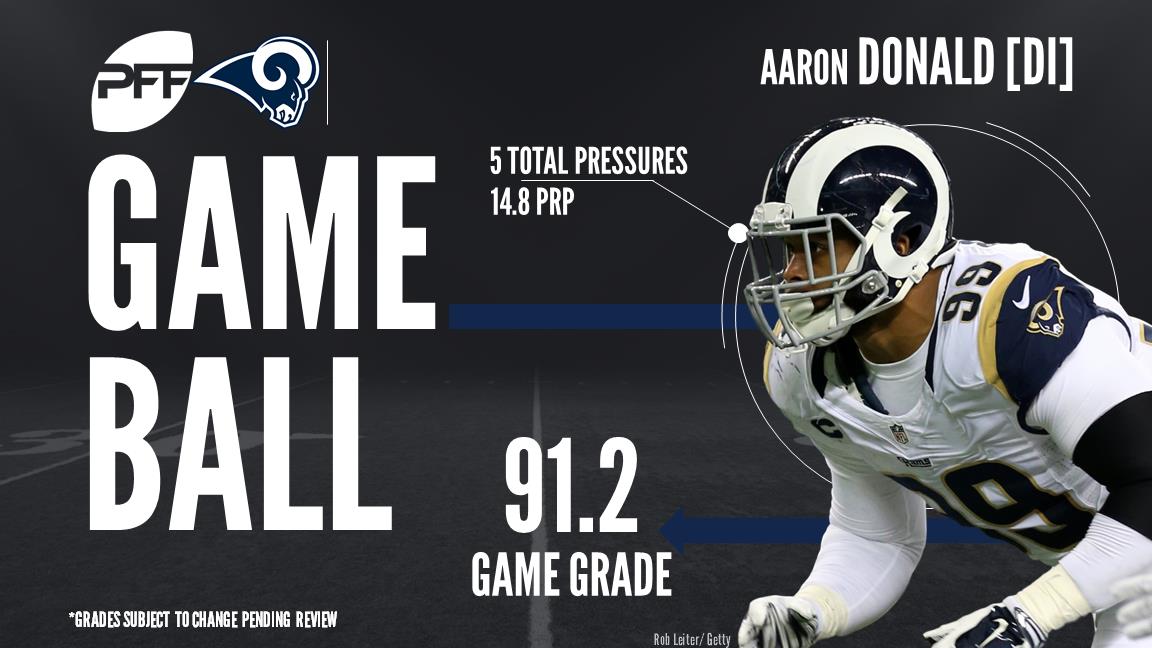 *Grades are subject to change upon review