The Rams scored a RB Todd Gurley II rushing touchdown 12 seconds into the game after a CB Nickell Robey-Coleman interception return put them close to the goal line. While the 49ers would finish the next drive with a QB Brian Hoyer rushing touchdown, the Rams would score another Gurley touchdown, this time on a pass from QB Jared Goff. The 49ers would add two field goals, but the Rams would close the half with a third Gurley score to go up 11 points.
The 49ers would make a valiant attempt at completing a comeback in the second half, scoring three fourth quarter touchdowns. However they fell slightly short when a 2-point coversion pass attempt to WR Trent Taylor was not completed. The Rams would go on to win 41-39. With that, we give you our PFF exclusive takeaways from the contest for each team.
Top 5 Grades:
CB Nickell Robey-Coleman, 86.5 overall grade
LB Alec Ogletree, 85.1 overall grade
WR Robert Woods, 84.8 overall grade
DI Michael Brockers, 84.3 overall grade
WR Sammy Watkins, 83.8 overall grade
Performances of Note:
QB Jared Goff, 80.0 overall grade
Goff had a solid game, and he orchestrated the offense well. He was 22 of 28 for 292 yards and 3 touchdowns, including going 4 of 8 under pressure for 89 yards. Goff was 5 of 6 using play action for 119 yards passing and he was also successful going deep, as he was 3 of 4 on passes thrown 20 yards or more yards downfield for 99 yards
Watkins caught all 6 catchable passes thrown his way for 106 yards and a pair of touchdowns. Watkins hauled in a deep catch of 47 yards and averaged an impressive 4.61 yards per route run. This is likely the type of performance the Rams were hoping for when they traded for him this preseason.
A name that nobody was expecting on this list at the end of the night would be Robey-Coleman. On the very first play from scrimmage, Robey-Coleman jumped all over a poorly thrown out route by Brian Hoyer and nearly returned it to the house. On the 49ers' third drive of the game Robey-Coleman hopped on a fumble by backup HB Raheem Mostert. Robey-Coleman did give up one 56-yard deep ball to Marquise Goodwin, but finished the game with only two receptions allowed on four targets on 45 snaps in coverage, good for an 85.9 coverage grade.
Brockers, who doesn't get nearly as much notoriety as his interior defensive counterpart Aaron Donald, had a superb night on the inside for the Rams. Brockers was extremely disruptive in run defense with five tackles, four being stops. His 87.4 run defense grade was easily the highest run defense grade of a offensive filled night.

Top 5 Grades:
DI DeForest Buckner, 88.9 overall grade
WR Pierre Garcon, 88.1 overall grade
QB Brian Hoyer, 87.7 overall grade
T Joe Staley, 85.5 overall grade
WR Marquise Goodwin, 80.6 overall grade
Performances of Note:
QB Brian Hoyer, 87.7 overall grade
Hoyer, who got off to a rocky start with a near pick-six, followed through extremely well as the game went on, particularly down the field. Hoyer hit two 50+ yard bombs to both Marquise Goodwin and Pierre Garcon, while also showing accuracy to all parts of the field. Hoyer was 23 of 37, yet five of those incompletions were drops, giving him an adjusted completion percentage of 77.8 percent. Hoyer finished with an 86.9 passing grade and also helped his team with his legs by rushing for a touchdown.
Garcon had one of the best games of career on Thursday night, making all kinds of remarkable catches and coming up with the highest receiving grade of the game. Garcon was targeted ten times and came up with seven receptions for 142 yards. When Hoyer targeted him, he had a passer rating of 112.5. Garcon's two highlights of the night came on a 59-yard bomb past CB Trumaine Johnson and an unreal toe-tapping sideline grab that could compete for catch of the year.
The 49ers may not have had the results on defense they wanted, but Buckner was everywhere. Buckner had two stops in run defense, and he also tallied two pressures rushing the quarterback from the inside and was a disruptive force all night. Buckner routinely beat the blocker designated to block him.
Armstead added two pressures of his own to complement Buckner. He also had two stops in run defense. However, at the end of the night the 49ers struggled to get off the field on defense, which helped lead to the final result.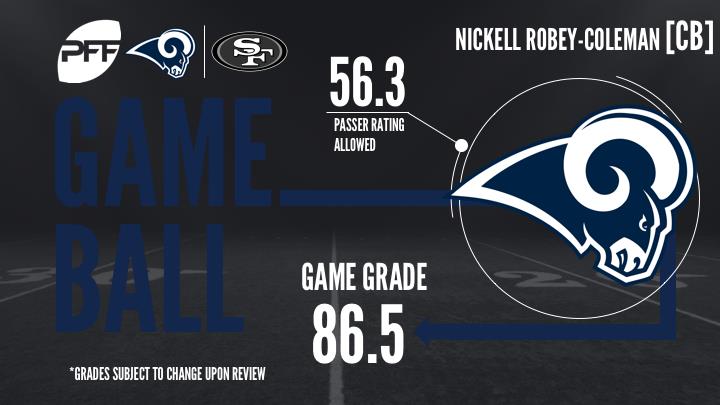 *Grades are subject to change upon review