The Los Angeles Chargers were able to defend their home turf on Sunday, as they defeated the Buffalo Bills 54-24 in the StubHub Center. The Chargers defense took advantage of a very tough first start for QB Nathan Peterman, intercepting him five times in the first half.
WR Keenan Allen was a major focus of the Charger offense, hauling in 12 balls for 159 yards and two touchdowns. QB Philip Rivers ended the day with 250 passing yards overall, and RB Melvin Gordon ended the game with 80 yards rushing.
The Chargers defense was all over Peterman, with four different defenders coming away with an interception of the young signal caller, CB Casey Hayward getting two. LB Korey Toomer returned his for a touchdown.
The Bills started QB Tyrod Taylor in the second half, but the damage had already been done. The Chargers defense was not finished however, as edge defender Joey Bosa strip sacked Taylor and his pass-rushing partner Melvin Ingram returned the fumble for a touchdown. With that, we give you our PFF exclusive takeaways from the contest for each team.

Top 5 Grades:
CB Casey Hayward, 97.4 overall grade
WR Keenan Allen, 93.2 overall grade
Edge Joey Bosa, 88.0 overall grade
CB Trevor Williams, 82.6 overall grade
T Michael Schofield, 82.6 overall grade
Performances of Note:
Keenan Allen almost ended the day with a perfect passer rating when targeted, he was targeted 13 times, catching 12 for 159 yards which resulted in a 157.2 rating when thrown at. Allen worked against three different corners and seven different defenders throughout the game and no one had an answer in slowing him down. Allen's 13 targets eclipse his previous season high of 11 which came in Week 5 against the Giants.
The Chargers quarterback had an efficient day against a struggling Bills defense, he ended with 250 passing yards on 31 attempts and zero turnovers. Rivers found good success in the intermediate passing game, completing 7-of-14 passes for 125 yards. Most of the Chargers passing attack came via throws that traveled under 10 yards, resulting in Rivers going 13-of-15 for 104 yards. His offensive line did a good job protecting him most of the game as he was only pressured on nine dropbacks.
Hayward's numbers speak for themselves on how he played in this game. He was targeted a team-high eight times in 23 coverage snaps, and allowed just one reception for 20 yards. He had two interceptions, two pass defenses, and two solo defensive stops to add to that. Hayward's coverage grade of 96.9 led all defensive players on either team.
Bosa was a pass-rushing beast in this game, proving to be nearly unblockable by anyone on the Bills' offensive line. Bosa rushed the passer 28 times and finished with a sack, three quarterback hits and another three quarterback hurries. The one sack just happened to be a strip sack as well, which teammate Melvin Ingram returned for a touchdown. Bosa had a pass-rushing productivity score of 21.2 for the game.

Top 5 Grades:
T Dion Dawkins, 84.0 overall grade
RB LeSean McCoy, 81.5 overall grade
CB Leonard Johnson, 81.3 overall grade
QB Tyrod Taylor, 81.1 overall grade
CB Tre'Davious White, 80.0 overall grade
Performances of Note:
The start of the Peterman era in Buffalo did not get off to a good start, as he lasted just one half and threw five interceptions in that half. Not all of those interceptions were his fault, but it was clear that Peterman was not as ready as Buffalo may have thought when they named him starter. He didn't complete a pass on the five plays he was under pressure, throwing four of his picks on those plays. He just didn't look confident compared to Tyrod Taylor, who came in for the second half and completed 4-of-7 passes for 68 yards and a touchdown when under pressure.
McCoy did what he could to help this Bills offense in this game, and bounced back from a bit of a rough stretch with this game. He needed just 13 rushing attempts to rack up 114 yards, a touchdown and a missed tackle forced. He had three runs of more than 15 yards and gained 39 yards after contact. McCoy also chipped in in the passing game, running a beautiful route in the second half and catching a touchdown on his only reception on the day.
For two consecutive weeks not much has gone right for the Bills defense, surrendering 101 total points over their last two games. There were a few bright spots in the secondary, as Johnson was targeted four times, allowing two catches for 24 yards on 29 coverage snaps. The veteran has a passer rating of 93.8 when thrown his way on the season.
The Bills' first-round pick out of LSU has been a pleasant surprise for them this season, he continued his impressive season on Sunday as he was targeted four times, allowing two catches for only 19 yards. White has recorded 10 pass break ups on the year and has limited opposing receivers to catching only 51 percent of the passes thrown in his direction.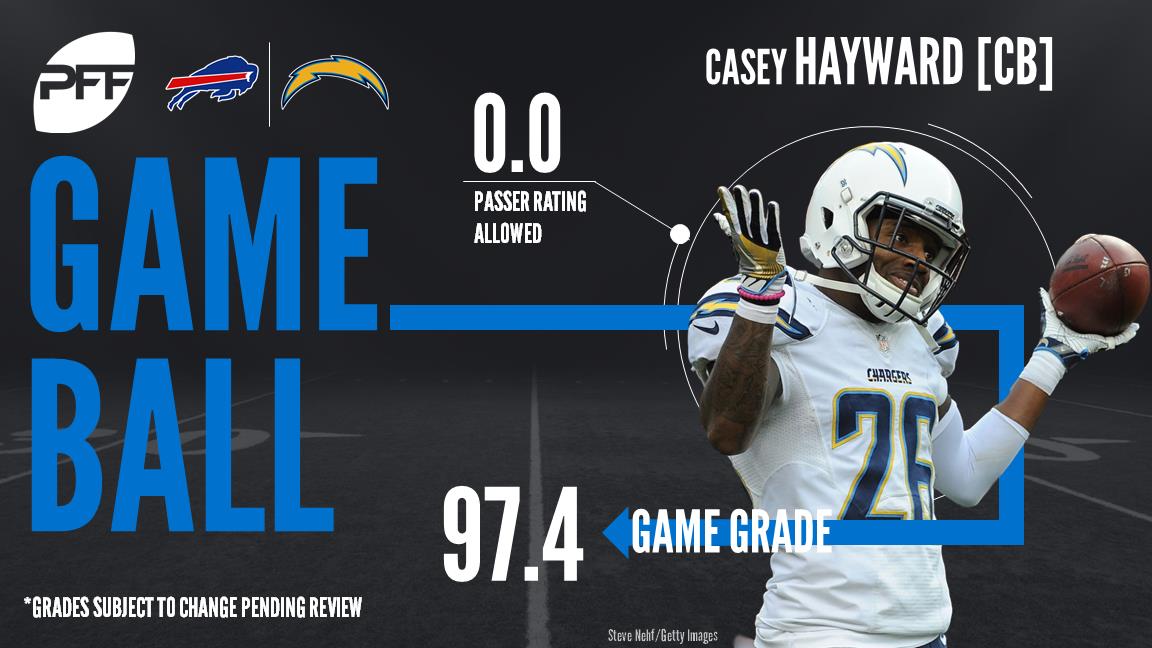 *Grades are subject to change upon review