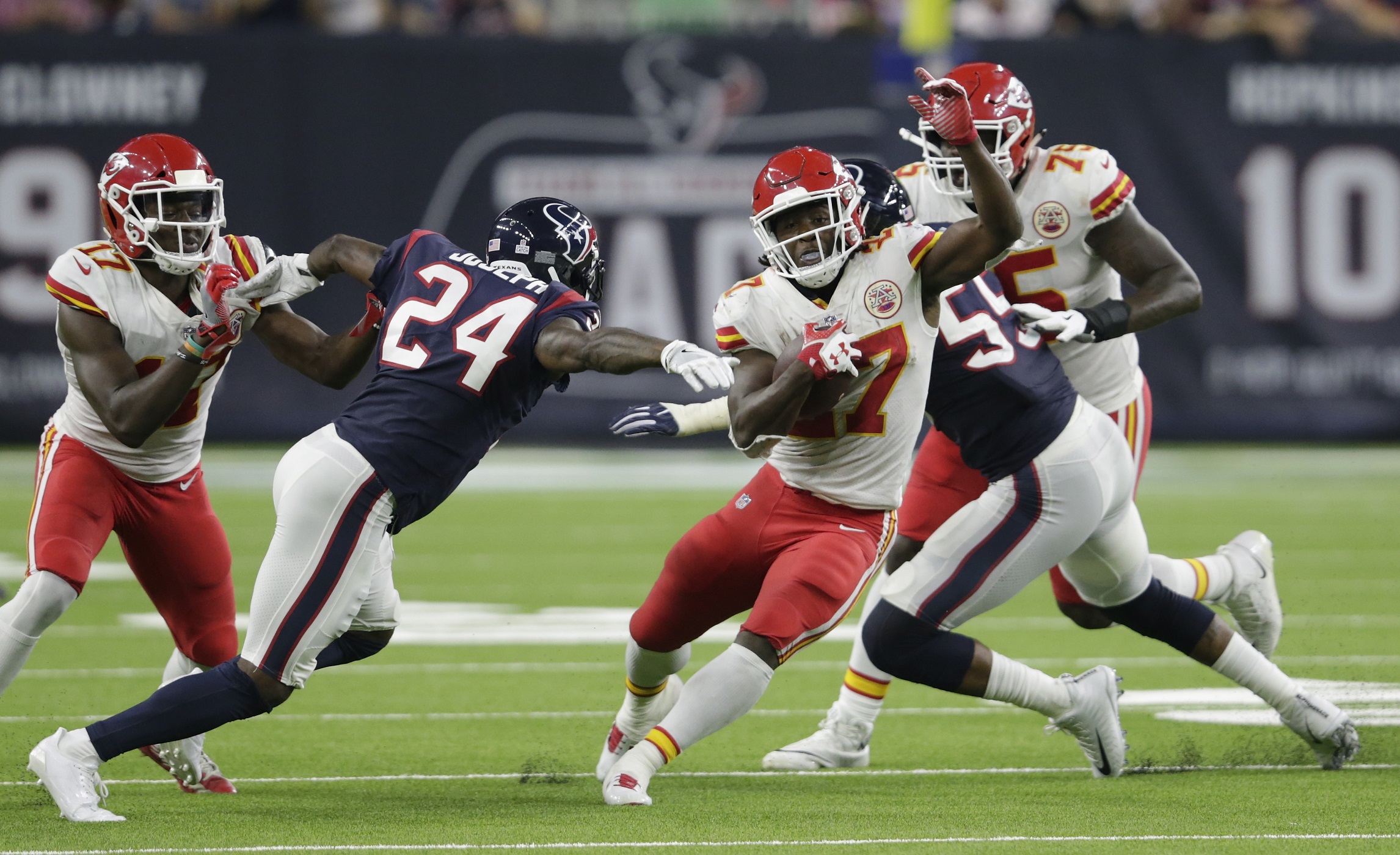 HOUSTON, TX - OCTOBER 08: Kareem Hunt #27 of the Kansas City Chiefs runs the ball defended by Johnathan Joseph #24 of the Houston Texans in the third quarter at NRG Stadium on October 8, 2017 in Houston, Texas. (Photo by Tim Warner/Getty Images)
Early on, it looked like QB Alex Smith and the Chiefs might be headed towards an easy victory, as they scored 16 unanswered points through the middle of the second quarter. Houston would find the endzone on a QB Deshaun Watson throw to WR DeAndre Hopkins late in the second quarter, but Kansas City would score another touchdown of their own to keep their halftime lead at 16 points.
In the second half, Watson and the Texans would make it a closer game, as the rookie signal caller would find WR Will Fuller V twice for scores. However, Kansas City would pull away late, eventually winning 42-34. With that, we give you our PFF exclusive takeaways from the contest for each team.

Top 5 Grades:
TE Travis Kelce, 92.2 overall grade
T Mitchell Schwartz, 89.6 overall grade
C Zach Fulton, 86.9 overall grade
QB Alex Smith, 85.2 overall grade
WR Tyreek Hill, 84.1 overall grade
Performances of Note:
QB Alex Smith, 85.2 overall grade
The highlight play of the game for the Chiefs was the sideline catch by Tyreek Hill, however the pass by Alex Smith under pressure while getting his arm hit shows the ability of this Chiefs offense to gain big yards in a hurry, even when you do get to Smith. When Smith was not under pressure he completed 88.9 percent of his passes, only throwing three incompletions.
Travis Kelce only played a half but was utterly dominant. Kelce was targeted 11 times, catching 8 balls for 98 yards. He also caught a pass against five different defenders, as the Texans defense had no match for the problem that a healthy Kelce presents to a defense.
DI Chris Jones, 82.3 overall grade
A few of the pressures Chris Jones generated came in garbage time at the end of the game, but he still finished the game with six total pressures, the same amount he had through the first four games of the season.
Houston added six total pressures of his own against the Texans, including two sacks of Deshaun Watson, although a couple hurries came when unblocked or in clean up. He's up to 21 total pressures on the season, tied for third among 3-4 outside linebackers this season.

Top 5 Grades:
DI D.J. Reader, 82.0 overall grade
T Chris Clark, 77.6 overall grade
LB Zach Cunningham, 77.3 overall grade
QB Deshaun Watson, 80.1 overall grade
HB Lamar Miller, 75.9 overall grade
Performances of Note:
Watson had a nice outing, but it wasn't quite as impressive as the five touchdowns would suggest. He completed just six of 16 passes targeted 10-plus yards downfield. However, when he did connect with his receiver, it turned out well as those six passes went for 173 yards and 3 touchdowns. Overall though, he had an adjusted completion percentage of just 58.6 percent, third-lowest among quarterbacks through Sunday's games.
The Texans eventually had to abandon the run game due to the flow of the game, but Miller strung together some good runs, particularly in the second quarter. He forced four missed tackles on 15 runs, and 43 of his 74 rushing yards came after first contact.
DI D.J. Reader, 82.0 overall grade
D.J. Reader was able to show his value to this defense, as he was an anchor in the middle against the run but also showed some promise as a pass-rusher. He only recorded one hurry but he also knocked down the 2-point attempt by the Chiefs and was able to collapse the middle of the pocket often enough.
This is was a typical Benardrick McKinney game, which highlighted both his strengths and his weakness. When McKinney is able to use his speed he can wreck havoc, especially when he is unblocked and screaming into the backfield. However when offensive lineman can get their hands on him, he struggles to get off of blocks. McKinney missed 1 tackle and recorded 2 defensive stops.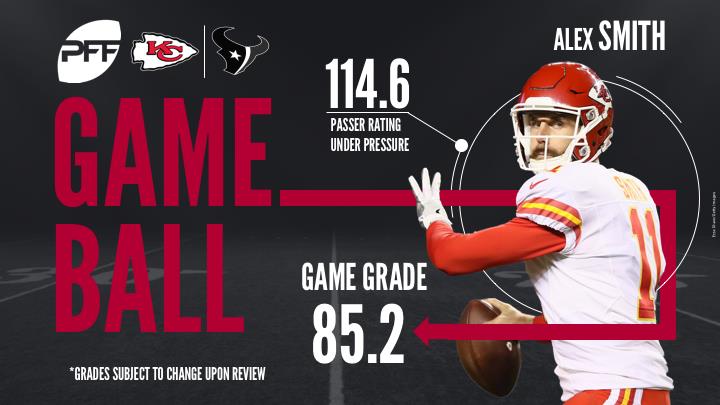 *Grades are subject to change upon review