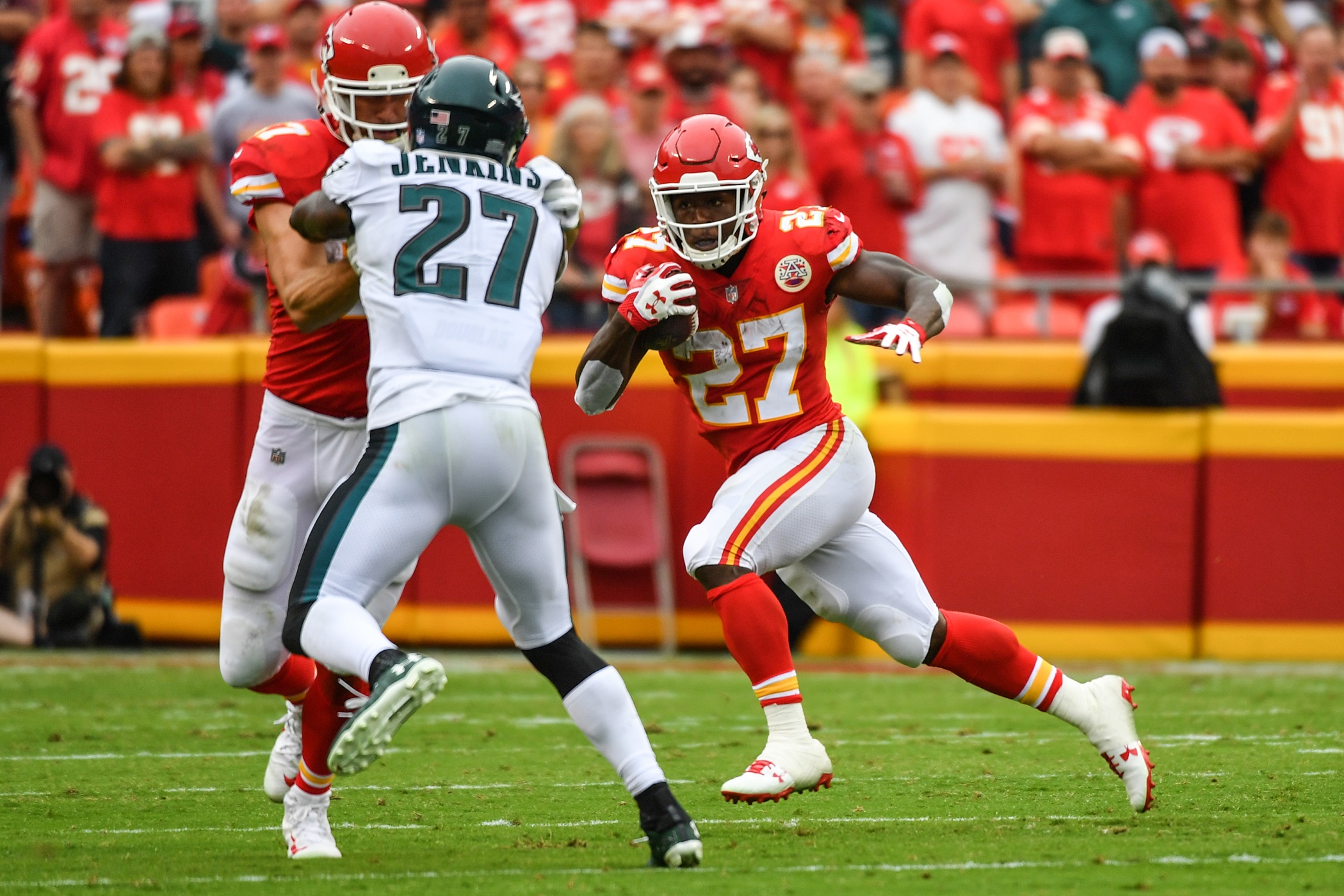 KANSAS CITY, MO - SEPTEMBER 17: Running back Kareem Hunt #27 of the Kansas City Chiefs rushes the ball with teammate Travis Kelce #87 blocking strong safety Malcolm Jenkins #27 of the Philadelphia Eagles during the first quarter of the game at Arrowhead Stadium on September 17, 2017 in Kansas City, Missouri. ( Photo by Peter Aiken/Getty Images)
Despite fairly effective half time performances by both offenses, all the scoring was done by the kickers, as the Chiefs managed to outpace the Eagles in scoring 6 to 3.
In this third quarter the scoring would heat up, including a WR Alshon Jeffery touchdown catch and a RB Kareem Hunt long touchdown rush, however the Chiefs would take a commanding lead late in the fourth quarter until a late WR Nelson Agholor score, but Kansas City would hold on 27-20. With that, we give you our PFF exclusive takeaways from the contest for each team.

Top 5 Grades:
DI Chris Jones, 87.5 overall grade
HB Kareem Hunt, 81.8 overall grade
LB Derrick Johnson, 80.5 overall grade
TE Travis Kelce, 80.0 overall grade
QB Alex Smith, 79.3 overall grade
Performances of Note:
QB Alex Smith, 79.3 overall grade
This season Alex Smith as a whole is still the same quarterback, however he his showing enough on the deep pass to worry the Chiefs opposition. Against the Eagles he threw 2-3 on passes over 20 yards, both completions on the right side out of the numbers for 79 yards.
HB Kareem Hunt, 81.8 overall grade
Kareem Hunt did not record the same numbers as he did in Week 1, however he was still a force in the game. Hunt averaged 4.77 yards after contact and forced 6 missed tackles on 16 touches.
DI Chris Jones, 87.5 overall grade
In his second season Chris Jones is still the force he showed in his rookie campaign. Jones recorded 2 sacks and 2 hurries as he caused the Eagles interior offensive line headaches for their film study this week.
Justin Houston is known as one of the best pass rushers in the league, however against the Eagles it was his play as a run defender that stood out, as he recorded 3 run stops on 13 running plays.

Top 5 Grades:
CB Rasul Douglas, 83.2 overall grade
TE Zach Ertz, 81.4 overall grade
WR Alshon Jeffery, 81.3 overall grade
DI Fletcher Cox, 80.6 overall grade
LB Mychal Kendricks, 80.6 overall grade
Performances of Note:
Carson Wentz struggled mightily against the Chiefs defense, the only real success the Eagles offense passing game had was the last drive where the Chiefs played soft coverage and a lucky 53-yard pass which bounced off a Chiefs defender's arm into Zach Ertz's arms. When Wentz was pressured (10 passes) he only completed 2 passes for 10 yards
After a slow Week 1, Jeffery was targeted 13 times for 92 yards. Jeffery was successful in using his height to create mismatches, however Jeffery still struggled to separate at points, leaving Wentz to force the ball to Jeffery or try to put it in position where only Jeffery could make the play
The rookie cornerback playing in his first game had the best performance in the Eagles secondary. Douglas allowed 80 percent of passes targeted at him completed, however, he only allowed 22 yards and another pass defense on a quick pass in the seam. The longest gain he allowed was for 7 yards
ED Vinny Curry, 80.1 overall grade
Vinny Curry is the forgotten man on the Eagles defensive line, however when he plays no team can forget about him. In the passing game he recorded a pressure and a hit and added 3 stops in the run game to go along with that.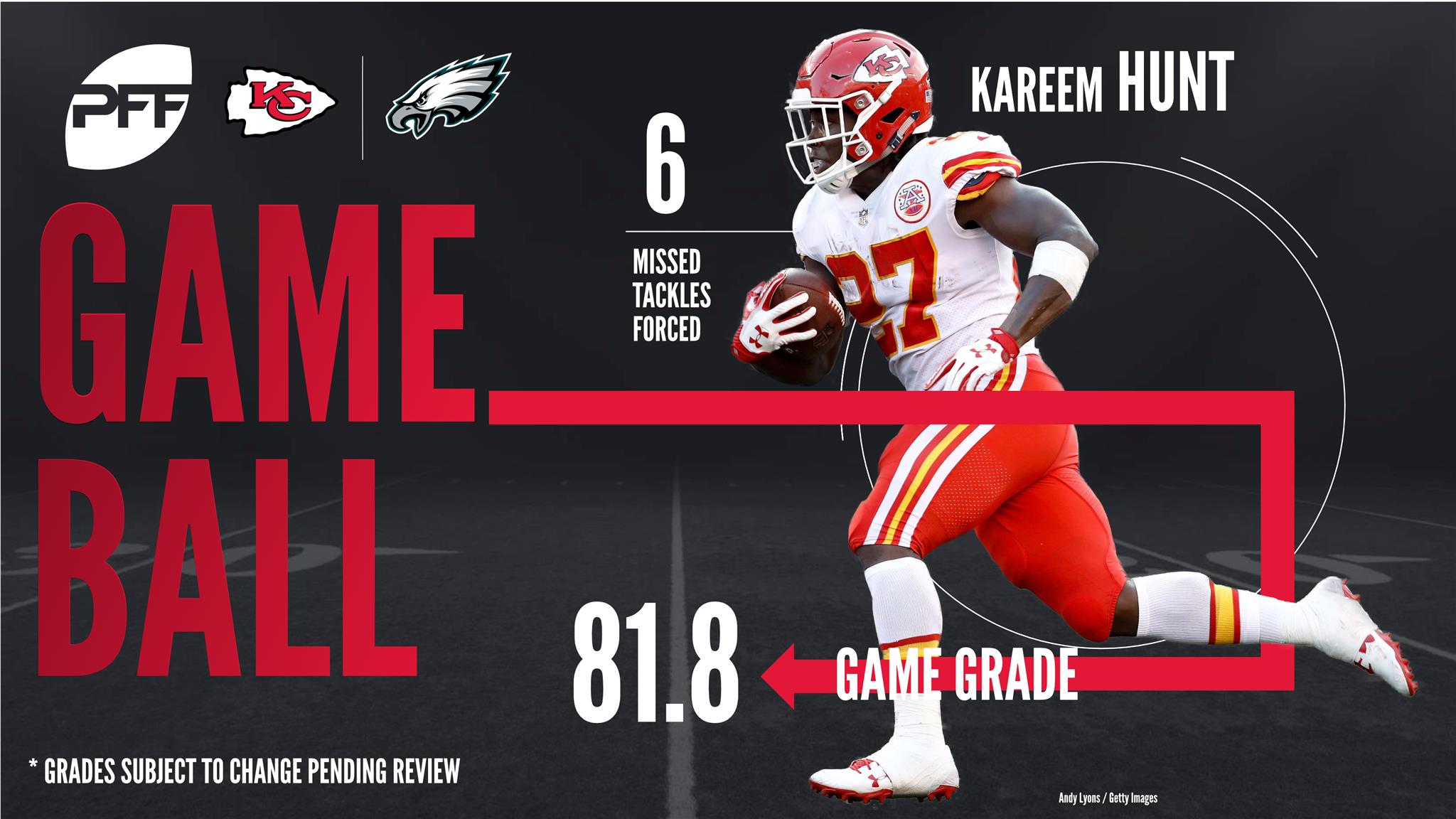 *Grades are subject to change upon review