The Jaguars opened the game with a couple of field goals, but they would eventually score two touchdowns, one the first rushing touchdown of RB Leonard Fournette's NFL carrer, and the other an EDGE Dante Fowler Jr. 53-yard fumble return. Houston would be shut out at halftime.
With QB Deshaun Watson taking the field in the second half, the Texans would get on the board with a Watson touchdown pass to WR DeAndre Hopkins. However, it would not be enough to overcome the Jaguars, who would win 29-7. With that, we give you our PFF exclusive takeaways from the contest for each team.

Top 5 Grades:
LB Myles Jack, 87.5 overall grade
EDGE Calais Campbell, 85.0 overall grade
DI Abry Jones, 84.4 overall grade
ED Yannick Ngakoue, 83.9 overall grade
S Tashaun Gipson, 82.8 overall grade
Performances of Note:
All eyes were on rookie Fournette in his first NFL regular season action and he did exactly what the Jaguars hoped he would do when they drafted him. The Jaguars were not shy about giving him carries, as he had 17 by halftime. Fournette finished the game with exactly 100 yards on 26 carries. While a 3.8 yards per carry average isn't exactly other-worldly, he did that despite four of his five starting lineman finishing with run blocking grades below 50.0, well below-average. Fournette forced four missed tackles, and also showed off his receiving chops by catching three passes for 24 yards an another missed tackle. If this game is any indication of the season to come, the Jaguars are going to lean on Fournette to carry this offense, and this game showed that can be very successful for them.
The biggest perceived issue for this Jaguars team coming into the year was the quarterback situation. Bortles was seemingly demoted in the preseason, before being promoted back to starter soon after. Many figured he'd struggle against an elite Texans defense. While Bortles was decidedly average in this game, that's far better than many people expected. He spread the ball around, and on throws more than 10 yards downfield he was 4-of-8 for 62 yards. He was also victimized by his receivers at times as they dropped three of his passes, all of which would've been for first downs.
Campbell had a great day rushing the passer. Calais finished with 5 sacks and a hit and hurry. Campbell notched 4 of his sacks and his hurry rushing from the left side of the offensive formation. Campbell was one of many Jaguar defensive lineman who had a great day rushing the passer as Yannick Ngakoue also had a fabulous day as well. The Jaguars strip sack and fumble return late in the second quarter basically clinched the game in Jacksonville's favor.
LB Myles Jack, 87.5 overall grade
Jack had 8 tackles and 3 run stops on 21 snaps against the run. He was sound in coverage as well as he had an interception that was nullified on a penalty to go along with a pass defensed on an explosive and athletic play in the secondary. Jack was in coverage 38 snaps in the game and yielded 3 receptions and recorded the highest overall grade in the game, for both teams.

Top 5 Grades:
LB Zach Cunningham, 82.7 overall grade
TE C.J. Fiedorowicz, 81.2 overall grade
S Marcus Gilchrist, 79.8 overall grade
DI Brandon Dunn, 79.0 overall grade
DI D.J. Reader, 78.2 overall grade
Performances of Note:
Fiedorowicz was a weapon for the Texans offense in the 24 snaps he played. He caught all 4 passes deemed catchable that were thrown his way. Fiedorowicz averaged 4.60 yards per route run, doing most of his work in the middle of the field.
Watson was 12 of 23 passing and averaged 4.43 yards per attempted pass. He faced pressure on 10 of his 29 dropbacks and was sacked 4 times. He also finished 1 of 4 for 12 yards and an interception while under pressure. Watson was able to keep drives alive with his legs but also had several miscommunications with his wide receivers and struggled with accuracy. Watson did complete 4 of his 5 pass attempts using play action and had a touchdown as well. Houston may employ more play action as Watson grows in the offense.
DI J.J. Watt, 78.1 overall grade
While this grade is very atypical for Watt throughout his career, it's not bad for a player playing healthy for arguably the first time since the 2016 Wild Card round. Watt looked good in the run game, often standing his man up at the line of scrimmage and working his way to the hole to disrupt the play. His run stop at 10:02 of the first quarter was vintage Watt, shedding his block almost instantly and making the play. Where he struggled was rushing the passer. Watt recorded a hit and a hurry, but both were clean up plays. He had a hard time turning the corner on the edge and often found himself pushed back through the top of the pocket. While he's clearly not back to his world-class level of play yet, this was an important step for Watt's comeback.
Considering how good this Texans defense was last year, it's quite a surprise that their highest graded defender in this game was rookie Zach Cunningham. But make no mistake, Cunningham was impressive. Despite playing limited snaps (28 of 64), Cunningham finished with three solo run stops, and a run stop percentage of 18.8 percent. He also had a batted pass when rushing the quarterback. Cunningham's strong play in this game may have earned himself a bit more playing time going forward.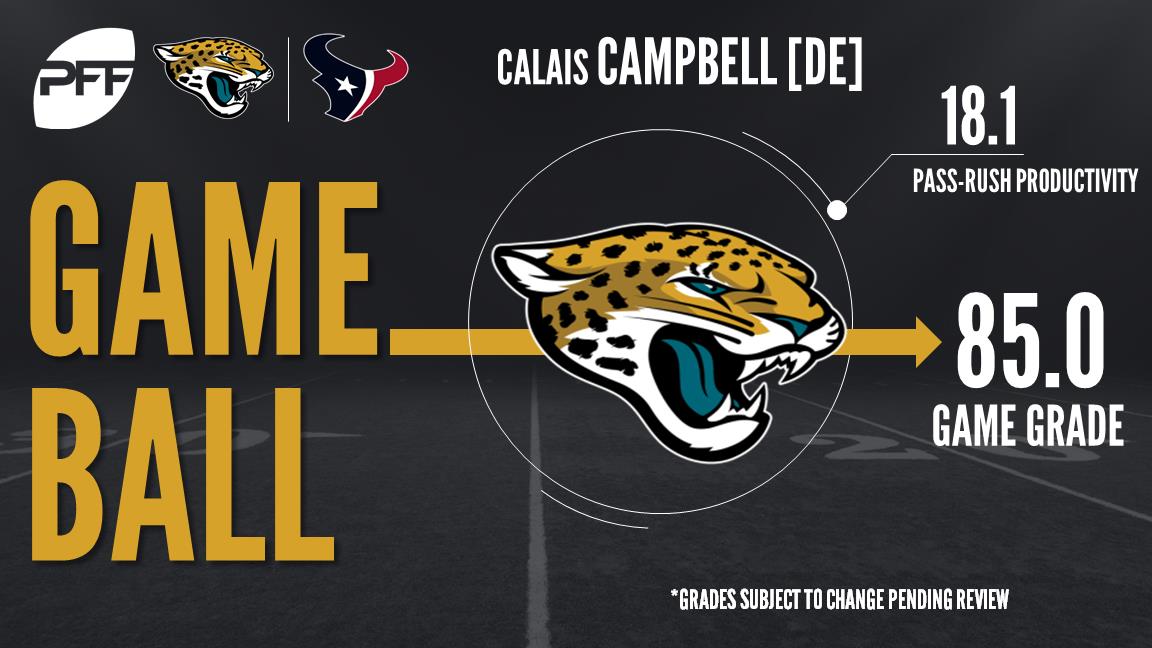 *Grades are subject to change upon review