By virtue of sound defense and a ground-and-pound approach on offense, the Jacksonville Jaguars extended their win streak to four with their 19-7 win over the Cleveland Browns.
Jaguars running back Leonard Fournette added another 111 rushing yards to his already dominant rookie campaign, keeping his quarterback form having to do too much through the air.
The Browns' backfield, on the other hand, mustered just 50 yards on 18 carries (2.8 YPC), putting too much pressure on their rookie quarterback DeShone Kizer. As expected, the former Notre Dame product fell victim to Jacksonville's defense, completing just 16-of-32 passes for 179 yards, one touchdown and two interceptions. He also fumbled the ball twice, one of which was recovered by Jaguars' Telvin Smith in the end zone for a score.
With that, we give you our PFF exclusive takeaways from the contest for each team.

Top 5 Grades:
DE Yannick Ngakoue, 85.3 overall grade
S Barry Church, 82.1 overall grade
CB A.J. Bouye, 81.9 overall grade
CB Jalen Ramsey, 81.5 overall grade
S Tashaun Gipson, 80.5 overall grade
Performances of Note:
Fournette surpassed the 100-yard mark for the fourth time this season, carrying the ball 20-plus times for the fifth time this year in a workhorse performance. He broke three tackles and made the most from some sketchy run blocking at times. More than 50 percent of his rushing yards came after first contact, taking the attack to the Browns run defense to keep the Jaguars' offense ticking over with Blake Bortles not trusted to make too many decisive plays in the second half.
Notable offensive performances in a good way were thin on the ground for the Jaguars who largely did just enough to avoid the big mistakes by playing conservatively and leaning on what proved to be an insurmountable 3-point lead. Lewis put in a solid showing as a blocker and provided the crucial touchdown for the Jags, sneaking out on a play action fake to fool the Browns defense to snag his fifth score of the season.
A fourth multi-sack performance for Ngakoue this season as whether he was beating Spencer Drango or taking advantage of DeShone Kizer's suspect pocket awareness, was too hot for the Browns to handle this week. In a tight game, Ngakoue forced fumbles on two of his sacks, and Calais Campbell forced one on his other sack, as these big swing plays pushed the game comfortably (in the end) in the Jaguars' favor. Along with Chandler Jones, Ngakoue is the second edge rusher to hit double digits in sacks (10) and hits (10) this season.
Another game, another strong showing from Ramsey who surrendered one 20-plus yard reception to Corey Coleman on the Browns' touchdown drive but aside from that was as physical and controlling in coverage as ever. Ramsey's other five targets surrendered a mere 24 yards and he broke up his ninth pass of the season on a target to Seth DeValve.

Top 5 Grades:
CB Jason McCourty, 83.8 overall grade
LB James Burgess Jr., 82.3 overall grade
LG Joel Bitonio, 82.3 overall grade
DE Emmanuel Ogbah, 81.1 overall grade
S Jabrill Peppers, 80.4 overall grade
Performances of Note:
Kizer was looking to build on comfortably his best performance of the season against the Lions last week, but came up well short of matching that this week. In a tight game, mistakes needed to be kept to a minimum and Kizer couldn't do that early or late in the game. A bad misread led to an interception that set the Jags up inside the Cleveland 40 on their touchdown drive and three of the Browns' final four drives ended in turnovers with Kizer at the heart of them either through inaccuracy or poor pocket awareness. A game to forget.
This was a game of highs and lows for Johnson but there were at least highs, unlike much of the rest of the Browns' offense. Johnson dropped two passes but showed again why he might just be the Browns' most dangerous receiving weapon, exploiting a bust down the seam for Cleveland's only touchdown while in the final stanza he beat Telvin Smith in space twice, one of them to convert a 3rd-and-short run and the other to pick up a 20-yard gain with the game still within reach at that point.
It was another quiet game for McCourty with only three passes thrown his way  but he stayed alert and broke up the key pass into his coverage in the fourth quarter to prevent a deep shot to Marqise Lee going for a big gain on a well-placed ball by Blake Bortles. In his two games since he returned to the field, McCourty has been targeted just six times allowing 15 yards and breaking up two passes, a welcome boost for the Browns' secondary.
Garrett was held without a sack for the second-straight week on his return to the defense but he was a persistent pest for the Jaguars' offense in the first half in particular. He picked up two hits off rookie LT Cam Robinson at the end of the second quarter, doing his part to limit the Jags' to an ultimately unsuccessful field goal attempt. Garrett added two stops against the run early in the second quarter but that quarter was the highlight of his game with only one unblocked hurry and a fumble recovery adding anything noteworthy in the rest of the game.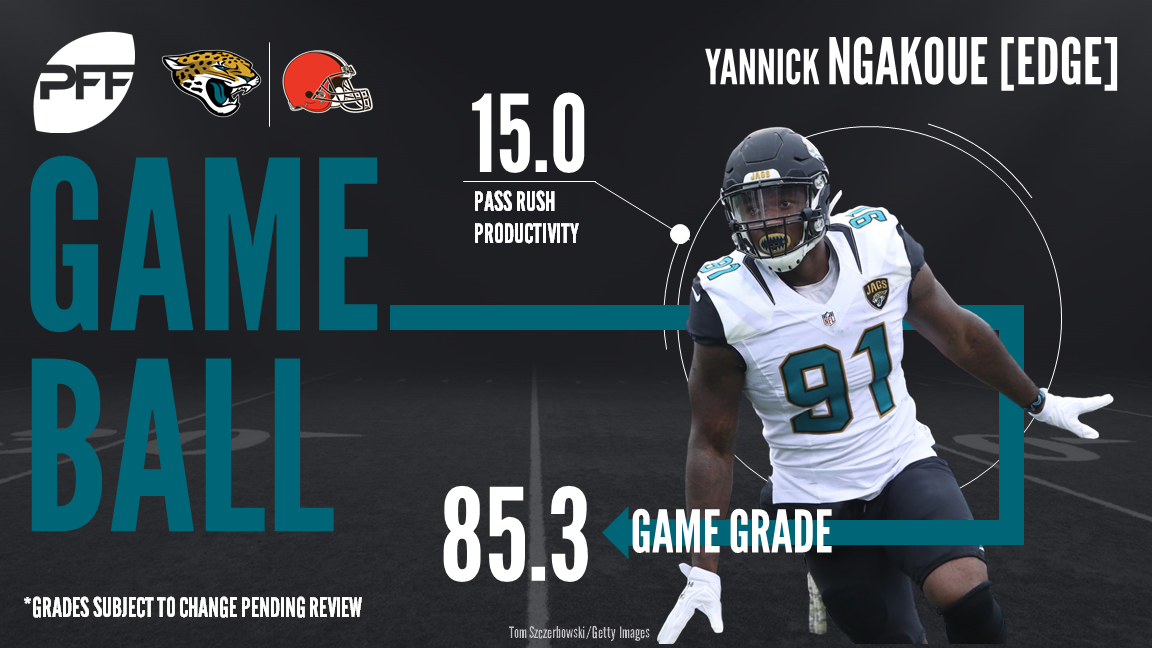 *Grades are subject to change upon review