Not very many times can you be out-gained by a margin of 2:1, and come away victorious, however that's exactly what the Indianapolis Colts did on Thursday night, defeating the Cincinnati Bengals, 7-6, despite being out-gained 364 yards to 159. No Andrew Luck will lead to only more questions as the Colts head to Week 1 of the regular season as their trio of quarterbacks in the preseason finale, all underwhelmed.
On the other side of the ball, Bengals QB AJ McCarron tossed 216 passing yards, but Cincinnati couldn't find the end zone on offense and with that, we give you our PFF exclusive takeaways from the contest for each team.

Top 5 grades
S Lee Hightower, 85.1 overall grade
LB Jeremiah George, 83.3 overall grade
DI Jhaustin Thomas, 80.1 overall grade
CB Tyvis Powell, 78.3 overall grade
DI Grover Stewart, 78.1 overall grade
Performances of Note:
The big tackle out of USC had a mixed day against the Bengals. His pass blocking grade of 78.2 was solid, but his run blocking mark of 41.8 was significantly worse thanks to whiffing on a couple of blocks and being beaten for quickness off the snap.
Walker clearly has an arm, but struggles to control it accurately, completing just 25 percent of his passes when under no pressure. He also lost the handle on the football more than once, and sacked himself when running to open space in the flat.
The most prolific pass-rusher on the Colts defense in this game was Thomas, who notched a sack, hit and three additional hurries on 16 pass-rushing snaps. Thomas made a pair of defensive stops in the game overall.
George led the Colts defense with five defensive stops and was by far their most active linebacker. His numbers could have been even better but for a couple of missed tackles, and he also contributed well as a pass-rusher off the edge, notching a couple of hurries on the blitz.

Top 5 grades
LB Jordan Evans, 96.2 overall grade
QB AJ McCarron, 86.7 overall grade
DI Josh Tupou, 82.8 overall grade
CB Tony McRae, 81.2 overall grade
LB Brandon Bell, 80.1 overall grade
Performances of Note:
QB AJ McCarron, 86.7 overall grade
McCarron wasn't expected to play as much as he did tonight, but an injury to No. 3 QB Jeff Driskell meant he played almost the entire game (64 snaps), and though he wasn't helped out by some of his supporting cast, he nonetheless made some big plays and had a passer rating of 100.7 when under pressure.
Stanton struggled throughout the game when it came to pass protection. Though he didn't give up a sack or a hit, that relied a lot on the movement of the quarterback in the pocket, and he surrendered five hurries as well as being beaten another couple of times on plays that never had a chance to turn into pressure.
For the first period of this game, Evans was all over the field for the Bengals defense, seemingly making every play. He led the team with six defensive stops despite playing only 18 snaps. Making a defensive stop on a third of your snaps on the field is a ridiculous rate and earned him the best grade of 96.2 overall of anyone in the game.
CB Tony McRae, 81.5 overall grade
Tony McRae, an undrafted free agent in 2016, had the game of his NFL career against the Colts here. He was targeted three times, and didn't allow a catch, while picking one of those passes off for a turnover.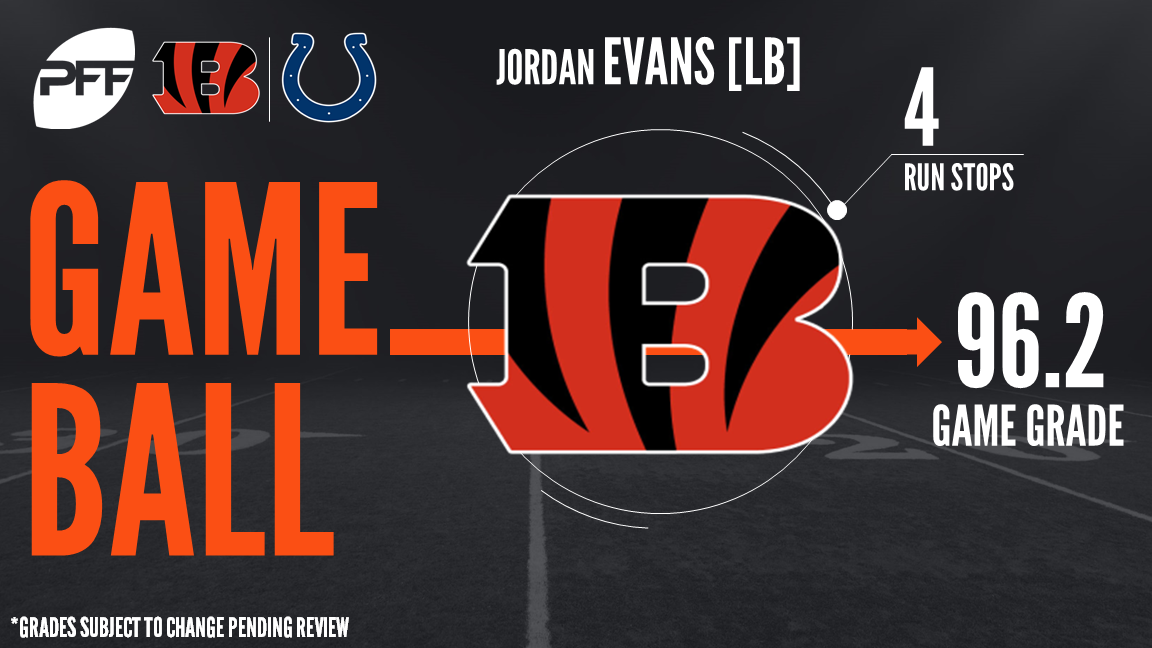 *Grades subject to change pending review