The Houston Texans ran away with the contest against the Tennessee Titans, starting with a 14-0 first quarter lead after a Lamar Miller touchdown and a QB Deshaun Watson TD toss to star WR DeAndre Hopkins. Despite two Marcus Mariota touchdown rushes in the second quarter, the Texans would not be deterred, as Watson connected with Will Fuller V and ran in another score himself for a 30-14 halftime lead.
With the outcome seemingly decided, attention shifted to an injury that forced Mariota out of the game, which would obviously be costly for the Titans if the injury is anything longterm. The Texans would finish the game off with a franchise record in points scored, and a 57-14 victory. With that, we give you our PFF exclusive takeaways from the contest for each team.

Top 5 Grades:
WR DeAndre Hopkins, 92.2 overall grade
S Andre Hal, 87.9 overall grade
QB Deshaun Watson, 87.0 overall grade
S Marcus Gilchrist, 80.5 overall grade
DI D.J. Reader, 79.9 overall grade
Performances of Note:
With all rookie quarterbacks, there is a learning curve and history typically tells us when a rookie quarterback goes up against a Dick LeBeau defense, they stuggle mightly. However, Watson was able to take the Titans defense apart, going up and down field at will. He only threw one turnover worthy throw and had no other dangerous throw while able to fit the ball into small windows. He connected for three touchdowns when kept clean from pressure.
Any quarterback with DeAndre Hopkins should be able to take advantage of most secondaries, Hopkins caught a pass against five different defenders and one of the two incompletions thrown his way was a poor pass by Watson that didnt even give him a chance to make a play on the ball. He finished the game with a 96.6 passer rating when targeted.
S Andre Hal, 87.9 overall grade
With the woes of the Titans offense, the biggest benifcator was safety Andre Hal, as he was targeted four times allowing just one catch. He hauled in two interceptions and saw just a paltry 9.4 passer rating when targeted.
While the Titans offense struggled to move the ball, the Texans defensive front seven failed to really establish themseleves as a pass-rushing force. Clowney was the best pass-rusher of the bunch due to a sack and bating a pass down at the line of scrimmage.

Top 5 Grades:
DI Jurrell Casey, 90.0 overall grade
LB Wesley Woodyard, 85.8 overall grade
CB Logan Ryan, 79.8 overall grade
S Kevin Byard,79.5 overall grade
G Quinton Spain, 78.0 overall grade
Performances of Note:
Mariota had a day he would like to forget outside of his rushing touchdowns. Mariota saw eight dropbacks with out pressure but only completed 37.5 percent of his passes with a passer rating of 6.3 due to two interceptions.
The Titans tried to make Matthews the leading recieving target in this game however he was targeted eight times for only three catches but saw two interceptions into his targets, with the Titans quarterbacks having a 19.3 passer rating when targeting him.
In a game where the Titans where beaten throughly throughout the game, there where a couple of bright performances on defense. One was star defensive lineman Jurrell Casey, who had a sack and four hurries and also recorded three stops in the run game.
The other bright spot for the Titans was the play of Woodyard. He was a force in the run game with a 10.3 percent run stop percentage and was an impactful performer, who was in many other run plays.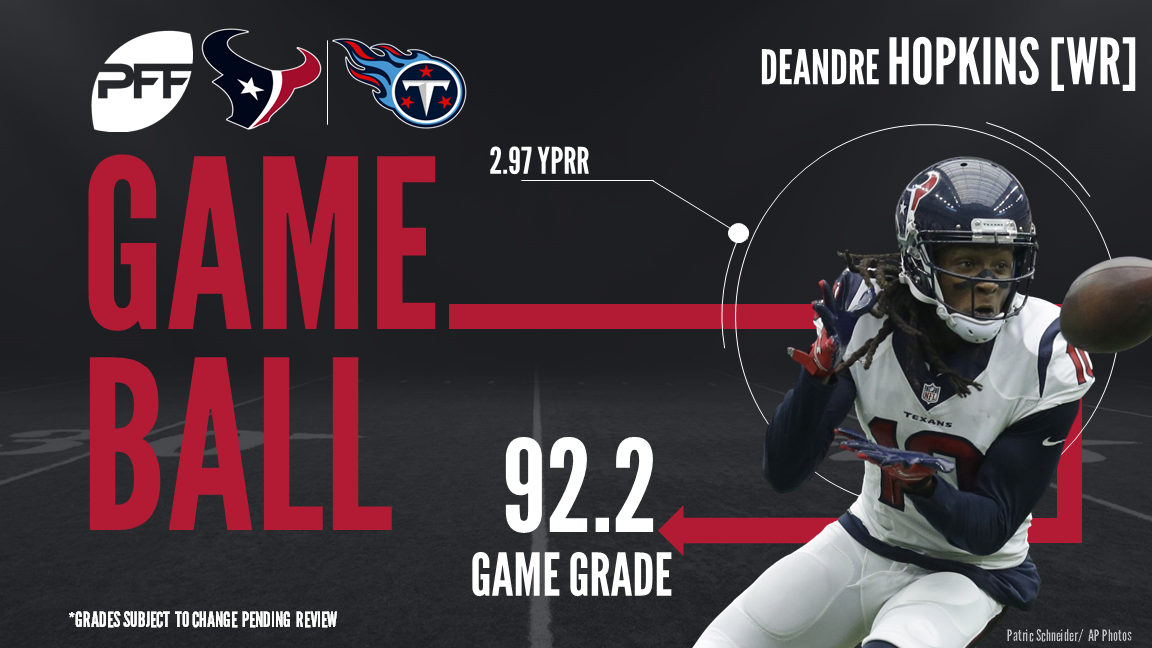 *Grades are subject to change upon review